This woman, Jennifer Rothschild, is one of my favourite people on the planet – one of the most empathetic, wisest, most down-to-earth humble women. At the young age of fifteen, Jennifer was diagnosed with a rare, degenerative eye disease that would eventually steal her sight. In the midst of living blind — literally living in an invisible world — Jennifer has taken her message of encouragement, across the country. What is the one power that can barge into the dusty, dormant rooms of your heart, cast open the shades, and flood it with light and hope? That power is love, and once we get a hold of it, it changes everything. It's always a grace to welcome Jennifer to the farm's front porch…
guest post by Jennifer Rothschild
Sometimes life just wears us out, right?
When we have to climb mountains of stress or sorrow, we just get tired.
Hard stuff can wear us out and leave us feeling powerless.
Sometimes our most vulnerable tired comes after we have stood on a mountain of success and seen God's power.
Have you ever felt that kind of exhausted – the kind of soul tiredness that shows up on the heels of a race well run?
Oh, I have. It seems like every November it happens to me, and I finally figured out why.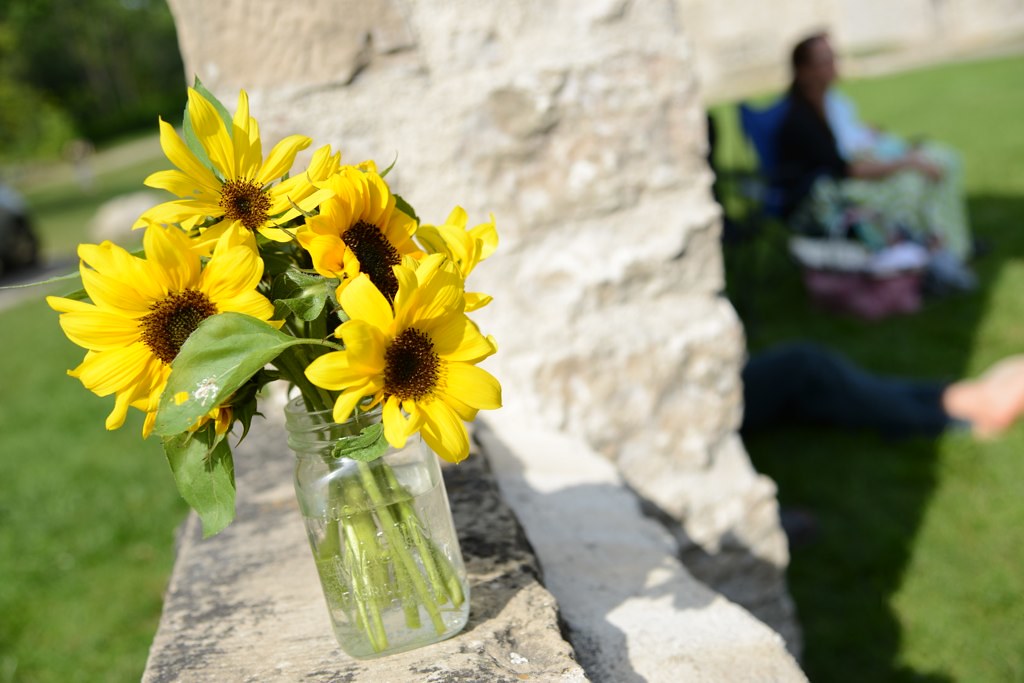 November is when my ministry travels slow down. November is when I have come down from the mountain where I have seen God's power, and believe it or not, that is the time I am most ready to quit!
It is the time I question my calling and my gifts. I review all my failures and convince myself that I really am not qualified!
You would think that that kind of dark self-reflection would follow failure, but I am most vulnerable after success.
We are all vulnerable after victory.
If you've felt that kind of soul tiredness that makes you question and want to quit, you're not alone – an Old Testament prophet felt that way, too.
Elijah was ready to throw it all away— not because he was defeated, but because he had just won! Beneath a broom tree in the desert, he prayed, "I have had enough, Lord… Take my life."
Do you know when he uttered such weak, pitiful words?
It was right after an earthshaking mountaintop experience on the peak of Mount Carmel. He had just called fire down from heaven and seen his adversaries fall to their knees. Then he had prayed for God to send rain, and the heavens opened with a thundering deluge.
He was firing on all cylinders, but soon he had a meltdown.
Elijah went from the height of the mountain to the depths of the valley.
The same man who stood strong before 450 prophets of Baal ran like a coward from one woman who threatened to kill him. Exhausted, Elijah curled up in a fetal position under a tree in the desert and slept until an angel woke him up and made him eat.
He wanted to quit — not before the battle, not during the battle, but after the battle.
The great prophet was tired, hungry, and emotionally drained… all triggers that make us feel as if we, too, have just had enough.
We all have our Elijah episodes when we are tired, hungry and emotionally spent — we, too, feel like we have just had enough. In that vulnerable state, we can become our greatest enemy. We pelt ourselves with lies and react with emotion rather than acting upon truth.
The truth is that you are the same fragile, strong, brave woman you were before the battle, during the battle and in the midst of victory.
God is the same God who was with you before the battle, during the battle and in the midst of victory.
So, if you are having an Elijah Episode, maybe you just need to rest or eat or take an emotional break so you can refill.
It's okay to have moments when you feel like you have just had enough because maybe… just maybe… maybe you have.
And maybe you just need to wrap yourself in your blanket of faith and rest and let God feed you.
Sometimes the best way to fight the lies that hit us when we are most vulnerable is not to armor up, but to curl up and rest in the Lord.
The Psalmist told his soul to rest and that is what I now tell my soul during my Elijah Episodes too. So, tell your soul it's okay to rest and rest in Him today.
Rest in God alone, my soul, for my hope comes from Him. (Psalm 62:5 HCSB)
Jennifer Rothschild is a recovering perfectionist who has learned to live beyond limits ever since her life drastically changed at the age of fifteen, when she lost her sight. Now, more than 30 years later, she boldly and compassionately teaches women how to find contentment, walk with endurance, and celebrate the ordinary.

As a speaker and the author of 15 books, Jennifer travels internationally, offering fresh, grounded, Biblical truth to audiences who, like her, are determined to pursue healthy and fulfilling lives in spite of their circumstances.

In Me, Myself, & Lies, Jennifer shares her personal journey of learning to replace the negative thoughts in her head with the Truth of God's Word, encouraging all of us to find freedom in that Truth.