This man's words have mentored me, our family, a whole generation — because he turns everything & looks at it through fresh eyes.  Gary Thomas and his wife got married fully expecting dramatic days and dynamic opportunities–but what if God planned to take them through decades of quiet years and simple obedience? What if God's primary intent for a marriage isn't to make you happy . . . but holy? Gary has written how our marriage is more than a sacred covenant with another person. It is a spiritual discipline designed to help you know God better, trust Him more fully, and love Him more deeply. Now he's back exploring an aspect of marriage by focusing on a word he found "hiding in plain sight": cherish, as in "I promise to love and to cherish until death do us part." Exploring what that word meant changed his marriage so much that his wife Lisa writes in the foreword, "Just hearing the word 'cherish' makes me want to hug Gary, give him a kiss on the cheek, and say thank you." I think we're in for something special when we remember that we didn't promise to just love our spouse, but to cherish him/her as well. It's a grace to welcome Gary to the farm's front porch today…
"My dove, my perfect one, is the only one." Song of Songs 6:9
Just this morning as I was in my study, I heard my wife gradually waking up.
My heart went out to her. I hadn't seen her yet, but just knowing she was moving and awake flooded my soul with new affection.
I knew she'd walk into my office, still partly-asleep, come up to my chair for a hug, and then shuffle out of the room.
It's literally one of my favorite things that happen almost every day.
Did I ever dream that marriage could be like this, thirty years in, where simply hearing my wife wake up would emotionally move me?
Probably not, because it wasn't like this in the first decade of our marriage, or even the second.
Lisa and I have always loved each other, but the last several years we've discovered a hidden promise we made that we had forgotten about. 
Re-embracing that promise has deepened our love and added a new element to our relationship.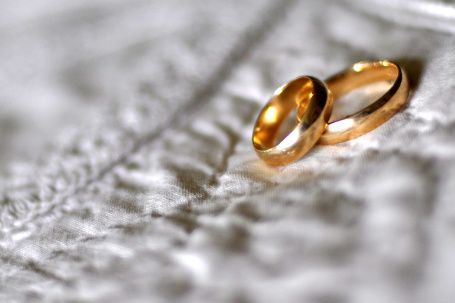 We realized we didn't just promise to love each other on our wedding day.
We also promised to cherish each other: "I promise to love and to cherish until death do us part."
Love speaks of sacrifice, commitment, service, selflessness—all essential elements if a marriage is going to go the distance.
But cherish speaks of delight and adoration.
I don't want my wife to think we live in the same house because the Bible says I can't leave her; I want my wife to be cherished, to know she is "my dove, my perfect one, the only one" and that I would never want to be with anyone else.
A pastor asked seven men, "How many of your wives love you?"
Every hand went up.
He then asked, "How many of your wives like you?"
Every hand went down.
Each one of these men felt loved; none felt cherished.
That reality changes the tenor of a relationship; it eclipses the harmony and leaves you playing your marriage with only half an instrument.
Aspiring after a cherishing marriage has opened new realms for Lisa and me. It has drawn us closer. It has made our relationship and thus our home that much more pleasant.
There's a certain delight when you truly cherish someone you live with.
If you cherish your spouse, it's a treat just to see them—or to hear that they are awake.
Cherishing feeds itself.
One way to distinguish "cherish" from "love" is to consider the ballet. A ballerina has to be strong, athletic, and balanced. The moves are physically demanding. But those skillsets aren't all that different from that of an NFL linebacker, who also must be strong, athletic and know how to stay on his feet. What sets the ballerina apart is the grace, the beauty, and the poetry.
Love is the athletic strength of marriage—unquestionably the supporting spiritual foundation of any union.
Cherish is the grace, the poetry, and the beauty of enjoyment. It takes your marriage to another level and makes it not only beautiful to dance, but beautiful for others to watch.
Just as 1 Corinthians 13 celebrates love, so the Song of Songs celebrates cherish:
Love is about being gracious and altruistic. "Love is patient, love is kind." (1 Cor. 13:4)
Cherish is about being enthusiastic and enthralled. "How much more pleasing is your love than wine, and the fragrance of your perfume more than any spice." (Song of Songs 4:10)
Love tends to be quiet and understated. "[Love] does not envy, it does not boast." (1 Cor. 13:4)
Cherish boasts boldly and loudly: "My beloved is radiant and ruddy, outstanding among ten thousand." (Song of Songs 5:10)
Love thinks about others with selflessness. "Love is not proud. It does not dishonor others, it is not self-seeking." (1 Cor. 13:4-5)
Cherish thinks about its beloved with praise. "Your voice is sweet and your face is lovely." (Song of Songs 2:14)
Love doesn't want the worst for someone: "Love does not delight in evil." (1 Cor. 13:6)
Cherish celebrates the best in someone: "How beautiful you are, my darling! Oh, how beautiful!" (Song of Songs 1:15)
Love puts up with a lot: "[Love] always hopes, always perseveres." (1 Cor. 13:7)
Cherish enjoys a lot. "His mouth is sweetness itself; he is altogether lovely." (Song of Songs 5:16)
Love is about commitment. "Love endures all things. Love never fails" (1 Cor. 13:7-8; ESV)
Cherish is about delight and passion. "Your name is like perfume poured out." (Song of Songs 1:3)
Here's the good news—in fact, the great news.
Cherishing our spouse is something we can learn to do.
There are habits, mindsets and actions we can embrace that slowly build a cherishing marriage.
The same God who cherishes the imperfect us is more than capable of empowering us to cherish our imperfect spouse.
As kids grow older and live their own lives and build their own families; as coworkers move on to new businesses, friends move away to new callings, and neighbors move to new houses in new cities; it is so fulfilling to have one person that I am called to cherish, and to be cherished by, above all others.
Our house felt so full over Christmas with all of our children filling up all the bedrooms and even my office, and then it felt so empty one week later when they all left many great memories, a couple loads of dirty linen, and the inevitable forgotten shirts, hairbrushes and makeup that will need to be sent out to Seattle, Philadelphia, and Boston.
I hugged Lisa that first alone-again evening and said, "Thank you for being my primary family now. Thank you that I don't ever have to say goodbye to you as long as both of us are on this earth."
Since I cherish her above all others, that is a very sweet place out of which to live.
There are many good things to do and many noble things to seek on this planet and in this lifetime:
cherishing and being cherished by your spouse is among the very best.
Gary Thomas' writing and speaking focuses on bringing people closer to Christ and closer to others.   He holds a Master's degree in Systematic Theology from Regent College and an honorary Doctor of Divinity from Western Seminary. As the author of 18 books, including the best-seller Sacred Marriage, Gary serves as writer in residence at Second Baptist Church in Houston, Texas. 


Every man and woman wants to be cherished by their spouse. Gary's most recent book Cherish, explores how couples can make that happen. Certain attitudes, habits and mindsets can help couples grow beyond merely 'gritting their teeth' and hanging into there into a new delight in each other and a new joy in their relationship by unleashing the power of cherish in their marriage. Give yourself the gift of a deeply meaningful marriage: Highly recommending, Cherish: The One Word That Changes Everything For Your Marriage. 
[ Our humble thanks to Zondervan for their partnership in today's devotion ]