We each hope to be able to stand firmly for truth and righteousness when the pressure is hot, the spotlight is on us, and the world makes us feel that our viewpoint is old-fashioned and outdated. For years, this is the mantle that Elisabeth Hasselbeck has carried from her roles on Survivor, The View, and FOX & Friends. In her new book, Point of View, she shares how she gained a reflective perspective to discover what it really means to see life clearly in faith, at home, and in the workplace. It's a joy to welcome Elisabeth to the farm's front porch today….
guest post by Elisabeth Hasselbeck
DDuring the fall of 2017, I threw my kids a party. It wasn't a birth­day. It wasn't a holiday. It was just a Monday.
I didn't throw the party because I'm a perfect mom. On the contrary, I threw it because I'm not perfect at all.
The week before that Sunday night was tough. The pressure of having more things to do than I had time for had gotten to me.
In addition, the week was filled with tears and heartache, mourning for two little children we had come to love. Both lost their battles with sickness here on earth.
My mom tank was brimming with stress, weariness, and emotional pain, and by that Sunday night, I was running seriously low on patience.
As our family sat around the kitchen table that night, in the midst of chicken nuggets, a ketchup bottle, and my emotional reserve tank on low—it happened.
Someone hurt someone's feelings, and someone hurt someone else's arm. And I had had it.
After a brief attempt to use my calm, patient mom voice all that came out of me was the plain old ugly loud voice. In a moment of weakness, I chose losing my patience over finding my grace.
As words tumbled out of my mouth at greater speed and greater volume than I would ever be proud to re-enact, I stopped right in my tracks.
I fell to my knees next to the kids, "I am so, so very sorry that Mommy lost her patience. I love you with my whole heart, and there is nothing that should steal my patience. I'm sorry. Please forgive me."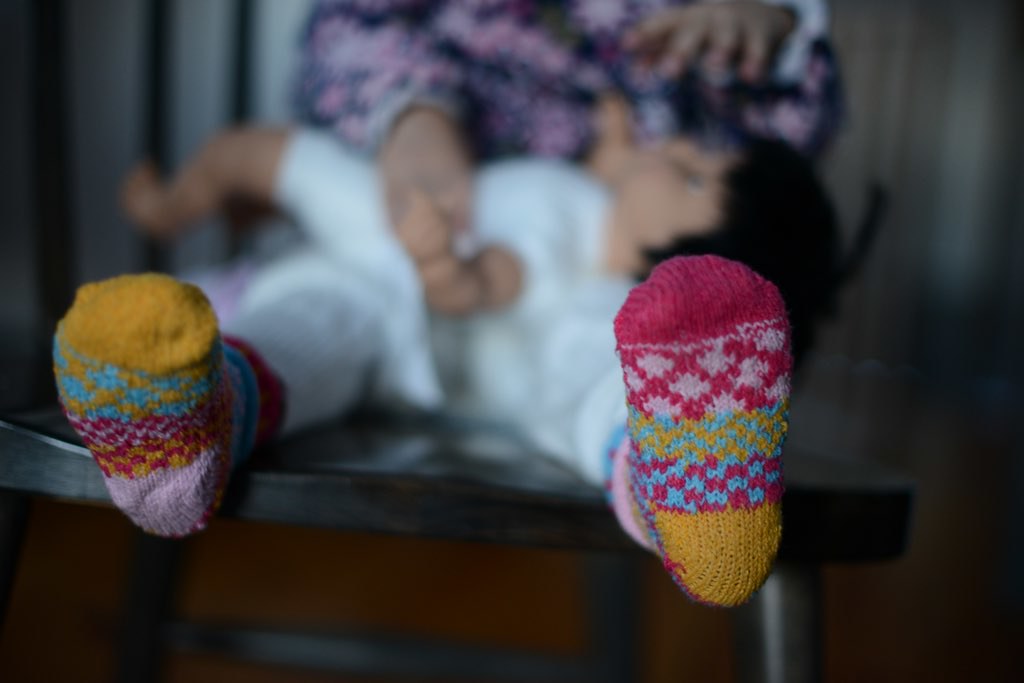 And do you know what? They forgave me fully and joyfully.
They didn't have to. I didn't make them—I couldn't make them.
They didn't wait for me to be perfect before they extended their forgiveness. They just did it. And the night got a reset.
The next morning, I woke up, loved on the kids even more than my usual goopy ways, and got them to school singing along with our favorite songs. All the negativity of Sunday eve­ning was gone. Or so I thought…
I can still remember the thud of the car door that morning as the kids hopped out for school and waved goodbye and offered one more smile.
As each child exited the car, guilt, shame, and condemnation invited themselves into the car, buckled their seat belts, and annoyingly decided to ride along with me everywhere I went.
I could not see them, but oh, could I ever hear them:
What kind of a mommy would have to ask her kids to forgive her?
How hard would it have been for you to be just a little more patient?
And the sarcastic jab, Way to go, Mom of the Century!
"I thought I had moved on, but the lies kept nip­ping at my mind."
Shame, guilt, and self-condemnation stayed in their seats, intent on making me feel bad about something I thought I had already dealt with.
I thought I had moved on, but the lies kept nip­ping at my mind.
A fresh wave of disappointment over the situation on Sunday evening washed over me. Despite their tireless efforts to gain occupancy in my mind, they could not because no matter how they pur­sued me, my God pursued me more.
I could feel this happening. A battle. And God was going to win.
So I prayed: God, I know You lightened our hearts yesterday. Please help me forgive me again. I know it was just an impatient night with the kids, but it feels like I am still the worst person right now.
For years I read the Bible as a remedy after a challenge came up—or a hardship, a mistake, a disappointment—and surely after failure.
Now I read before, during, and after the challenges!
Here is the deal: the good, the bad, the ugly, the horrible, and the wonderful will happen. Putting on the armor of God before something happens—because it will—is a great thing.
It will not take the challenge away, but you will feel ready for the battle that is coming your way.
An everyday example of preparing for the battle is the habit my hus­band has of getting his coffee ready for the next morning the night before. He sets a timer on the coffeepot so that the coffee is already made when he gets up. He knows that his cup of coffee will help him feel more awake and ready for the day at hand.
In this same way, we can arm up and pre­pare for what is coming next. Since I know I will face difficulties, shouldn't I prepare my armor of God as well? Shouldn't I have it ready to be put on the next day? Shouldn't I get Scripture percolating through my mind?
As I remembered the words of Romans 8:1 and John 3:17, God gave me the words to cover the lies of guilt, shame, and condemnation. His words began to crowd out the lies with truth. Soon there was no room in my car, in my mind, or in my heart for lies.
And by the power of the Holy Spirit, guilt and shame took a hike for the day.
Filling up on God's truth, His Word, leaves little room for the lies of anyone else to occupy real estate in our hearts. But it is up to us to read and protect ourselves with truth.
We need to get into the truth early and often.
I recalled how our three children forgave me, extended grace to me when I lacked it, and loved me even when I was far from loveable. I was so excited that I thought about picking up all the kids from school and giving them a half day off. With a fresh heart, I went with my backup plan: A party.
An ice cream party. But not just any party. When they got home from school, I would throw them a forgiveness party! Our family favorites—black raspberry chip, mint chocolate chip, and Graeter's Buckeye Blitz.
When I returned home, I made notes that said, "The only thing sweeter than Graeter's ice cream is forgiveness" and "We forgive because He forgave us first."
When the kids came home from school and dropped their back­packs, they saw the full party mode in our kitchen and asked with a mix of curiosity and excitement, "What's this for!?"
With a smile, I answered, "It's a party. Because you forgave me." The only thing sweeter than my absolute favorite ice cream is the forgiveness my kids served me that day.
Reflecting on the party helped me see so much more clearly how God sees me in those situations.
I don't have to be perfect because He is. The joy that comes with trusting that we have a forgiving God is worth a party too!
If you are struggling to move forward under the weight of something you have done or said, some way you have hurt the people around you, or maybe some regret you simply cannot get past, the invitation to this party is for you.
You can be forgiven and  free—free from the guilt, embarrassment, and misery that come with making mistakes.
It's as simple as confessing the sin, asking for forgive­ness, and believing you are forgiven—because the Bible says you are.
Elisabeth Hasselbeck is an Emmy Award–winning talk show host, former broadcaster, and New York Timesbest-selling author of The G-Free Diet and Deliciously G-Free. Her new book, Point of View: A Fresh Look at Work, Faith, and Freedom details her journey as God taught her how to see clearly – through His lens, not her own. 

In this illuminating book, Elisabeth walks through the times–from her national celebrity days to her newest role as CBO (Chief Breakfast Officer)–where she saw something differently than how God wanted her to, and the path back to His point of view was sometimes rocky but always revealing. Sometimes God's intentions for her were clear, yet other times she encountered situations so uncomfortable and blurry that she could only ask for His wisdom.

Elisabeth welcomes you into the many different, and often divergent, points of view that she has witnessed and learned from along the way. It is a journey that brought her to the ultimate point of view that she discovered in the Word of God–that until she sees herself as He sees her, she is not seeing at all. As you read through the pages here, she invites you to make the same discovery for yourself.
[ Our humble thanks to Waterbrook for their partnership in today's devotion ]