I can't seem to follow through in giving up things for Lent.
Which makes me want to just give up Lent.
Which makes me question Who I am following.
Which, I don't know —  may precisely be the point of things.
When by brother calls, I'm standing on a table, snapping the shutter on a bouquet of roses.
Levi picks it up, his eyes twinkling.
I can only hope Levi doesn't mention he's answering because his Mama's standing smack dab center in the middle of the table, her all happy over a bunch of God glory found in flowers.
"Hello? … Oh, hi Uncle John."
I smile. Levi's a miniature mirror image of my brother, smattering of freckles bridging across the nose and the thirty years that span between them.
"What am I doing? But you know already –talking to you." I can imagine the chuckling on the other end of the line. I set the camera aside, hop off the table.
Levi mouths it large, one hand over the receiver. "ARE YOU AVAILABLE, MOM?"
Oh, but wouldn't I stop being Mom if I stopped being available? Levi grins and hands over my brother.
"Hey. So tell me. Lent. Fill me in, sister."
Our faith community doesn't practice Lent.
And apparently, my brother doesn't do Google.
When he's got a question, he calls me on his cell.
If need be, he waits for me to Google. My brother's a welder.
I can hear the rumble of the diesel engine of his pick-up. He can hear the low roar of my kids.
"Okay… Lent. It's the preparing the heart for Easter. Like going with Jesus into the wilderness for forty days, that we might come face to ugly face with our enemy. Our sacrificing that we might become more like Christ in His sacrifice."
The other end of the line is silent. I don't know if this is good.
I keep talking.
"Lent isn't about forfeiting as much as it's about formation.
We renounce to be reborn; we let go to become 'little Christs'. It's about this: We break away to become."
Still silence. I have one last swing at it.
"Don't think of lent as about working your way to salvation. Think of it as working out your salvation."
I wait.
And he speaks slow.
"Yes…. Yes…. I get it. I'm doing it. I'm doing Lent. God's been speaking things into my life and I think this is how He wants to meet me right now." Like brother, like sister.
I stack clean dishes and we talk about some dark corners.
We confess. We pray.
I forsake and I fast and I forget and I flounder, I fall… I fail.
I've made soup. I've lit the candle. We bow.
I serve bowls, I pass out bread, I pour cups. They're talking and I am listening and I blithely sit down and I eat.
I have bread in the mouth, the bowl half empty, when I drop the spoon. I shake the head hard. I taste disgust. I absentmindedly eat in the evening, a meal I vowed to fast from. What was I thinking? I can't scrub my lips clean.
I choke it out in a whisper, "Do I not think enough of You to remember?"
I close the eyes tight and the heart cries the words silent. "Do I love You so little?"
It is an irrefutable law: One needs to be dispossessed of all the possessions that possess us — before one can be possessed of God.
Let the things of this world fall away so the soul can fall in love with God.
But the flesh is corrupt. I can't do it.
When my brother calls late in the week to talk Lent, I am honest and it hurts and he listens. He unwraps his week haltingly. Like brother, like sister.
"But Lent is teaching me."My throat stings. "I see how messy and depraved I am. How incapable I am in the flesh, how in bondage I am. That I can't keep any law perfectly. Worse – oh, this cuts deep — at times…"
I struggle to keep composure, to grip the words and hand them over. Can I even say these words?
"Worse… at times… I don't even want to keep the law. Lent's revealing my messiness, my impotence. The utter death of my flesh. I can do nothing. My Lent convicts: I am a lawbreaker. "
Yeah, I feel sorta wild, desperate. My brother honors my struggle with his witness.
And I turn towards our Lenten wreath, this path we mark for 40 Days with a moving forward of a symbol of the cross, a moving forward of the candle.
Forty days, I am reflecting on my cross, my sins.
My lent has me hard after the light…
Looking hard for release from this messy body of death.
And there is Jesus.
Jesus with a crown of thorns. Jesus bent low, God carrying my rotting mess, Grace doing what I cannot do, and I cannot ascend to God but He will descend to me.
I whisper goodbye to my brother because I'm sorta all out of words.
I kneel down by this messy symbolic journey I am on.
I finger the wood of the cross. I trace the back bowed. Jesus will have to do everything. Jesus will have to do everything. He will have to accomplish it all. I am ashes and I am dust and I am in dire need and lent has given me clear eyes to see my sin and I am the one broken under all this skin.
I can feel the grain of the tree under my fingertips.
He is the one going to Calvary.
I love Him because His love is the only thing that can literally save me. This wrestle has made that pretty clear.
A failing lent? It is a good Lent because this lament of our sin — is exactly what prepares us for  Resurrection Joy found in our Savior.

Lent gives us this gift: the deeper we know the pit of our messiness & sin, the deeper we'll drink from the draughts of His joy.
Grief is what cultivates the soil for the seeds of joy.
She who knows her sins much?  Loves much, and the road to heaven is paved with the realization that I deserve hell. His rising will be all my joy, because I know it in the marrow of the bones: He is all my hope.
The candle wavers.
Yeah — I know that kind of fragility.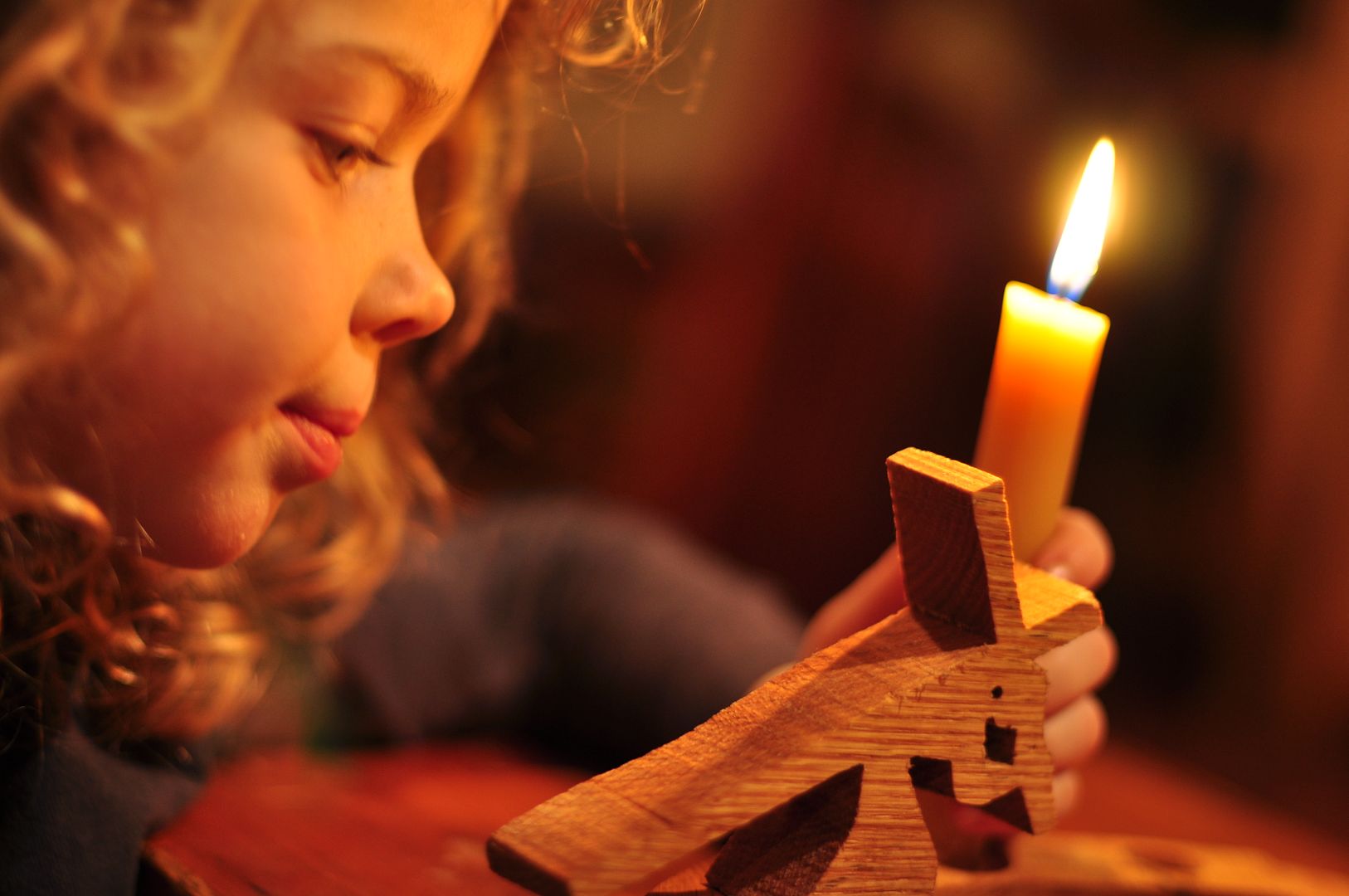 Strange how that is — You can sit in the dark of Lent.
And still feel the warming flame of His Grace on your face.
:: :: :: :: ::
:: :: :: :: ::
Resources: A Cradle to the Cross [Advent/Lent] Wooden Wreath
Free 'Devo-Ornaments' for Easter Tree
To Download the 40 Free 'Devo-Ornaments'
After you just drop in your email here, you will have access to all of the free resources in our Printable Library including the new Lenten Devotions.
Drop your email in here for The Free 40 Lent Devotionals-Ornaments that focus not on Giving Up for Lent but Taking Back what it means to be The People of The Cross
When you are in the Library after signing in,
1. simply scroll down to the Free Tools section.
2. You will see the 'Lent to Repent Resource' in the top left corner of that section.
3. If you click on that? A new window will open with a graphic. Just below the graphic you will see the word 'Download'.
4. When you click on Download — it will download the document onto your computer – then just print.
Now could be a time of soul revival
Each of these 40 mini cards are meant to be 'sticky notes for your soul' — mobile faith, portable grace —  40 SIMPLE, small cards of prayer, intention, reflection and repentance, for your pocket, desk, kitchen sink, to carry around as a compass to orient to the irresistible beauty of Jesus, to the Cross, throughout the day.
Read the prayers slowly. Give each line time to do its work. Revisit the prayers throughout the day. Linger. Reflect. Return. Let them shape you.
Then at day's end, quietly hang that day's compass/card/ornament on a Lenten/Easter Cross Tree, a powerful visual of how we are the People of the Cross.
This could be a Lent to repent. To refresh. To revive.