And here are a few of my absolute favorite things:
Favorite T-Shirt: So Loved
From Morning Star Foundation: Okay, these So Loved T-Shirts? Us girls here cannot stop wearing these. Yeah, perfect under a plaid flannel or a denim, perfect to tell a friend in a hard place how loved they are, perfect to wear as little PSA to the world: YOU ARE SO LOVED. Voskamp farm girls here saying these are favorite t-shirts. (Shalom may have to be told to wash hers because its the only shirt she wants to wear anymore.)

How this Gift of Meaning Changes the World:

Wait for this. This is my favorite. These t-shirts make heart surgeries happen for orphans in China. Babies abandoned because their hearts were too broken and parents couldn't afford the heart surgeries these babies need. Yeah. A T-Shirt. For a Heart Surgery. For orphans. With broken hearts. Saving Lives. For Little People who need somebody, anybody, to be their People — so they can get life-saving heart surgeries.

Shalom's So Loved T-shirt? Got a thank-you from Benjamin. You do know Ben, right? From Jen Hatmaker's #Benstagrams? Okay, now that your heart's about split from the cute of all the Orphans at Morning Star Babies — Go Wear Love & find your new favorite T — and fix an orphan's broken heart. It's like giving to Jesus.
Some Favorite Necklaces:
From RwandaMade: When our Hope-Girl and I were in Rwanda, we met the man, Abraham, who handmade these necklaces along with several of his Rwandan friends, and these have become our favorite simple necklaces that we reach for time and again.

T-shirt and a plaid flannel — and one of Abraham's RwandaMade necklaces. Done. Simple, quiet, works with everything from t-shirt & a plaid to a little black dress to a denim shirt. These necklaces are real staples for us farm girls.

How this Gift of Meaning Changes the World:

Support Rwandan families to stay together, flourish together, send their children to school and boosting the entire economy of one community in Rwanda.
Favorite Ways to Stay Warm:
From Noonday: Honest Confession — I may have worn this scarf and these arm warmers for 3 days last week? The handmade scarf and loveliest arm warmers were a gift from the kindest friend on a week when I was at ER and terribly sick and on IVs and filling prescriptions and just could not get warm — until I pulled on these. Ahhhhh — it's like walking around wrapped in a blanket — but without looking like a bear. (Wearing this with plaid flannel? Bliss!) A pop of colour — and all cold and damp be gone!

How this Gift of Meaning Changes the World:

Noonday's blowing things up everywhere and changing the world. Noonday "partners with talented artisan entrepreneurs to make a difference in some of the world's most vulnerable communities. By developing artisan businesses through fair trade, we empower them to grow sustainably and to create dignified jobs for people who need them. Together we're building a flourishing world where children are cherished, women are empowered, people have jobs and we are connected."
Favorite Christmas Tradition:
From our boy over at JoyWares: There's few things I've valued more in our home than our family's little creative tradition: a one-of-a-kind, 24-hole heirloom wooden Advent wreath.

Because the story goes that — the world's very first Advent wreath was created by a Protestant pastor in Germany, Johann Wichern, who was pioneering an urban mission among poor children who kept waking every morning of December, asking eagerly, "Is it Christmas yet?" So Johann Wichern took an old wooden cartwheel, and drilled 24 holes around the wheel, for 20 small candles and 4 large candles.

Each day of Advent, the children gathered round to watch the lighting of one of the small candles. And every Sunday of Advent, Mr. Wichern lit one of the wooden wreath's large candles. And so the tradition of the 24-hole advent wreath began & grew —

Into our tradition of a similar 24-hole wreath — with the addition of a wooden silhouette of Mary on a donkey. Each day we, we light the next candle in the 24-hole wreath, move Mary on a donkey figurine further around the circle & closer to Christmas — and read that day's epic story from either adult's The Greatest Gift, or the family edition, Unwrapping the Greatest Gift.

A simple & memorable family tradition to focus powerfully, beautifully, on Jesus… (that also extends into a 40 hole Easter wreath with a silhouette of Jesus carrying the Cross.)

How this Gift of Meaning Changes the World:

Look at the 14 kids that are sponsored through Compassion through this project and the 30 water filters donated to Africa!

And — nothing slows us down through Advent and creates a gathering place for us all every evening like this 24 Day Advent Wreath.
Favorite Bag:
From Fashionable: So I've wanted a big old brown leather tote for forever. And when I was hugging Rebekah Lyons bye last spring, I happened to tell her how her tote was soon worthy — and the girl went and dumped everything out of her bag — and handed me her bag. I felt like a fool, insisted she take it back, but she laughed like she's made of the loveliest happiness that she is, winked and waved.

Every single time I use this bag — I think of how friends can love us in the most healing, beautiful ways. Every single time I use this bag — I think it's the best bag ever. It feels like an old friend when you throw it over your shoulder (perfect with a farm plaid shirt! Ummm… there may be a pattern here? Lame pun sorta, kinda, intended. Not.) Could not recommend this bag highly enough. By far my favorite bag ever.

How this Gift of Meaning Changes the World:

Well — go see for yourself. Fashionable is doing local and global work that's pretty ridiculously amazing.
Favorite Christmas Gift of Meaning to Give: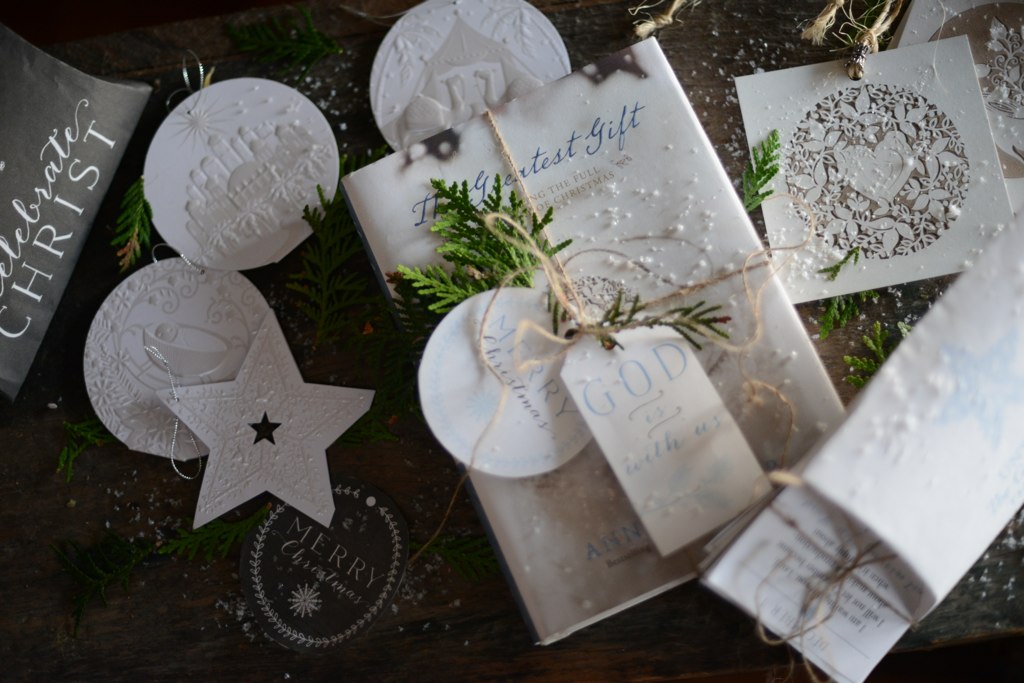 and… from a farmhouse to your house:
"Going through your book for the third year and completely loving my time with the Lord this advent. #Thegreatestgift #slowChristmas" ~ Michelle

"My church has never formally celebrated Advent, but this morning my pastor started a new series to teach the meaning of Advent. And at the end of every service (there are five weekend services plus two satellite extension campuses), my pastor put on the large screens a picture of " The Greatest Gift" and encouraged everyone to get a copy — women and men. He invited everyone to read through "The Greatest Gift" with him this Advent season. Then he pulled out a copy of the "Unwrapping the Greatest Gift" and he asked parents to take their kids on a journey through Advent with this book… and he's very particular about the books he recommends from the pulpit." ~ Denise

"Your book is exactly what I needed this year. I lost my mom when I was 21 and without her, Christmas lost its wonder. So for 13 years, Christmas was a time of depression for me. I couldn't even pull it together for my own girls. This year, and the first year I will be without my girls for Christmas and I had all the more reason to be lost and lonely, and then your post about Advent lead me to your book. I'm a believer. But Advent never was shown to me as a time of hope the way you have shown it." ~ Heather

or I'll read to you and the kids (or to anyone you love) on the busy nights, the crazy night, the just-bone-weary nights — and we'll Unwrap the Greatest Gift together. "This is the best part of Christmas with our kids!" ~Jamie
And the Loveliest & ABSOLUTELY FREE BEAUTIFUL THINGS COMING THIS WAY TOMORROW — that we've been dreaming about for a long time and cannot wait to share with you! Stay tuned!