… it's a big week! Holidays and gratitude and Advent! and I don't know anybody I'd rather begin the week with more than Kristen — because she knows: The Perfect Gift has MEANING. And that's what the next several weeks around here will be: Simple. Focused. Quiet. Meaningful.  Kristen echoes that —  Kristen and I are sorta, kinda, soul sisters? She wrote her story  of one woman's journey from comfortably living a safe, "good-girl" faith that didn't cost much, to realizing that God was daring her to say yes to a bolder, more authentic, more dangerous way. This story of spiritual adventure throws the doors wide open for any woman who's ever thought of herself as "just a mom." And that's me — a grateful mom to six. And Kristen has invited me, all us "just moms", to say yes to God with her. As I serve on the board of the ministry Kristen founded, Mercy House Kenya, I get to see it first hand again and again — Kristen will inspire and empower you to say yes to God right where you are— and choose holidays of MEANING… choose holidays that don't Miss Him. A grace to welcome my soul sister, Kristen Welch, to the farm's front porch today…
Her name is Kalkida.
She is 10 years old and lives in Ethiopia.
Her eyes are windows to her soul.
When her father passed away two years ago, her mother and siblings wondered how they would survive.
There was no work, which meant there was no food.
It's a dangerous life for a mother and her daughters because the world preys on females and easily turns their bodies into a commodity.
So, her mom moved them to the city dump. To provide for them.
It is an illegal place to live, and can be violent, but it's free.
And sometimes, there is food among the trash if your fast enough to find it before the other 100,000 people squatting there do.
Around the globe, being born a girl can be a death sentence.
Violence against women is a humanitarian crisis and this week, we are joining the world and demanding that it stop.
The United Nations has declared it a day to end violence against women worldwide because 70% of women will face abuse and we cannot ignore it.
Kalkida and her family struggled to survive in the dump and stay safe in their shanty made of whatever they could find. But they are some of the fortunate ones.
In the last year, Kalkida got sponsored and her mom joined Women of Korah, a small grassroots program that provides child sponsorship and school fees and a much-needed job for her mother. They also were able to afford rent.
When I traveled to Ethiopia with my teen daughter to see firsthand how Mercy House was helping these women through our Fair Trade Friday program, I saw what happens when we don't look the other way.
I watched Kalkida's mom work hard to provide for her kids-not in the city dump but at a table with dignity, and in community with other mothers.
And when I looked into this mother's eyes, held her hands and she reached out and touched my daughter's face and thanked us for being Kalkida's sponsor, I didn't see a stranger. 
I saw a sister.
I saw a mother who would do anything to provide for her kids.
The ladies were making bracelets for Fair Trade Friday's Bracelet of the Month Club.
I wear a bracelet around my wrist everyday to remind me that when I wear another woman's story, I become a part of it.
I wear it to remember that 7 out of 10 women in our world today will face violence and many have to make devastating choices to provide for their children.
I wear a bracelet because it matters.
Kalikida and her mother are one of thousands of families who are empowered with work in Jesus' name through Fair Trade Friday, the monthly subscription club that is changing their world.
Fair Trade Friday works with more than 30 faith-based groups in dozens of countries who are providing jobs for thousands of oppressed and impoverished women, most of whom are at risk or have been rescued from the violent claws of trafficking.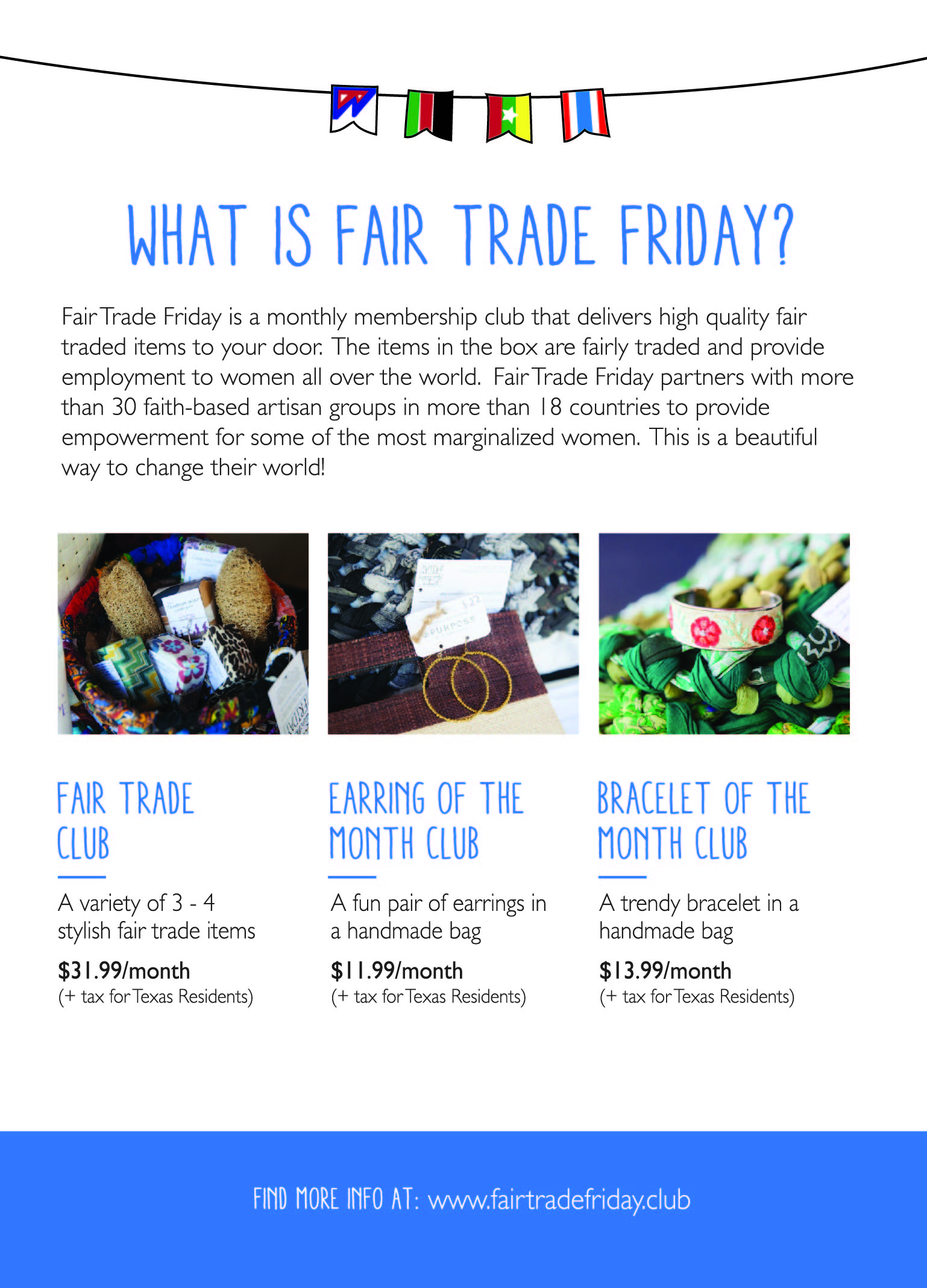 You provide impoverished women with a job and they make you trendy fair trade products that are delivered to your door every month.
Fair Trade Friday offers several club options: The Main Club which is a variety of amazing items; Earring of the Month Club and today, we are launching our brand new Bracelet of the Month option.
Bracelet of the Month is $13.99 a month and with your membership, you get a darling bracelet in the mail to share as a gift or keep and wear and it comes in a handmade fair trade cloth bag. So, each membership provides two jobs for two women.
Women like Kalkida's mom.
This is a beautiful way to the change the world (and look cute doing it!)
This is one of the women being supported by Fair Trade Friday.
This is her before and after picture:
Can a bracelet really change the world?
Ask her.
 The holidays can become holy — when we choose to  become part of holy stories.  As the holidays begin — come choose The Perfect Gift of Meaning with us? Come choose to be part of one woman's, one family's story? God's inviting us to be part of holy stories during this holiday season — so we experience truly holy days. That's all this farm family is choosing this Christmas — choosing to stay in His Story.  Come join us? Give the Bracelet of the Month as a gift with meaning… and be part of a holy story… the holidays.
Our Hope-girl here & Shalom have been all in  for the Bracelet of the Month Club
Click here & come join us  & be part of a pretty unbelievable story— a holy story —
and change someone's world — & change the world — and change the holidays into holy-days….
No better way to celebrate than to have the joy of GIVING!