Summer's not some string of tight square boxes on a dog-eared calendar that get stuffed with random, blurring miscellany — but these small, holy gift boxes.

Summer's made up of these moments, flecks of glittering sand that we shake out of those gift box of days.

When we see calendars not so much as rows of boxes to fill up with things to do — but as boxes that we get to unwrap — the present moment always becomes a gift.  

A gift from His hand — that ushers us into the vast grace of His heart. 

Ruth Simons, mama to 6 boys, and one breathtaking artist (our walls sing with her gorgeous, edifying prints), is a mentor to me in many soul, life-giving ways… and she  unwraps a bit of summer for us… sees the present gift of now. 
guest post and photos by Ruth Simons
T he last of the breakfast dishes get rinsed and put away while the littlest of my six man cubs chase each other around the house with foam swords.
Big boys start a load of laundry and make their beds while reminiscing that glorious afternoon of catching 9 german brown trout on last weekend's epic fishing trip.
I hear them recount crisp mornings by the roaring river, the campfire that wouldn't die out, the meals that always taste better in the woods, and the thrill of going days without showering or changing their clothes.
It's a man cub's dream, best kept alive by repeating every detail, smell, and sound.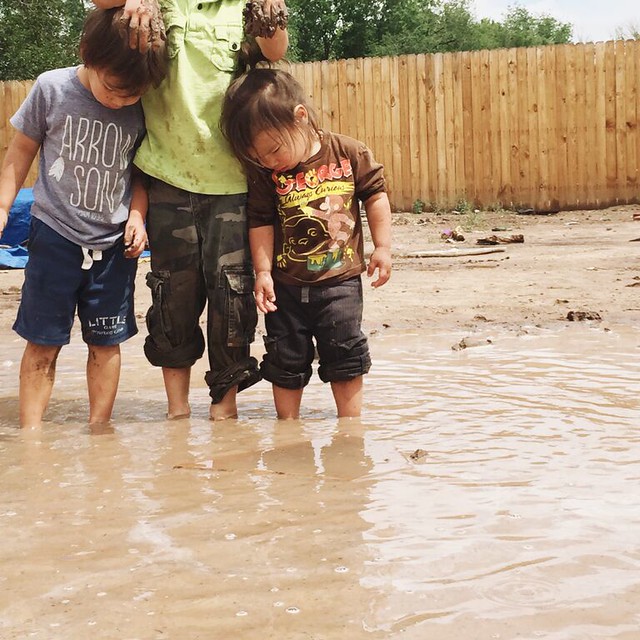 Left up to themselves, summer would be one long fishing trip and schoolwork and chores would be no more.
And left up to myself, summertime would be continually slow and restful…
…and dirty dishes would be no more,
…fussy children would be no more,
…unfinished projects would be no more,
…piles of laundry would be no more,
…difficult relationships would be no more,
…and doing what we're called to do would feel easy.
Maybe we've been tempted to hope in weekends, vacations, summertime, retirement, or making a life doing what we love doing. We live in a world that tolerates and survives the mundane because we can't imagine that miracles of hope can happen in the smallest and simplest of places.
But redeemed people living in a manger-rejecting world can more than just survive.
When our summertime looks less like colorful beach blankets and snow cones, and most often like readjusting expectations, peacemaking between children, and learning to love what must be done– God faithfully shows us that He equips and sanctifies in quiet and secret places.
We learn to see the everyday as He sees them: Holy.
There's a cadence to being transformed in the rigor and rest of what we call mundane, but He calls by design.
When you look up and take heart… the same majestic forest sky from which a million bright stars bid us to rejoice and forget our worries by campfire, calls us to finish the last of tonight's dinner's dishes —
and quiet this ordinary house on a simple summer's night with grateful praise.
Ruth Chou Simons is an unlikely mom to six young boys and wife to a very patient man. Online, she's an artist, writer, and speaker, who shares her journey and how God's grace intersects daily life at her blog + shoppe at GraceLaced.com. In her everyday life, she washes 8 loads of laundry a week, cooks for large crowds, and educates her children from home part time through the classical Christian school she and her husband, Troy, founded in Albuquerque, New Mexico.

Have you seen Ruth's paintings? Four of these exquisite wonders hang on walls in our home… and one of those paintings, God to lead us through the hardest season…  and her instagram feed? her blog? can be like a gift of summer manna.