When she first became a mother, Amy Julia Becker thought her children—Penny, William, and Marilee—might cause everything in her life to unravel. It took years to see that the unraveling was the beginning of a new garment. Amy Julia invites us to pay attention to the smallest voices in our lives, and to the whispers of God's Spirit in the midst of the ordinary hard stuff of every day life. A grace to welcome Amy Julia to the farm's front porch today…
Our disastrous morning at the grocery store comes at the end of a long week.
A long week that involved two trips to the pediatrician and another round of cat pee on the bed and Penny coming home from school and announcing that she never wants to go back.
My computer has crashed. A check has bounced. I cannot figure out our new health insurance plan.
And the car has started to smell like rotten bananas.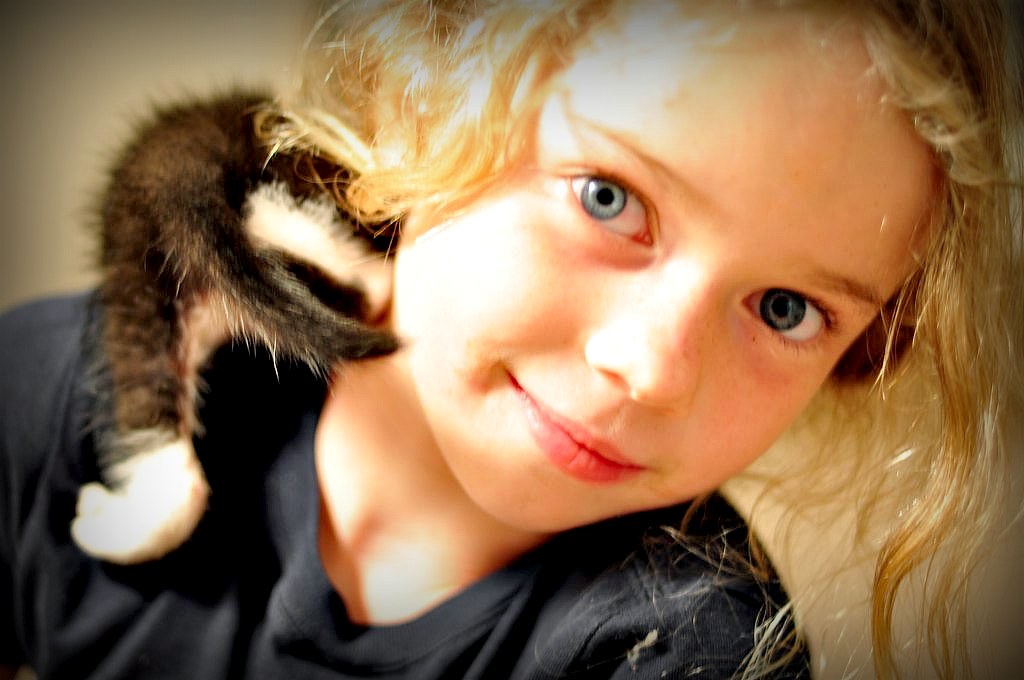 So, in the store, after Penny drops an avocado on the floor and William grabs yogurt-covered raisins off the shelf and Marilee tries to stand up in her seat for the fifth time, I decide to abandon this mission.
We leave the cart full of food and climb back in the car. From the front seat, I say, "Guys, I don't know what I'm going to do." I feel as though I am stuck behind bars, pacing in my cell.
Then William says, "Mom, maybe I need to tell you a funny joke."
He makes something up about a dog that licked a lollipop, and he laughs and laughs and laughs.
And his laughter breaks through. It gets me out.
For a long time, I prayed that God would give me patience with my children.
It started when William was an infant and he wouldn't sleep through the night. First I tried letting him cry it out. Three weeks later, after hours of "crying it out" every night, I decided it wasn't the responsible approach.
So every night instead became a desperate prayer of Please, God, please let him sleep.
But he didn't. Night after night, month after month, William woke up. Crying.
I decided to pray for God's presence to get me through those nights.
But I was still woozy from exhaustion and I still snapped at Penny when she didn't respond quickly enough to my directives and I still wished for and hoped for and dreamed of more sleep.
Prayer at this point seemed ineffective at best and proof of God's absence at worst.
I was close to giving up on prayer altogether. Instead, I started to pray for laughter.
Plenty of moments—using the potty, getting dressed, putting on jackets, getting from the door to the car—still became occasions for resentment to fester inside my chest.
But then mornings arrived when something else happened.
When Penny and William were in their pajamas on our bed and I said, "After I dry my hair I think there are two little people who need to get dressed. Where are they?" and the bed exploded in giggles.
When William and Penny climbed into Marilee's crib and they all jostled each other and giggled some more.
Whenever laughter broke through, it reminded me that God was with us.
Jesus tells us that our faith ought to resemble that of little children. I wonder if our laughter ought to resemble theirs too. And I wonder if laughter—holy laughter, laughter that brings us together and emerges out of love—is the soil for faith.
And so, in the minivan after the disastrous trip to the grocery store, when William tells me his joke and his sisters find it hilarious, I start to laugh with them.
The laughter releases the tightness in my chest, like a potter kneading a cold ball of clay gently, firmly, until it feels pliable, responsive, ready to become something more.
The laughter also leads me back to those years of prayer—when I asked, not for a pious experience in the minivan or for perfectly behaved children in the fruit aisle, but simply for moments of delight.
The laughter in that smelly car on that gray morning comes as a gift.
It reminds me that God's Spirit wants to connect us to each other not just through "religious" experiences but in the midst of very ordinary and sometimes very desperate, days.
It takes me one step closer to letting go.

Amy Julia Becker, the author of A Good and Perfect Gift, and lives in western Connecticut with her husband and three children. She blogs compelling, honest words about faith, family and disability for Christianity Today.

 Her latest book, Small Talk: Learning From My Children About What Matters Most are rich, liberating words for parents who need to know they aren't alone, and for everyone who wants to receive love and laughter through the little ones in their lives. Amy Julia tells stories based upon the questions and statements her children have made about the things that make life good, the things that make life hard, and what we believe, such as prayer, God, and miracles. I really love how the illuminating, brilliant words of  her Small Talk — add up to the biggest, most beautiful, eternal things.