You'd have thought I was reading The Dangerous book for Boys or the like.
The way he kept grinning at me as I read, looking over his shoulder and arching that eyebrow all mischevious at his brother all smirking.
I think this as I read, that maybe this really is the original dangerous book for boys.
The book boys have been reading for the last millennia or two, the one that grabs a body by the shoulders and shakes the drowsy straight stock awake.
The one that binds the bloodied up and romances the lonely, that woos the rejected and cuts straight through to where the soul joins the bone.

A bona fide Dangerous book for everyone.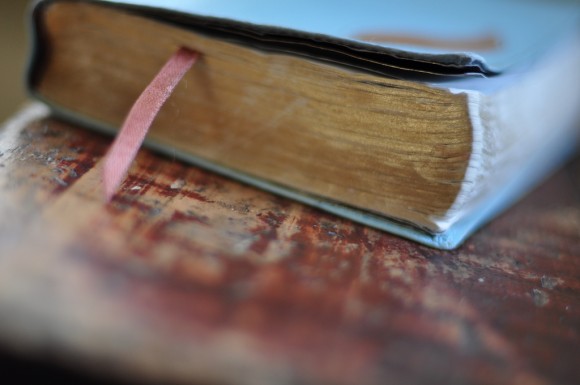 It's the same every day.
Everyday Malakai pleads for that book when we sit down for our daily read alouds. "Read the Bible first —- please?!"
He Bible begs.
I didn't do anything to make this happen.
I almost think I don't know how it happened at all. But I do.
I opened up the Living Word and let it wield its glint sharp edge. I opened up straight Scripture, a one year Bible
, and let it breathe fire flame. I opened up the Bible for the Boy and he could feel the Danger.
This Word is no safe lion.
"You were reading about Joseph. And the brothers. Remember?" I look for my bookmark and he looks over my shoulder and I can feel the boy hunger for more.
We, the Word-God's poiemas, are our realest real, when eating His Words.
"Yessss… Right here…" I smooth the page out.
He breaks into grin anticipation. Littlest Sister, she curls into me, a tendril; Levi and Hope, they sit on the rockers, the young made wise with knitting needles and the books read aloud.
"When Jacob learned that there was grain in Egypt…"
I begin and I read of ten gaunt brothers caravaning across hot desert and of the knees bending fast before Pharoah's man and the lips kissing the cracked dirt at the ditched brother's feet. And these sons of mine break faces in mile-wide smiles at ancient brothers speaking incognito, at supposed strangers and the claim of spies and it reads like mystery, the best — for it breathes real.
And when famine gouges deeper into guts and the brothers' silhouettes slip again across sands, bow like sheaves before the brother masked Egyptian, Malakai's eyes blaze with story light.
And the child, he's made of words, breathed into being by words, breath of the Word, and when I read to him the Word, I breathe into him what he's made of and words pulse the veins and the child feels.
I reach for the bookmark.
"No — more! More!" The room erupts and they plead for more and I read.
Of the furtive steward with the secret silver chalice, and this is really the story, and Malakai, he writhes.
And I read slow of the stealth crawl of the servant to Benjamin's bag, and Malakai, he wrings hands, and I watch his face contort. I don't know if I should keep reading.
And when the house steward pants after those full stomachs bound home for Israel, accusations ready on the tongue, Malakai rises on knees, anxiety mounting in the west, and he presses his chest up against my shoulder and his eyes cling to me. Levi grins his knowing.
I read the words of the steward authoritative, "Whoever is found with the chalice will be my slave; the rest of you can go free." Malakai digs his fingers deep into my arm. He won't let me go. I can't look at him when the words on the page form, "And the cup was found in Benjamin's sack!"
A storm, he splits open over my shoulder and he rains down blackest grief and I am gully washed away.
He heaves with centuries of brother pain.
He's crying for Benjamin and brothers and over real boys that have walked off the page and right into his skin.
My son's crying over the Bible.
Isn't this the Best Read ever?
Why hadn't I thought of this years sooner, to read the Bible to my children not only during "devotions" but as a the greatest read aloud ever, the Greatest Story ever told, reading several chapters at a time
? Till His story was all told in a year
?
When had I had last wept over Words?
When had I lost my first Love?
I stroke his cheek with one hand, hold the Word in the other.
His own brother offers pain relief: "Kai— it's going to be okay," murmurs Levi, knitting needles stilled. Kai shudders hard.
"You want me to go on?" I whisper it soft.
His yes mangles in wail.
Yes. It's His story that wounds us and it's His story alone that heals us and sadness always needs more Story. The fullest comfort comes from the fullest story. And the fullest Story is the Father story and I stay in it because it's knowing the end of the Story that wipes away the tears. 
I read it urgent, for I need to get to the hope: Judah entreats the younger Joseph for release of the youngest Benjamin. Malakai's still woe-wracked on my shoulder. Littlest Sister pats his hand.
And then there it is, what we've read pages and pages for, and I read it through his tears falling:
"Joseph could stand it no longer. There were many people in the room, and he said to his attendants, "Out, all of you!" So he was alone with his brothers when he told them who he was." Kai sniffles, brushes his cheeks.
I read on and the words barb in my throat and tear me a bit open… and the cement inside gives a way and I am alive. I weep with my son. This family, and these brothers, and this love, and our family and these brothers and our love and we are them long ago and they are us now and I am tears.
"Then he broke down and wept. He wept so loudly the Egyptians could hear him…" The Living Word animates in our living room thousands of years later and the story that undammed Joseph has undone us.
"I am Joseph!" he said to his brothers."
He is Joseph! I feel Kai's feeble smile before I see it, the way clouds break up and rays feel warm. I laugh through the ache!
He is Joseph! Kai is Kai! God is God! We are well!
The Word has done it. The Word holds up a mirror and the Word peels back the mask and the words are who we are.
We weep out of recognition. This story is us. This is the read that is deeply revelational. We see us.
When we pick up Scripture, we do not read, a verb; we become, a realization.
Becoming is the most Dangerous of all.
I slip in the bookmark. Kai's body rests against mine.
Tomorrow we will read more.
How many times have I read through this one?

He meets every day with just the right words, for exactly where I am — times I could my head down and weep for the grace of it.

over and over again — when He gives His Word in the morning, I brim because He knows what I need & is close.

It's a quieting truth: Spiritual disciplines are not about getting Him to love you… but about getting yourself to place where you can hear Him tell you He loves you.

Any time of year — to pick up The One Year Bible

Couples of the Bible: A One Year Devotional Study to Draw You Closer to God & Each Other

A 52-week devotional just for you and your spouse.

Make date time at the end of the day for just the two of you — a week of daily readings focusing on one couple of the Bible, from Adam & Eve to Christ & His Bride. With readings easily divided up for each day of the week, you read their story, explore how their story can powerfully touch  your own marriage, and then explore questions applying biblical truth to your relationship with your spouse.

Then the week finishes with a  tender time of reflection, thanksgiving and prayer. This is the only book that's been on the Farmer's side of the bed this year.

When you want your marriage to grow deeper spiritually, I can't recommend anything better than Couples of the Bible — the gift of intimacy in Him.

The Jesus Storybook Bible: Every Story Whispers His Name

This is a wonder! Anointed! Captivating! Absolutely ageless!    

I don't know how many copies I have shared of the Jesus Storybook Bible around the world in various languages, how many I have given as baby presents, how many nights I have read aloud from these pages. This the truest, richest theology in the most dancing, lyrical language.

I never, ever tire of the wonder of these pages — and how every story whispers Jesus' name.

Absolutely 5 Star in every possible way: The Jesus Storybook Bible

The Vos Story Bible for children has been a staple read aloud here for nearly 2 decades.

Vivid, accurate retellings of both the Old and New Testament, a feast for children whose parents want to cultivate an appetite for the richness of His Word.

This isn't dumb-downed — but full-bodied and beautiful, meaty and real.

The Children's Story Bible is simply a classic that I pray to be reading to my own grandchildren.

ESV Single Column Journaling Bible

This is the Bible that I read out of after every meal, the one I date our family Bible readings for the day just the way the Farmer's mother dated decades of their family Bible reading, the one I journal thoughts in the margin, carry to Sunday meeting, keep at my place at the table — this is the Bible with the wide margins and faded lines that beckon me every day:

Read His Story — and write the story of your life around His Word. Let it shape you, change you, revive you, carry you.

There is something very powerful about the lines in the margins of this Bible, inviting you to actively engage with His Word for it is living and alive and God speaks.

If you need to find Him again — begin here with the ESV Single Column Journaling Bible... begin with His Word with a pen in hand, your heart ready to run like ink.

I have never lingered as long over writing words as I did contributing to the newly-released ESV Women's Devotional Bible. The gravity of entering into such a hallowed space… much praying and pouring over words…

The 365 devotionals written by Lauren Chandler, Elyse Fitzpatrick, Joni Eareckson Tada, myself, amongst so many others, are deeply theological, every day accessible and profoundly rich.  

The best devotional Bible I have ever read, I cannot recommend the ESV Women's Devotional Bible highly enough for a fresh vision of His heart for you … 

Saint John's Bible: Gospels and Acts

The Saint John's Bible is the "the firsthandwritten, illuminated Bible in the modern era," the first Bible to be written all out in calligraphy in over 500 years.

Our St. John's Bible, one of the most meaningful investments we have ever made as a family, stays open in the centre of our living room — because He is the Master Artist and His Word is infinitely beautiful to us. 


Because that is the bottom line: Jesus is not merely useful to us — Jesus is ultimately beautiful to us. A breathtaking heirloom for a family
So it comes down to that — that these pages are either absolute or obsolete.
His Word is either infallible or insane, either God's Word – a sure Word, a pure Word, the only secure Word, or mere words, either miraculously alive with otherworldliness or embarrassingly a mess of ignorance.
You get to either spend more of the marrow of our one life looking at cat faces on Facebook or at God's face in Faith's book.
You get to either sling God's Word down like an energy drink for your day — or you get to savour it like a taste of wine to warm your very heart alive.
We can have as much of God as we want.
It is Old Truth: Everything else you eat is dead.
Everything else you eat is the once living that has died. You have to open the fridge up like a casket and look for something to eat amongst its shelves, all your dead food being kept cold like a corpse.
All else is eating of a dying world — until you taste Him. Until you eat God's Words, until you swallow eternity, these Words that will outlast fire, until you press Christ, Living Bread into you, the sustainer of stars and strength and souls.
"Man does not live by bread alone, but man lives by everything that proceeds out of the mouth of the LORD." ~ Deu. 8:3
The Bible is the language of God in the language of man and this is the thing: Reading His Word is not about getting Him to love you…
but about getting yourself to the place where you can hear Him tell you He loves you.
Every syllable of every psalm, every resting space between every caressing word that ever proceeded from the mouth of God was uttered to usher the willing into the unimaginable joy of being safe. 
God gives the Ten Commandments as more than ­Law—​­He gives them as a true commitment to love. God gives the ­Law—​­because He wants there to be love.
He gives His plea: "Oh, that you would obey ­Me—​ because ­that how you give Me love, and that is  how I give you love because these commandments fulfill your longings and your love and your being."
The Ten Commandments are a command to relationship.
To love vertically, to love horizontally, to love ­eternally —​­and it's not a suggestion.
It is not a suggestion. These words are your life…
Though few may read His Word, a thousand will read the sheer leaves of your moments and how you turn.
So there's a steeping in the Word, porous and saturated with an otherworldly grace so that when everything spins, we spill glory, the whole earth full of His glory.
We are the Word that the world is reading; We are the chapter and verse made visible that the world is needing; We are the Gospels incarnate that the world is heeding —
and we are the broken and bruised and bent who simply must eat for the relentless craving of our empty places:
We will not face the day until we've touched the face of God.