In high school,  Kristen Welch wore a big, sparkly rhinestone "Jesus" pin to school every day and carried her Bible wherever she went. (Yes, she was that girl.) But Kristen didn't realize her faith, though sincere, was shallow; much like her artificial accessory, it would one day tarnish, no longer a true fit for who she was. As real life catapulted Kristen into places and situations she'd never imagined, there came a day when she stood shocked in the slums of Africa and realized in one desperate moment that Jesus wasn't enough for her. At least . . . she wasn't living like He was. Rhinestone Jesus is the story of one woman's journey from comfortably living a safe, "good-girl" faith that didn't cost much, to realizing that God was daring her to say yes to a bolder, more authentic, more dangerous way. This story of spiritual adventure throws the doors wide open for any woman who's ever thought of herself as "just a mom." And that's me — a grateful mom to six. And Kristen has invited me, all us "just moms", to say yes to God with her. Last night I was on a conference call board meeting for Mercy House Kenya with Kristen and it happened again — Kristen will inspire and empower you to say yes to God right where you are—and stand amazed at how your life will shine. A grace to welcome my soul sister, Kristen Welch, to the farm's front porch today…
Ican't remember not going to church.
I can't remember the first time I prayed or the first time I repented.
I can't remember not knowing God.
I'm one of those who grew up attending three weekly church services. I've always bowed before meals. I wore a sparkly rhinestone pin that spelled J-E-S-U-S. I left those pews for Bible college and left Bible college for church staff positions. I spent the first thirty-something years of my life inside the church walls.
I've heard hundreds of topical, expository, textual, and biographical sermons.
I've listened to dozens of personal testimonies and shared some of my own.
I've attended discipleship courses and witnessing classes.
I've done Beth Moore Bible studies for countless Thursdays and I've attended my fair share of Christian conferences.
I have five versions of the Bible and I can sing countless Christian songs.
My life was far from perfect, but I've always made Jesus a part of it.
And so when I traveled to Kenya in 2010 with Compassion International to write about poverty in the slum, I wasn't expecting everything I ever knew about God to break wide open. I wasn't expecting to see so much human suffering. I wasn't expecting to feel angry at God.
I wasn't expecting redemption.
When I stood in hell, surrounded by filth and stench and misery, I asked God how He could allow so much suffering.
I wanted to know what He was going to do about it.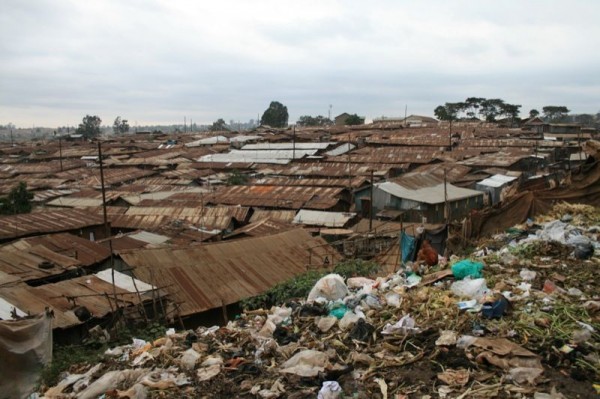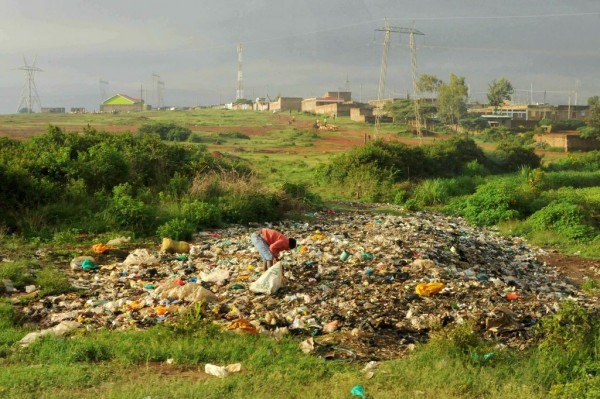 And He asked me the same question.
Because for most of my pew sitting years, I ignored something very important.
I was full of faith, but I wasn't obedient.
I could quote scripture and talk about all my blessings, but I couldn't show you my faith in action.
And it took an orphan boy's question to shake me to the core.
As I stood in his cardboard home, without one noticeable comfort, water dripping on my head, his smile lit up the room. I couldn't resist asking, "Why are you so happy?"
Because in my culture, in my life, stuff made me happy. More stuff made me happier.
And it shocked me to see unspeakable joy radiate from someone with nothing, not even a mom and dad or a real bed or enough food.
"I have Jesus. He is enough," he said confidently. Prophetically.
And when I looked at what he had and what I didn't have, I discovered Jesus wasn't enough for me.
For over 35 years, I tried to fit Jesus into my life. I added Him here and there. And then I met a kid in Africa who fit his life into Jesus and he had so much more than I did.
And so, I had to ask myself the two questions every Christian in North America must ask (according to KP Yohannan) :
1. Why was I born in one of the richest countries in the world and blessed with so much material and spiritual abundance?

2. In light of this superabundance I enjoy, what is my minimal responsibility to the untold millions of lost and suffering in this world?
Since that day in 2010, I have discovered the life-changing answers to the questions in obedience.
I've tried to do whatever Jesus tells me.
I've traded in that sparkly pinned-on faith for something dangerous and real.
It's been a journey of wild obedience and crazy yes-saying that resulted in starting this organization called Mercy House.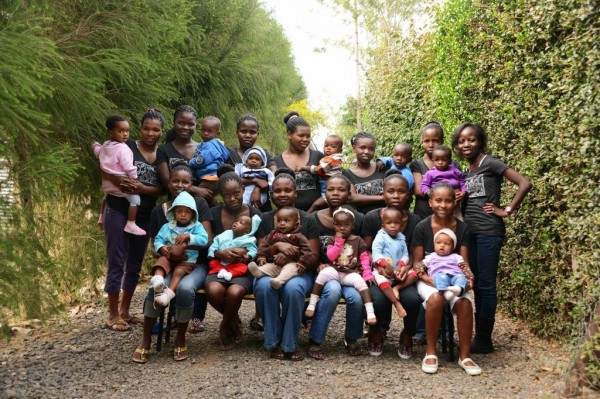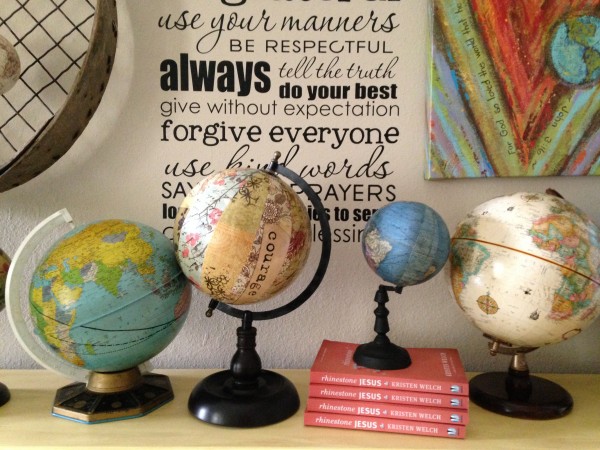 You can read more about the raw and beautiful journey filled with heartbreak and joy as I've tried to make Jesus enough in Rhinestone Jesus: Saying Yes to God When Sparkly Safe Faith Is No Longer Enough — the forward of which was written by our friend Ann here, another "just a mom" who wants nothing more than to make Jesus enough in her life — right. where. she is.
Ann writes:
You can lose your rhinestones, and it can feel like someone just lifted a millstone that's been breaking your neck.

Yeah — Lose a rhinestone or two and you lose the rock that's been weighing you down.

Kristen Welch turns a corner in her life and finds her face right up against what she never expected: Was Jesus an accessory to her life? Or the only thing necessary?

This is a story of one woman, one mom, who decided to simply say yes to doing the next thing in front of her — and discovered the startling truth:

Small Yeses to the Next Thing translate to Huge Yeses and New Things in the Kingdom of God.

Changing the world started with changing her words.

Instead of saying, "No, I could never do that…." she started saying, "Yes, God could even do that through even me…"

It wasn't that she thought she was a woman who could really do something big—- but that she really believed God could do anything big with anyone willing.

Kristen and I have sat together several times. I've leaned forward to hear the heartbeat of Jesus in her quiet words. I've heard the tremble in her voice. I've listened to her honest laugh, her understated, brazen vulnerability.

I've watched her face tell this story — this story of deciding that she didn't want her life to be about just getting by, just getting through.

That's the thing: They say that life's just about putting one step in front of the other. But the real truth is — sometimes there is no way through anymore, no more just one step in front of the other.

Sometimes the only way through is to start taking wild leaps of faith.

I've sat with Kristen and been captivated by just that. There's nothing like it — to witness the raw beauty of a woman who really lives into the fullness of wild faith. There is no really living without really saying yes. Without really taking one step that is is actually a leap.

There comes a moment in every woman's life when something she was tightly holding on to —- just slips from her hands. Sometimes it's a dream. Sometimes it's a place… a person …. a purpose…. Sometimes it's the life you always thought you'd be living.

And you find yourself standing in front of the mirror realizing that the faith you've been pulling on every day —- doesn't seem to be enough?

What happens when you look yourself right in the eye and realize:

I'm not living like just Jesus is enough for me.

What happens when you realize that, really? You realize you actually want a lot more than just Jesus.

That's the moment when the rhinestone falls, clatters, across the floor.

That's the moment you find yourself invited into endless diamond fields of real faith.

The actual kingdom of God.

This book in your hands is your invitation to The Real More.

So the whole Body of Christ could look into the mirror and see it right there in the eyes, in all of our eyes ….

a shimmer that is genuine Jesus.

~Ann Voskamp, Board member for Mercy House Kenya

Kristen Welch grew up in a suburb of Houston, Texas. In the 1990s she attended a small Bible college, where she met her husband and graduated with degrees in Christian education and English.

For the first ten years of marriage, she worked alongside her pastor-husband in youth and children's ministry in Arkansas, New Mexico, and Florida, often writing her own curriculum and resources. During this decade, she endured the ups and downs of life. It wasn't until she became a busy mother of three that she began to blog about her life.  Her book Rhinestone Jesus: Saying Yes to God When Sparkly Safe Faith Is No Longer Enough may be exactly what your heart's been aching for.