There must have been a blow-out sale on sheeny wrapping paper with dancing reindeer that year.
Because that's what she'd wrapped everything in – flashy reindeer with bulbous red noses.
A whole herd of them circled under the blinking tree slathered with cheap tinsel and Grandma had scrawled our names in blotchy blue ink on each of the packages — To Jill. To John. To Ann – to all 14 of her plain-named grandkids.
The decades have irreverently erased whatever my brother John ripped into on that Christmas Eve.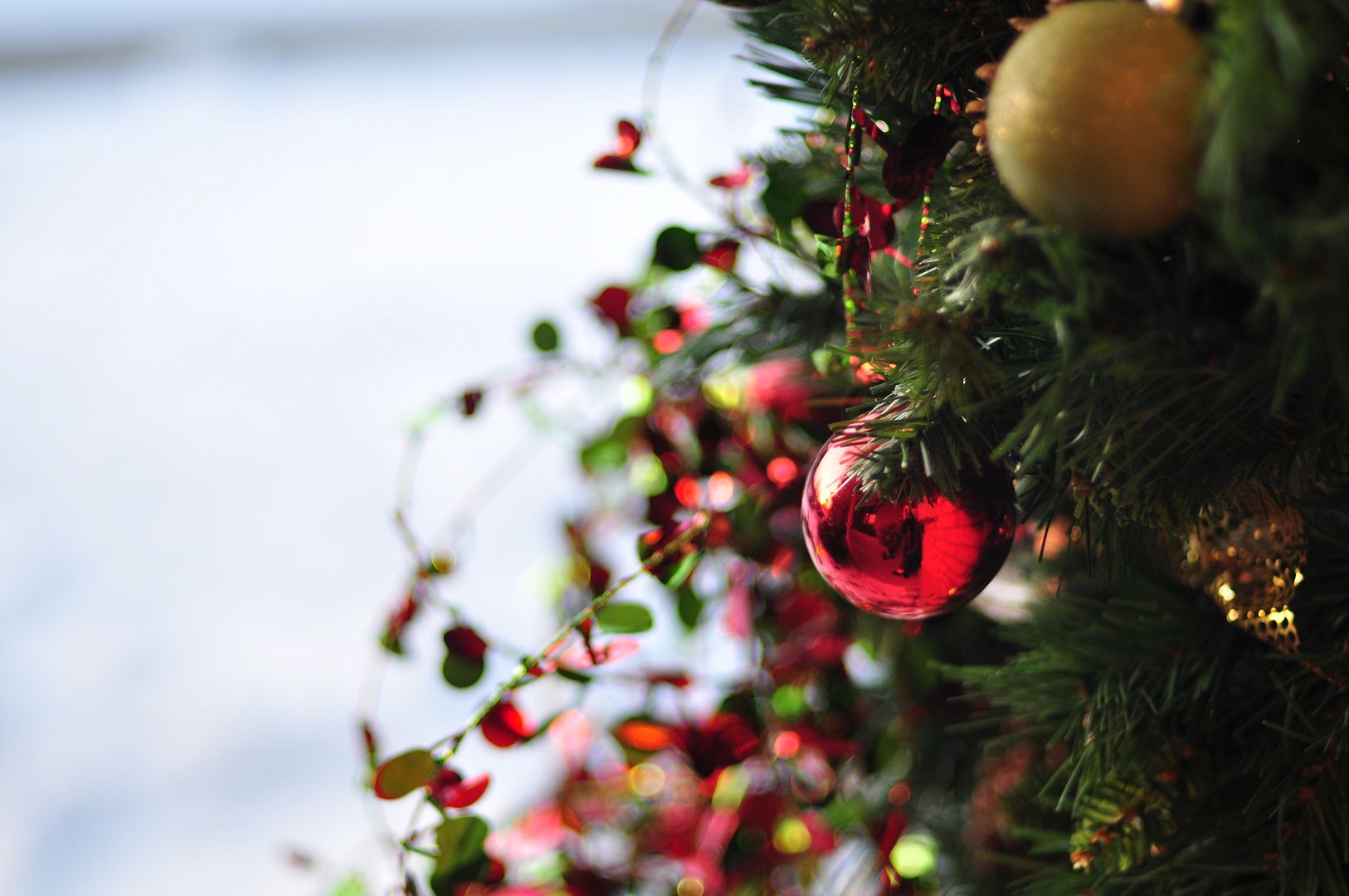 But there's no forgetting sitting on that red shag carpet down in Grandma and Grandpa's rec room —  with that oversized fly swatter from Texas hanging over the couch — and Grandma cracking her knees as she handed all the girl cousins our matching boxes.
Jill and I tore back those shamelessly nosy deers — and held up these matching green and black mottled sweaters–with tacked on strings of pink pearl beads dangling from one shoulder to the other like a drape of neon gaudiness.
No words. Weak, thin smiles. But no words.
What does a selfish 12-year-old say when holding up a sweater she'd never wear even on a cold day in Mongolia?
Apparently Grandma had a first rate degree in reading the minds of selfish 12-year-old girls.
"We can take them back. I have the receipts to The Met for both of them up there in the spare bedroom," she was already getting up, cracking her worn out knees and moving toward the stairs, toward the spare bedroom.
"And we can just take them back – don't rip off the tags — and you both can get something that you like."
Like I didn't like my own withered Grandma. Like I didn't love everything about her. Like you could box up your bare heart and bravely hand it to someone in chintzy wrapping paper — and then everyone just decide it's best to return it?
How did Christmas become something that we could return on Boxing Day – when Christ came to be. with. us.?
How did Christmas get handcuffed by chains of Big Box stores – when the Christ Child came small and subversively and for freedom?
How did Christmas get to be more about cheap stuff than a lavish Savior?
What makes us scared to do Christmas counter-culture —  when it's about God upending everything?
When a twelve-year-old girl was brave enough to bear down and birth God in a barn? When one man resolutely stood beside his pregnant girlfriend – big with a baby she confessed wasn't his? When the God of the universe pulls on flesh and curls his deity into the helpness of a baby's groping fingers? When the whole story flies straight in the face of the expected, cultural norms?
The crushing gears of Herodian forces can still tear families apart at Christmas, rabid materialism and cultural pressures hunting hard through every home to steal The Child.
I can remember Grandma's gravelly voice, the way something had caught in her throat, something like her heart, the way she'd turned at the bottom of the stairs looking for those receipts.
I wish we had all been brave right then. I wish I had held those frail shoulders of hers, pulled that brave heart of hers close and told her that what matters is people being with each other, not people buying for each other.
Time together is too short to waste on long nooses of expectations.
Grandma's ashes would be scattered under the oak trees down in Centerton for five long Christmases before I'd figure it out —
Before I'd be brave enough to return a gaudy imitation of Christmas — that had little to do with God.
Sure, I don't feel one iota brave – more like a donkey fool – when I send the two youngest boys back to the woods to hunt me down a little cedar tree.
"Not more than 2 feet high or so, Levi." I'm leaning out the back door, trying to show him with my hands stretched out like I'm telling some exaggerated fish tale.
He pulls down his hat, raises his eyebrows — as if eyebrows could hook his mother and yank her out of buffoonery.
"Because….?"
"Because I need an upside down Christmas tree, that's why." And I grin like the donkey that I am and close the back door behind me. The ole knees crack a bit going up the back garage steps.
I've got the fish wire all ready and laid out when Levi and Kai comes carrying in this sparse cedar tree. "And now what exactly are you going to do with it?" Kai's got hands on hips, that stance that thinks it can force your heart to cough up what it wants to know.
"I'm going to hang it." I grin. "Upside down. From that beam." I point. "With fish wire."
You bet, boys.
We're hanging Christmas upside down this year, boys —
We're hanging Christmas upside down this year so real love falls out of it.
We're hanging Christmas upside down this year so no one gets hanged by debt.
We're hanging Christmas upside down this year because we're giving the whole Christmas season to Jesus and His Upside Down Kingdom, not just some tossed crusty edge of of it.
Because we can feel it — how we're done with the malls and missing Jesus.
We are done with busy Christmases and brushing past Christ.
We are done with over-stuffed Christmases and we are desperate to give the gift of being overcome by Christ.
You can get tired enough that you're ready for a Christmas revolution.
Levi holds that tree turned right upside down, holds it from the beam and I touch an old wooden cross beam and tie that upside down tree up with fish wire and you bet we're hanging Christmas upside down this year — because the only thing that catches men's hearts is to live upside down.
To give the gifts of time and memories and words and togetherness. To give to the least of these because it's giving to Christ and who in the world's birthday is it anyways, to invite someone lonely and lost and looking right up to the table and pass down the ham and ask them to linger with you a bit in the light that busted us all out of the dark.
To give funds to the kids – so the kids have the fun of giving to others – because it's mindblowingly better to give than to receive and this isn't some cute cliche — it's how Christ-followers upend the cosmos.
Laying the Compassion Gift Catalogues out under the Upside Down Tree feels radically subversive and we're a whole Esther Generation that is hungry to upend the fake version of the commercialized way to really live the Way, the Truth and the Life.
To upend the old exhausting burdens of the holidays that about strangle us — and string up some new traditions that are about as weightless as a tree suspended in thin air.
To spend Advent, this season of waiting for His coming, tracing the family tree of Christ, journeying 25 days through the Old Testament and into the New, reading how, in story after story, there is a Love that comes down, that comes after us and upends what was meant to harm us, that upends what was crushing us, that upends what just about has undone us.
I hang the 25 ornaments, one from every one of these 25 unlikely, unexpected, upending grace stories, on our Upside Down Christmas tree, on our Upside Down Jesse Tree — and there's a way to celebrate Advent that overthrows everthing that threatens to overtake Christmas.
Levi strings up the ornament with the babe, hangs it near the top of the Upside Down Tree. A Christ-centered Christmas doesn't scale back Christmas — it scales up WHO Christmas is about.
"You're pretty brave, hanging that up there, eh?" I ask Levi, Levi leaning off the ladder, Levi breaking into this silly grin. Maybe being pretty brave often looks pretty ugly.
"Well, you're the one who always say we've gotta be brave."
And I nod. Yes, sireee, son.
Be brave enough to return a Christmas that hurts.
Be brave enough to return the fake CHRISTmases and only bring home the real one that has CHRIST at the center of it.
Be brave enough to return any Christmas too small for the size of your soul — and only wear a Christmas large enough for real joy.
Be brave enough to turn Christmas upside down because this coming Christ ushered in the Upside Down Kingdom where
less is more and
weak is strong and
least is greatest and
consumers can get consumed and
giving is greater than getting.
Levi comes down the ladder.
I can hear Grandma's creaking knees.
I pull the kid in close. He has her cowlick.
We weren't when I was a kid — but we could be brave now.
The brave that turns everything upside down – to upright everything.
Related:

— a journey of 25 readings through December, an Advent practice that puts Christ right at the center
(with the 25 free ornaments for an Upside Down Tree that focuses on how Christ has upended this world with Grace)

When Christmas Gets Radical – Whose Birthday is it Really?
The Grateful Kids Christmas Project: 7 Ways to have More Grateful Kids this Christmas

Come to the free webcast Christmas at the Farm? This Thursday, 12 Noon EST with Liz Curtis Higgs — and we'll talk
How to have a Sane and Sacred Christmas, fun family traditions, a weightless Christmas — and a whole lot of Jesus.