Mothering can spin you in these dizzy circles and who doesn't need an encircling of grace?
Women could do this for each other.
Two years ago or so, I tell my firstborn of my crazy idea of this wooden wreath.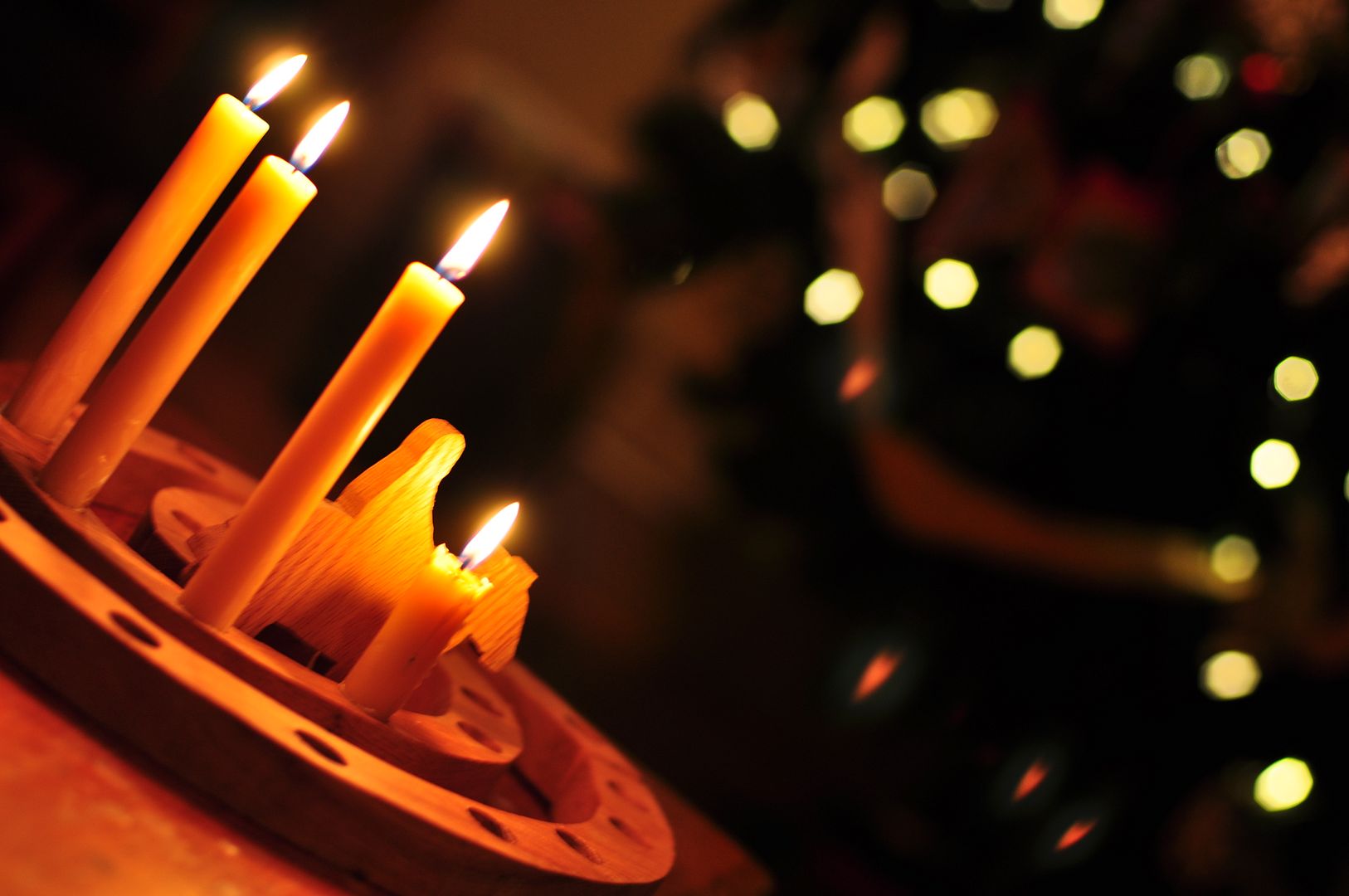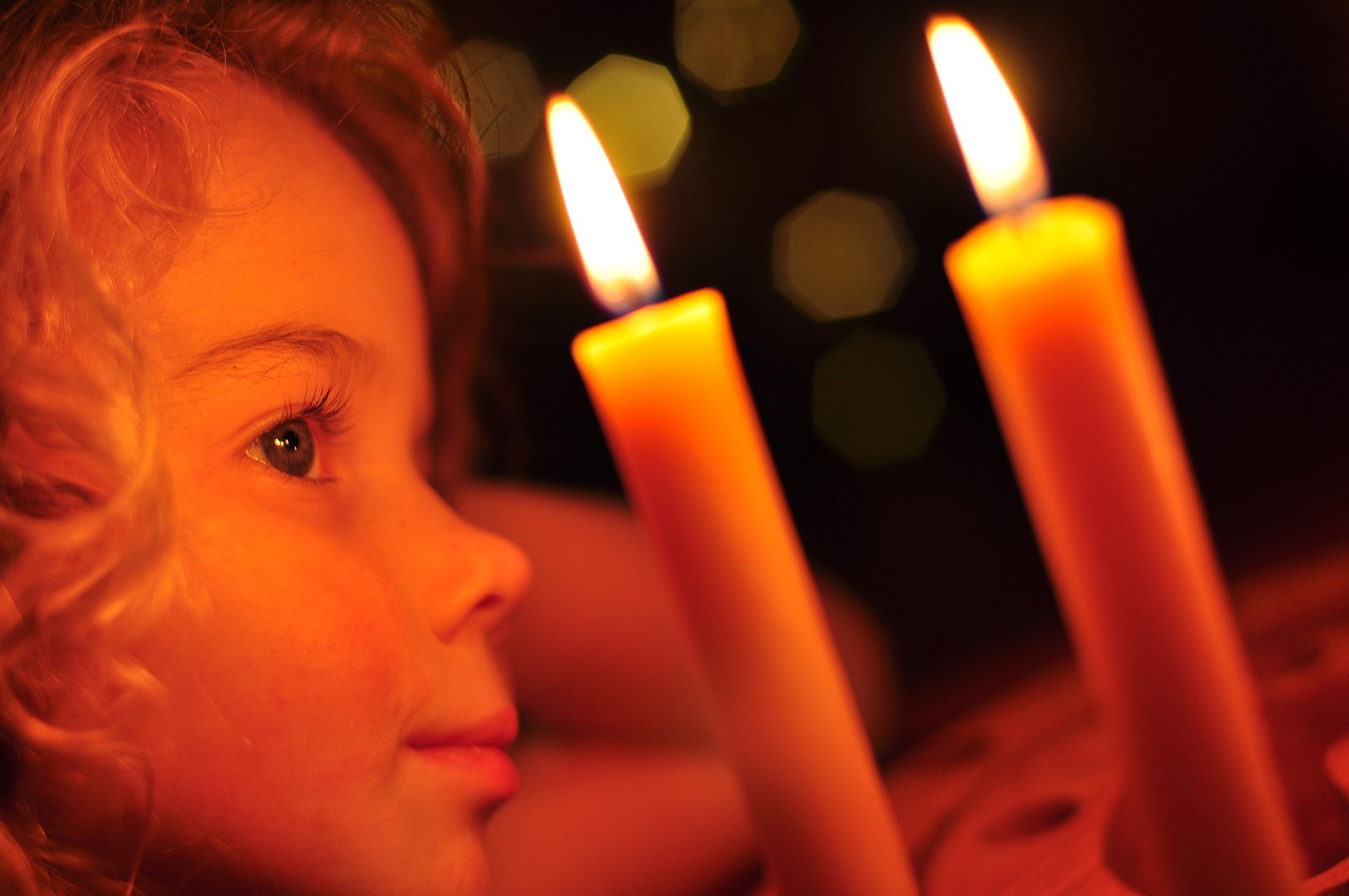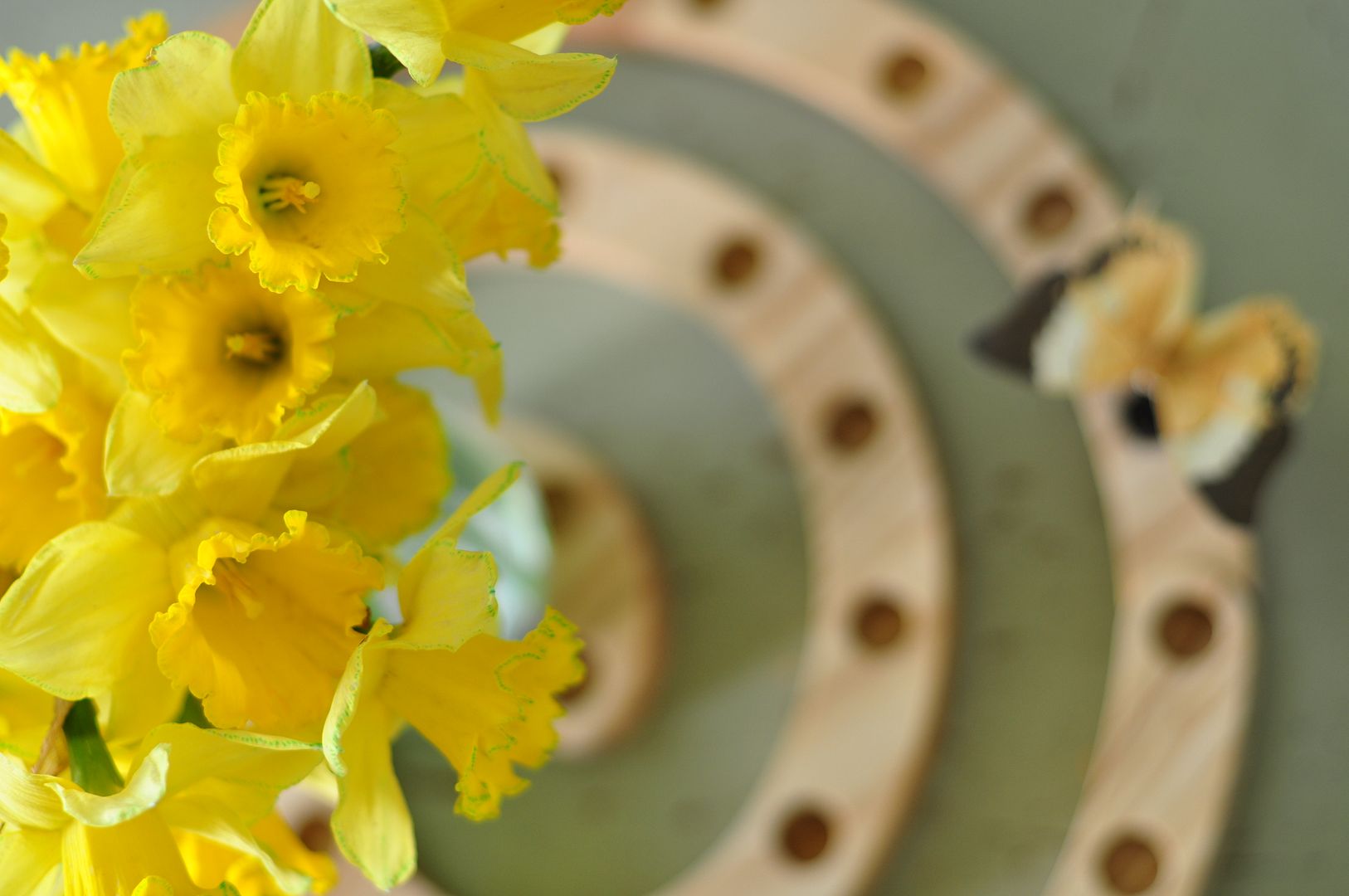 A wreath going round and round and round, to put on the table for advent with a silhouette of Mary, large with child and all this love, on a donkey, on her way to Bethlehem.
For the 24 days of advent, you'd light a candle and move the candle one day closer and one silhouette of a very pregnant woman would go around and around and closer to deliverance.
And then for Lent, the candle would move 40 days and her Son would carry a cross in the light, the Son of God on His way to deliver the world.
And what if for then — for 40 days of Easter, till Ascension, a paper butterfly made this soaring around of joy? New life could rise!
So my son dreams up something out of wood. He makes wreaths. He dreams of something even bigger.
He comes one night to our bedroom door, leans against the door frame, a silhouette of his own and he says, "What if I give it all away? Every wreath I sell this year, I want to give it all away." I feel large with this child and all this love and only God alone could grow a seed like this.
Following in the footsteps of the mother who became the offering, the Son who laid Himself down, for months he makes this path of sawdust and wreaths and prayers.
Why is it always we are always most filled when we pour ourselves out?
He stays up sanding, finishing, packing. I can see the light on out in the shop late at night.
He makes his life this torch.
Families all over the world order a wreath. They light their candles and who hides their light under a bowl when they could warm the whole house?
Compassion tells him there's this Child Survival Program in Haiti that's just a prayer. They need someone to fund the program.
The houses are small and the families are large and there isn't enough to go around. The mothers can't read. They work in fields for less than a dollar a day. The closest hospital is three hours away.
Vernicia's a mama of 16 and she's heavy with twins and she births one in the ditch — who dies. She says the other wee one, Phenita, "survived thanks to the intervention of the Child Survival Program."
So our son, born in a valley of my own, he counts wreaths.
He gives to make his life count and God's ridiculously given enough to give to those mamas in the hill country of Haiti to help them feed their babies — for a whole year.
A whole year of being taught how to read and how to care for their babies, a whole year of nurses and Gospel and Jesus and hymns and how Jesus gave Himself for them.
A torch lights in Haiti.
And come this July that son will fly with his Mama to Haiti, Lord willing.
The boy that made me a mama on the eve of Mother's Day, he will go sit with those beautiful Haitian Mamas and he will hold the babies that those carved wreaths encircled with the love of Christ.
I will look over at him and wonder at only God miracles.
And anyone can feel large with love and when hands are delivered deliver up to Him, beauty is what's birthed.
And when his wreaths have funded that project and those Mamas for the complete year this July?
He's handing the torch to all of us.
To his mama and all the mamas of The 1000 Moms project who give thanks — -this one wild opportunity to have the blessing of becoming the blessing to these Haitian mamas and babies for a whole miraculous year! 1000 Moms and One Thousand Gifts could be the gift — for a string of 365 days of grace upon grace upon grace!
And from Father to Son, from mother to Son, from our son to this mama to all the grateful mamas — we could stand on a world right spun and we could go make our thanks and the blessings go right around and help hundreds of mamas and babies in Jesus' name.
Caleb comes in from the barn this morning, comes find me, leans up against the window.
"Morning, mom." Always the same every morning, first thing when he comes in from the barn. He turns 17 this weekend, that boy born on the eve of Mother's Day.
His hands look so… not like that infant boy's.
I didn't know all those dizzying days would spin out a man.
"Just wanted to say … "
He sticks his hands in his pockets….
"Just thanks for everything, Mom… "
And he turns round at the door and one messy mom is undone at the miracle of grace.
And the Light of Christ, it can on and on and on — an encircling, a rising, an offering of ceaseless thanks….
::
::
::
"Thanks-giving might literally become thanks-living.

Our lives can become the very blessings we have received…

A life contemplating the blessings of Christ becomes a life acting the love of Christ..."
This post is part of The 1000 Moms Project:
Oh, do read the posts below for all the excitement about The 1000 Moms Project!  
Want to become part of The 1000 Moms? 

Want the gift of becoming a gift?

Just thank your Mom publicly! 

I thanked my mama here: What all the Mothers Need to Know

And if you thank your mama on your blog or on FB or on Twitter — you and your Mom will be one of the 1000 Moms who will help support this mothering educational project in Haiti.

Just  publicly thank your Mom — and change a Mom's life in Haiti! That's all you have to do!  

The 1000 Moms Project is about 1000 people standing up and thanking their mom publicly (what mom doesn't want a gift like this for Mother's Day?)  — and we'll match your honoring of mothers by funding a Maternity/Child Survival Program in Haiti for a whole year. (You can read more about it here)

Thank your mother publicly — & we'll join you in honoring her by helping these Haitian mother in need!  

It's a way of passing on the loving legacy of your Mama — her sacrificial love going on and on and on… (and you can join us in live-posts when we go to Haiti with Compassion in July!)

(And you can print out a free Mother's Day card for your Mother, sharing with her what's been giving in her honor, in this post here. }

So — what important gift or sacrifice did your Mom make for you? Link up with your story/letter of thanks to your right here. Or thank your mom for one important gift on the One Thousand Gifts FB page  (share her photo and we'll honor by sharing her smile in The 1000 Moms Slideshow!) 

Or just Tweet a thanks to your  Mom with #1000gifts 

(May we humbly ask you to please  grab the button or the banner if you write a post to your Mom, and link back to The 1000 Moms Project? Thank you! We can't wait to read your thanks to your Mom!)

P.S. Are you with us following the amazing Compassion Bloggers blogging live right now from Tanzania?