When the back door of the sanctuary opened and she floats down the aisle under that veil of white, the groom grins giddy.
A son leans down the pew and whispers it too loud, "The guy looks like he's going to split, he's so happy."
He smiles like he swallowed the canary through all three stanzas of the hymn they sing together. He smiles deliriously when he tells us all from the platform: "I'm so grateful to the Lord that God let this day finally happen."
It looks like his cheeks might hurt, his happiness through the vows: "After my complete commitment to the Lord, I promise you will be first in my life."
The Farmer squeezes my hand. Murmurs it in my ear, "We should go home and recite our vows again too."
I turn to catch his eye, "All over again. In a heartbeat." He grins like he was twenty, winks and pulls me all into him.
And when the preacher says the groom can kiss his bride, he fumbles nervous with the hem of the veil, too anxious to get to her, and the guests all chuckle embarrassed and when he finally cups her face in his hands and revels unabashedly in her, I look at the floor. This is theirs.
There's a a little bottle of honey, liquid light in glass, on the plate of each guest at the reception. A son pats the Farmer's arm and tells him that they found honey still good in the pyramids. That honey always lasts.
That they've give us a token of forever.
On Sunday morning, we sit in the pews of our chapel, and the preacher's preaching who we are in Christ.
"In Christ, you have immediate access to God and all of this is yours — joy, acceptance, completeness, rest, righteousness, access to the throne of God. You are sealed and He has pledge Himself to His people and you are His."
Why aren't we all standing? Why aren't we all grinning giddy? Why aren't we all smiling like we just might split?
I keep reading the vows the preacher has on the screen, slow and captivated.
He's given all these gifts to all His children, no matter where we are — why not slow and really revel in this and is there a love greater than this?

JOY is yours


"though you have not seen Him, you love Him, and though you do not see Him now, but believe in Him, you greatly rejoice with joy inexpressible and full of glory…" ~1 Pet 1:8 … 

ACCEPTANCE is yours

" To the praise of the glory of his grace, wherein he hath made us accepted in the beloved." ~KJV Eph 1:6 …

COMPLETENESS is yours

"and in Him you have been made complete"… ~Col 2:10…
Why don't our cheeks hurt with the happiness of it all? What more could we want? How do we contain ourselves? Don't the believers believe?
The vows of the Christ, they are covenant, and He lasts when we lose everything else, and all the gifts are in God.
We could float.
On the way out of the chapel after service, I catch a glimpse of it through the stair door window, what's hanging there in the stairwell.
I step into the empty quiet of the landing, just to the read the words again, quilted there on the wallhanging.
It's still.
This is ours.
Like honey, sweet to the soul and healing to the bones, all His covenant, this gift of forever.
When the Farmer asks me on the way home why I'm smiling —  I squeeze his hand.
Murmur something about how I just can't stop, the promises that won't let me go — all the light honey in the trees…
::
::
::
::
and counting more of the One Thousand Gifts that never end… thanks for Christ who does it all, gives it all…

#2743 – #2746

#2743: SEALED in Him

"who also sealed us and gave us the Spirit in our hearts as a pledge." ~2Co 1:22 …

#2744: NO FEAR in Him

"There is no fear in love; but perfect love casts out fear." ~1Jo 4:18…

#2745: NO CONDEMNATION in Him

"Therefore there is now no condemnation for those who are in Christ Jesus." ~Rom 8:1 …

#2746: REST is Yours

"Take My yoke upon you and learn from Me, for I am gentle and humble in heart, and you will find rest for your souls." ~Mt 11:29…

#2747: RIGHTEOUSNESS is Yours

"What shall we say then? That Gentiles, who did not pursue righteousness, attained righteousness, even the righteousness which is by faith" ~Romans 9:30…

#2748: Peace is Yours

"Let the peace of Christ rule in your hearts, to which indeed you were called in one body; and be thankful." ~Col 3:15

#2749: ACCESS TO THRONE is yours

"Therefore let us draw near with confidence to the throne of grace, so that we may receive mercy and find grace to help in time of need." ~Heb 4:16…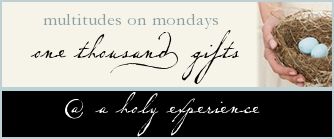 ::
Free Printables to wear the habit of Joy
October's Free Gratitude Calendar
Write down 7 gifts, 7 days of the week, 1 sheet of paper :
(folding instructions for booklet here)
Will you join us? And happily change everything by keeping your own crazy list of One Thousand Gifts? Please, jump in, make your life about giving thanks to God! — Just add the direct URL to your specific 1000 gift list post… and if you join us, we humbly ask that you please help us find each other in our refrain of thanks by sharing the community's graphic within your post. Give thanks to the Lord! His Love Endures Forever!