(Wherever you are — will you take time today for the Thanksgiving Chair? Please watch the moving video — and pull up a chair?….
If reading in a reader or email, view the video here…
Consider pausing the music directly under the header?)
On Canadian Thanksgiving Weekend…

Oh give thanks to the LORD, for he is good,
for his steadfast love endures forever!
Let the redeemed of the LORD say so,
whom he has redeemed from trouble…

… they cried to the LORD in their trouble,
and he delivered them from their distress.
He sent out his word and healed them,
and delivered them from their destruction.

Let them thank the LORD for his steadfast love,
for his wondrous works to the children of man!
And let them offer sacrifices of thanksgiving,
and tell of his deeds in songs of joy!..

Let them extol him in the congregation of the people,
and praise him in the assembly of the elders…

Whoever is wise, let him attend to these things;
let them consider the steadfast love of the LORD.

~Psalm 107 ESV
and counting more of the One Thousand Gifts that never end… thanks for Christ who does it all, gives it all…

#2750… harvesting beans under a half harvest moon

#2751… cooling her fevered forehead

#2752… laughing with them playing tag in the woods

#2753… laundry late at night

#2754… All this is from God, who reconciled us to himself through Christ and gave us the ministry of reconciliation

#2755… hard eucharisteo: lost camera memory card

#2756… the grind of tractors hauling full wagons of beans down the road here

#2757… planting the winter wheat on thanksgiving weekend — hope of next year's harvest

#2758… mama cooking up the turkey, making up dressing

#2759… considering the steadfast love of the Lord in a thousand, countless ways…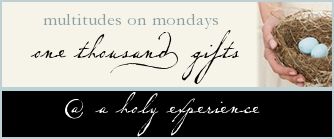 ::
Free Printables to wear the habit of Joy
October's Free Gratitude Calendar
Write down 7 gifts, 7 days of the week, 1 sheet of paper :
(folding instructions for booklet here)
Will you join us? And happily change everything by keeping your own crazy list of One Thousand Gifts? Please, jump in, make your life about giving thanks to God! — Just add the direct URL to your specific 1000 gift list post… and if you join us, we humbly ask that you please help us find each other in our refrain of thanks by sharing the community's graphic within your post. Give thanks to the Lord! His Love Endures Forever!