The phone rings.
I am serving bowls of porridge, morning light spilling across the table, warm buttermilk. Cradling phone between shoulder and ear, I ladle another serving. The children tumble in from the barn's early chores. The house swells with laughter and stories and plans for the day. I must have missed the returned greeting. My ear fills with a hollered, annoyed, "Hellloooo?!"
"Dad! Sorry, children all just came in for breakfast, and it gets a bit boisterous in here. How are things there?"
I listen for the nuances, signs of pain in his voice.
"Fine…. I guess." Is that it, there? That put-out tone? "At the corn here now. Just about finished up. Another beautiful day. Perfect day for you to bring the kids over for a combine ride. I'll be on the home farm."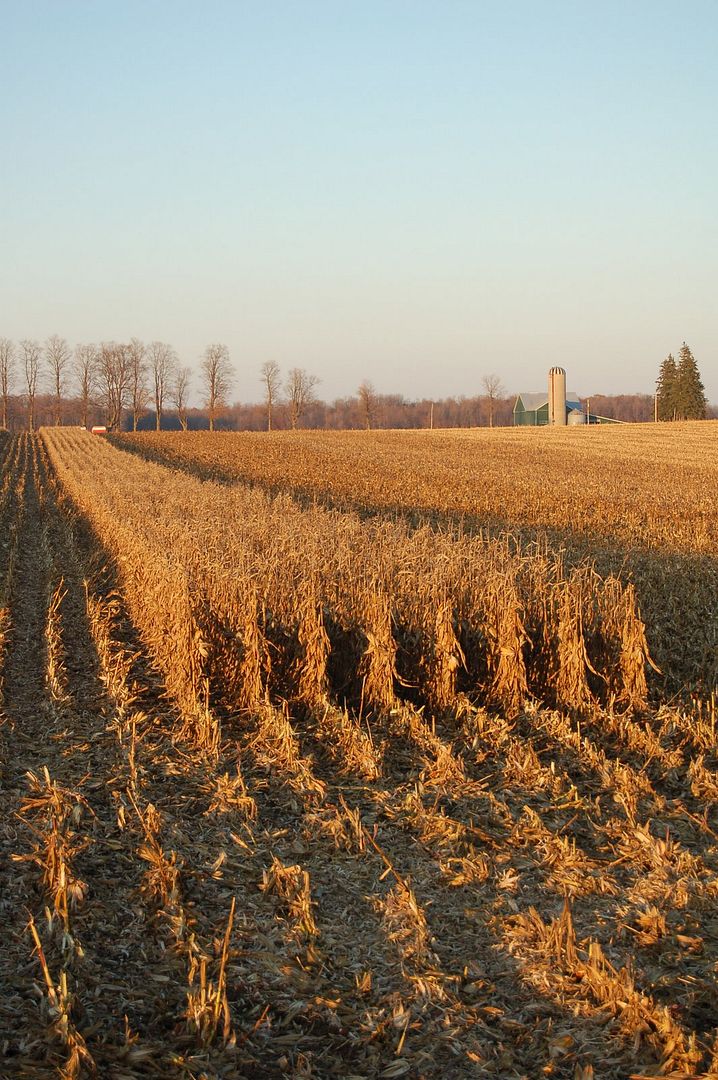 I look up at the clock.
"Today? I know the children would like that, Dad… and awfully kind of you to call over… I am just not sure that…"
Dad doesn't let me finish. "Suit yourself. Could be raining and miserable tomorrow. "
I hardly say good-bye before the phone signals dead.
Three days pass before the children and I unpile out into Dad's cornfield.
I watch the combine make its way down the field, devouring rows of drying gold corn, bin filling with the yellow yield. I have done this every year of my memory, sat beside my father in the combine, watching the corn nose consume rustling stalk upon stalk, time and thoughts passing.
But the relationship between Dad and I over the last string of years has wore like a barbed wire fence, line that holds us together rusted, twisted… sharp.

On the headland, Dad idles machine and children and I climb ladder into the combine. Dad smiles as the children cram into the corners of the cab, trying still to give Dad a clear line of sight to the cornhead. He hands out multi-colored swirled suckers.
"Had these in here for days and days. Didn't think you guys were going to bother showing up."
"Well, we're here now!" I weakly smile, shifting my camera as Shalom wriggles onto my lap.
Dad nods towards the camera. "You're hauling cameras out to the field now?"
I take a deep breath, trying. "You've got such a fine day happening here, I thought I'd try to capture a few shots."
He eases the engineered machine of gears, chains, belts back into this corn ocean. "I've often thought just the way the light hits these stalks a certain way… or the way the woods are turning color … if you just had a camera… But you never have a camera when you need one."
I smile. "Well, today we are ready…"
I frame up an old fence line, cedar posts, goldenrod, grasses bordering a woods still hemmed in color. The scene skirts the dried gold of this sea of corn. The shutter trips several times. I replay the images on the playback screen.
"Overexposed and camera shake."
"All of them? So much for having a camera with us. I know what you should do…"
Dad bends over the steering wheel, focused on those cobs of deepened sunlight feeding into the combine. I wait, hopeful to harvest his wise words.
"I think you should just give up taking pictures." He chuckles.
The barb digs, just a bit. Do Dad and I never heal?
I have his angular cheekbones, his Morton nose. We share the same memories, the same bloodlines, the same ancestors, the same land and way of life.
But I have left him.
Now I set the table for another farmer each night, massage another farmer's weary muscles, praise another farmer's straight rows and weedless fields. I never meant to hurt Dad, fence him off, when I became more of a daughter to a Heavenly Father, more of farmer's wife than a farmer's daughter. The day I said, "I do," that barb tore Dad through.
I quietly finger the body of the camera, gaze out the window at this land I have known all my life.
How to portray on a piece of paper what this dirt, these crops, this sky means to me? How to convey to this worn farmer with creased, thick hands, to this Dad of mine whose laugh and loves and life has shaped me, what he still means to me?
I distract from the ache in my throat and pull the viewfinder up to frame another scene, any scene. The back of childrens' heads lurch into the shot. I shift to one side, remembering: seeing well is always the art of subtraction.
If careful subtraction is necessary to capture this day on film…
The phrase knocks softly, persistently. "The art of subtraction."
The art of subtraction is the art of loving well.
The art of subtraction can frame life into masterpiece.
Shift to really see.
The Spirit encourages, "Whatsoever things are lovely….think on these things."
Dad's voice, an echo of my grandfather's, brings me back to the combine cab. The children listen intently. Corn waves lap in.
"Clare Barlow worked this piece his whole life, and that 100 acres the far side of the road, where you can see Dave Bowles cattle grazing there now, and then this piece beside here, where that farmhouse stands."
Dad pauses, checks the mirrors to see how full his grain bins runs with corn.
"And then Clare's son lost it all. You just remember that: when you don't work for something, it doesn't mean much to you."
I reach into my bag and feel for the spiced, raisin cookies. One for each of the children, all grinning, and two for Dad, who holds them both in the same hand as the hand ready at the hydrostatic control.
I shift. Subtract. See.
The art of loving well.

If I step to the side, I see a man wanting to leave a legacy, wanting to be heard, wanting to bequeath memories of stories to coming generations. From this perspective, I think I see: His words barb now and then, catching us as we climb over, as we race on ahead.
He barbs to hold us close, to make us not go. He does not want to be forgotten, an old farmer left behind in the dust. He needs us to need him.
His mouth full, he mumbles and nods my way. "Good!"
I reach over, offer another cookie, smile long…. "I'm glad, Dad."
The combine rattles, devours, fills.
After he unloads, fills the wagon on the headland, he turns off the ignition and the field falls quiet. We climb out of the cab and down into the field. I linger for a moment after the children have given their hugs goodbye.
Dad looks awkward. "Well. Thanks for coming."
I wait till I catch his eye, aiming the words directly, softly.
"I love you, Dad."
I brush his leathery, whiskered skin with a kiss.
Dad closes his eyes.
"I love you, too."
I shift and subtract, see the things that are good and pure.
Step over wire fences.
Barbed and rusty — a circle, it can go unbroken….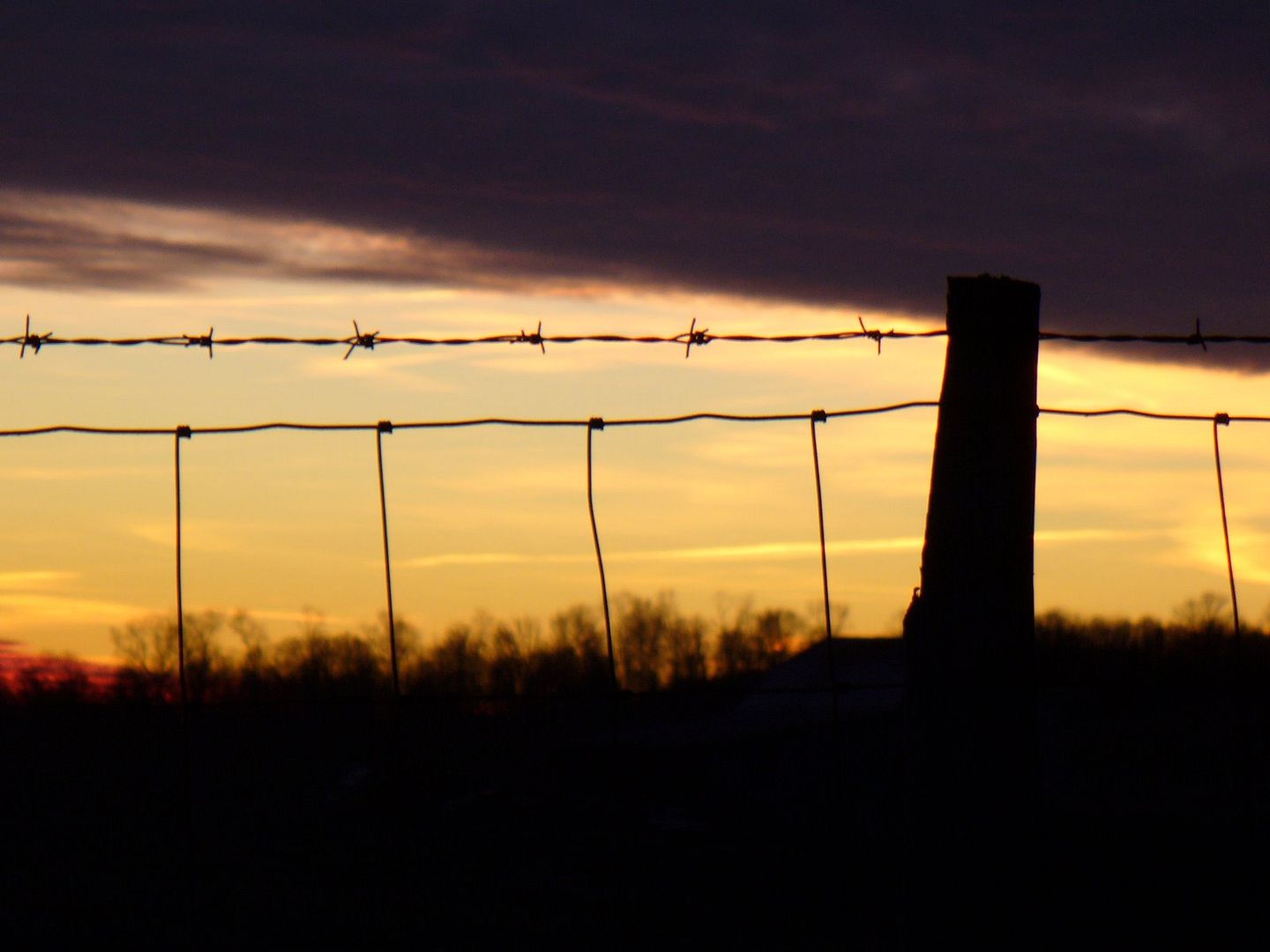 Edited repost from the archives
::
::
::
::

Love bears all things, believes all things, hopes all things, endures all things.