He's only had three hours sleep, and no sleep the 24 hours before that, and he's dead tired but he's rising again before light because he believes in resurrection.
"You okay?" I touch his back at the edge of the bed as he pulls on his shirt.
"Gotta keep going." He smiles gentle. Wrinkles make fence lines across his brow. This land, it is making us old. It is making us wise. We are hemmed in by God.
"Calling for sun today. Gotta try for the beans." He reaches for socks.
We're in this window before rain. Hundreds of acres of beans to plant. He laid down hundreds of acres of corn yesterday. And again the day before that. This is always how it is: He goes through the night and the long black, alone in the fields, laying it all down. Burial is always dark , dirty work.
We're laying all our hopes down in the earth.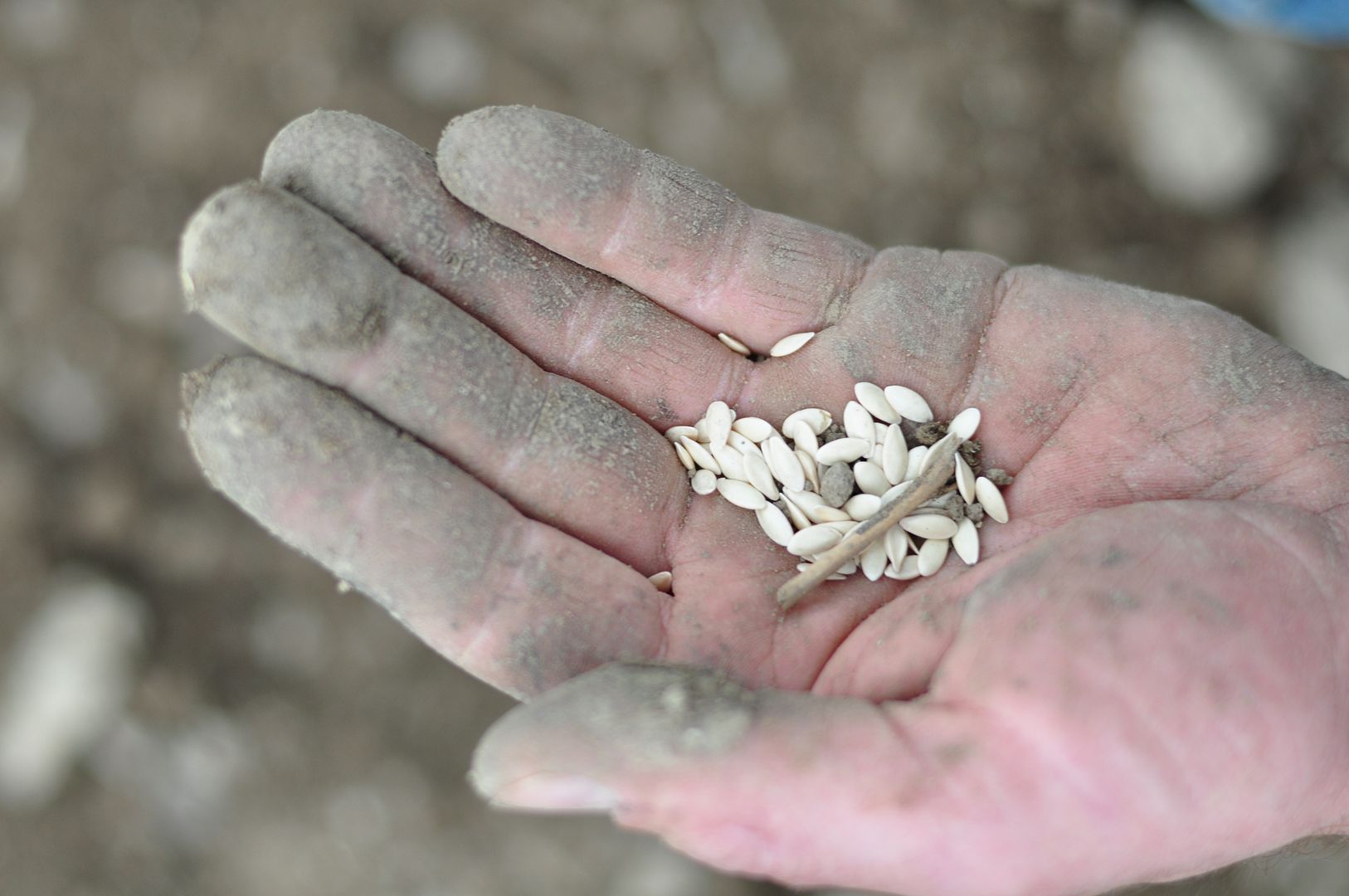 "You got enough seed?" I'm leaning against the doorframe, him headed out.
He's already at the back door. He turns, hand on the knob and I can see how he's aged in a day, worn by the dirt and the wind and the sacrifice, his eyes shot red through.
"Wagon's right full of seeds."
Full of dreams, full of possibility, full of what can only be  — only if we let it go.
In this hard world, there is disappointment and there is death and there is dark and is it all only hard when we're fooled into thinking this world is the only world we'll ever get?
That is the paradox: this wondrous mess, this is it, right now, and there's no waiting for another elusive life of perfection here, so we'll laugh praise now, knowing that the real, righter, forever life is still coming, if we walk gratefully through our Christ doors of now.
Because when He busted back that rock, He said there's another chapter to this story, so you can trust today's plot line, and there's a forever beyond now, so you can give thanks for right here, and for every dream seed we lay in a grave now, we are getting Jesus and new life and He promised there won't be tears.
I follow the Farmer to the fields and witness it, how he drops the planter into the ground and I watch how the seeds, they keep falling — watch how the Farmer stays on the back of the planter, watching over each seed — and I'm left in a cloud of dust all filling my teeth and my eyes.
This is what the Farmer is doing: he's cutting the soil open. The sharp edge of the disk slashes the ground wide open. And Jesus, he bears scars and what is torn open in our lives, it can seem like destruction. Yet.
Yet.
Out of the lancing of our fields, life will unfurl.
Out of the scars of Christ, our salvation comes.
Out of what seems to ruin our lives, our very rescue can begin.
The resurrection people know it: The tearing open can be the beginning of triumph.
I'm standing in a field of endless seed-tombs and it surges up in me for real: I believe in resurrection, not confined to a Sunday morning, but unleashed in the cosmos —- that if you grieve, you will dance and if you're lonely, you will know love, and if you break with wondering, you will be made whole with wonder and worship and Jesus, and life will rise.
God, He's farming all this earth and His people live resurrection and you can see the hope in their eyes: this day will give way to a new day and this suffering will give way to a new song, and these woes will give way to a new world and because of Jesus, what you bury, it will rise.
Resurrection, it's not merely a belief, but a way of living, the only way to really live. The Easter people live it: all these endings are but embryos of new life.
Children carry lunch to the Farmer. His hands are black, grit engraved. The first step of practicing resurrection is to accept that there will be graves. I hand him water and watch him drink it back, deep thirsty.
"How long until the seeds all come up into beans?" Shalom pats the her daddy's dirt crusted pant leg…
The Farmer kneels down, looks with her out across the field.
"Soon now, Shalom. Soon." He says it knowing, believing…
Soon, all the world into resurrected shalom, shalom —  peace with God, with the world, with ourselves, the Father through the Son making all things new and whole…
The Farmer with the planter, they head down the field. I stand with Shalom by the sign at the field's edge…
All this world a sign.
~~
Related:
Tomb-Centered Christianity? Why it makes all the difference
What if More than Celebrating Easter, we lived it
Every Wednesday, we Walk with Him, posting a spiritual practice that draws us nearer to His heart. To read the entire series of spiritual practices

As we walk with Him this season, might we consider: The Practice of Living Resurrection. We look forward to your thoughts, stories, reflections….
Today, if you'd like to share with community: The Practice of Easter … just quietly slip in the direct URL to your exact post….. If you join us, we humbly ask that you please help us find each other by sharing the community's graphic within your post.