T
hey kneel in dirt, their heads near touching, and their laughter, it's the song of the seraphim.
The dog's running in the wheat behind the plot for the garden, gold breaking through green.
I sort seed packets, all rattling promise.
And every single one of the kids, they're startling grimy, dirt ringing eyes like raccoons, what picking stones across bean fields all day can do to the face, the hands, the bent back.
Now in the evening, to the bare garden, us weary and hopeful.
Only one of us has shoes on. It's all a bit laughable.
Bohemian.
But the holy ground, isn't it always where we least expect it?
I know, it's just this….
Tomatoes at twilight.
Spinach seeds.
All these dirty bare feet, all their voices and ribbing and laughter.
But I can feel it too, a tattered reverence….
"Just gentle." Hope shows Shalom how to cradle the root ball of tomatoes. Do I tell the girls their rows aren't farmer straight?
"Don't drop any of the seeds." Levi leans over Caleb's shoulder.
There is light edging Caleb's knees, all his work, his gritty pants, the very bottom of his heel.
It's everywhere too, the refrain of the ragamuffins: "Holy, Holy, Holy, the whole earth is full of His glory."
This is what reverberates and moves me deep, the song of the wounded and washed: Holy, Holy, Holy.
"Joshua, can you bring another spade?" I call to him across the lane, him coming out of the barn, coming out from feeding all the nursing sows. We're breaking the earth open and it's making something in me heal.
And I tear open up the seed packets of zucchini and is it this too, witnessing again this Genesis giving?
That again He gives the first gift He ever gave to humanity? That again He gives the impossible gift and asks for wild faith?
"Behold

I give you every seed-yielding plant which is upon the face of the earth, and every tree with seed in its fruit;

you shall have them for food."

(Genesis 1: 28-29)
The seeds, they fall into my hand small, jewels. I am holding seeds, first gift He ever bestowed upon His people. Maybe this is why the barefeet?
But to look at seeds and believe He will feed us?
When what He gives doesn't look like near enough.
When it looks like less than a handful instead of a plateful, a year full, a life full.
When it looks inedible.
These seeds, they are food? It looks like a bit of a joke.
To hand a man seeds for his swelling, panging starvation, and ask him to believe in a feast — is this what everyday faith is?
Behold! For those who have learned to see — He gives, He gifts.
He gifts with seeds as small as moments, grace upon grace, and the unlikely here and now, it shall sustain you, feed you.
Do not disdain the small. The promise of feast is within the moments.
Our enough is always in the now, because He never leaves us.
Joshua, he brings me a spade.
He begins on one long row of lettuce. I plant gladioli bulbs.
Levi scratches out his lines of sweet corn.
Shalom pours her watering can careful over tomatoes that Hope's tucking into earth. Caleb hills up for pumpkins.
We're all just ragamuffins out here hunched over our wild song of faith: Holy, Holy, Holy, the whole earth is full of His Glory.
We pray bent in soil, not only in sanctuary, and we bow over rows, not only in pews.
And if prayers are what we seed and and Cross-love is what we knead, what we reap and what we eat is the harvest of God.
He is enough.
Ragamuffins plant and believe in seeds of grace, and together, we're learning to behold and really see, and Shalom, she pours the water.
The trickle making song, making clean.
This trickle making feast.
~~
#2435-#2450 of hunting for small seeds of grace….  more of the One Thousand Gifts that never end…

#2435 …. boys over finish lines
#2436…. ribbons pinned to happy chests
#2437…. wringing out handknit washcloths
#2438…. circle of girls giggling over smiling babe
#2439…. watermelon on Sunday and elbows dripping sweet
#2440…. washing windows

#2441…. company coming — leaving behind stories
#2442…. changing a diaper
#2443…. homemade strawberry ice cream, boys asking for thirds

#2444…. strawberries blooms
#2445…. galvanized watering cans and bare toes
#2446…. wrong weather forecasts

#2447…. praying with teenage boys and talking long into the dark
#2448…. week # 10
#2449… his sideburns

#2450… the passing and breaking of bread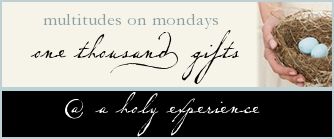 Today, if you'd like to share your own marking towards One Thousand Gifts of thanks, of making your life about thanks to God — (please, jump in!) — just add the direct URL to your specific 1000 gift list post… and if you join us, we humbly ask that you please help us find each other by sharing the community's graphic within your post.