I can't seem to follow through in giving up for Lent.
Which makes me want to just give up Lent.
Which makes me question Who I am following.
Which may precisely be the point of Lent.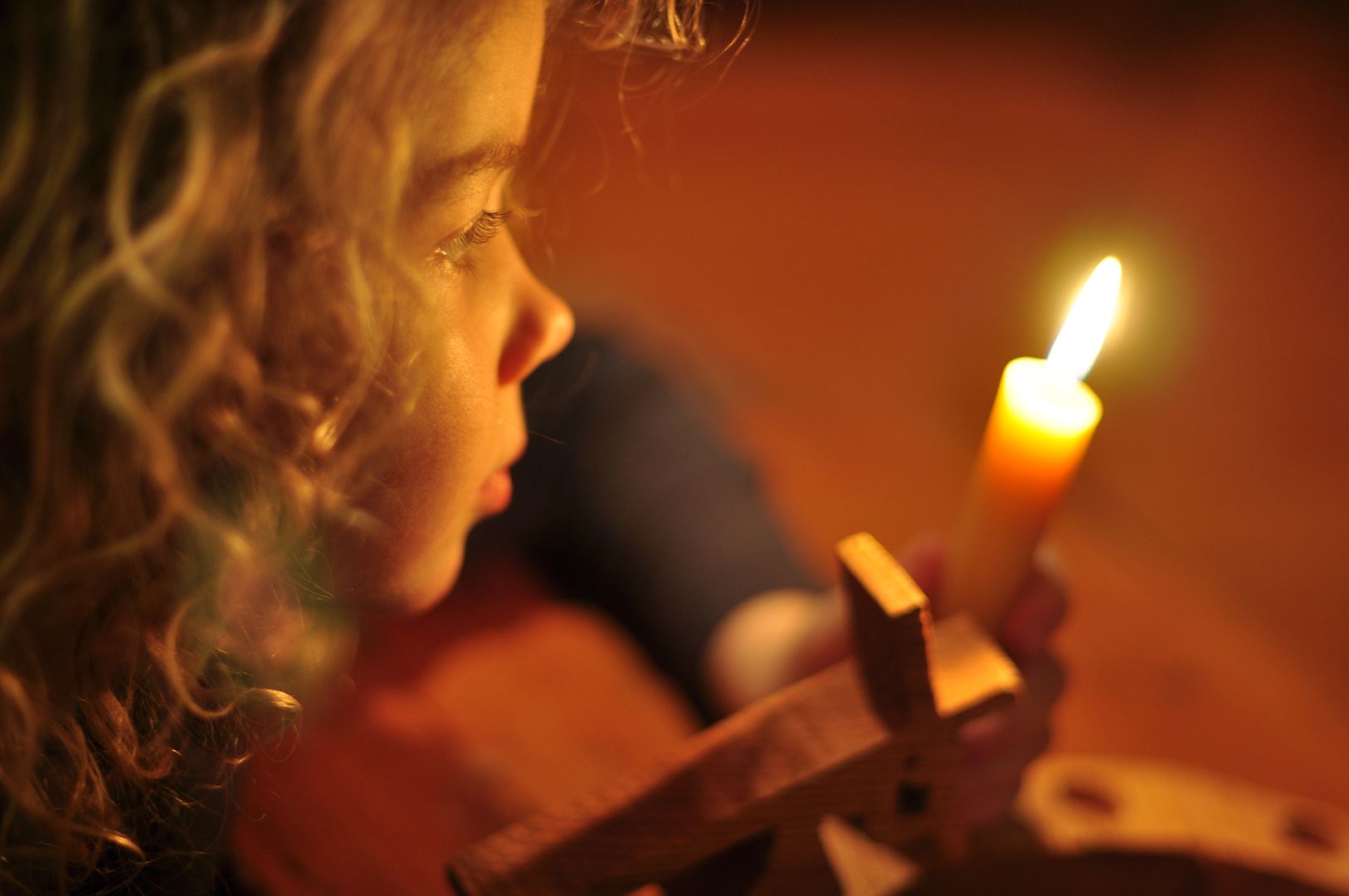 Last week, I'm standing on a table, snapping the shutter on a bouquet of roses, when by brother calls.
Levi picks it up, his eyes twinkling, stars risen early. I can only hope Levi doesn't mention he's answering because his Mama's standing dab center in the middle of the table, her all happy over a bunch of God glory found in flowers.
"Hello? … Oh, hi Uncle John."
I smile. Levi's a miniature mirror image of my brother, smattering of freckles bridging across the nose and the thirty years that span between them.
"What am I doing? But you know already –talking to you." I can imagine the chuckling on the other end of the line. I set the camera aside, hop off the table.
Levi mouths it large, one hand over the receiver."ARE YOU AVAILABLE, MOM?"
Oh, but wouldn't I stop being Mom if I stopped being available? Levi grins and hands over my brother.
"Hey. So tell me. Lent. Fill me in, sister."
Our faith community doesn't practice Lent.
My brother doesn't do Google.
When he's got a question, he calls me on his cell. If need be, he waits for me to Google. My brother's a welder. I can hear the rumble of the diesel engine of his pick-up. He can hear the low roar of my kids.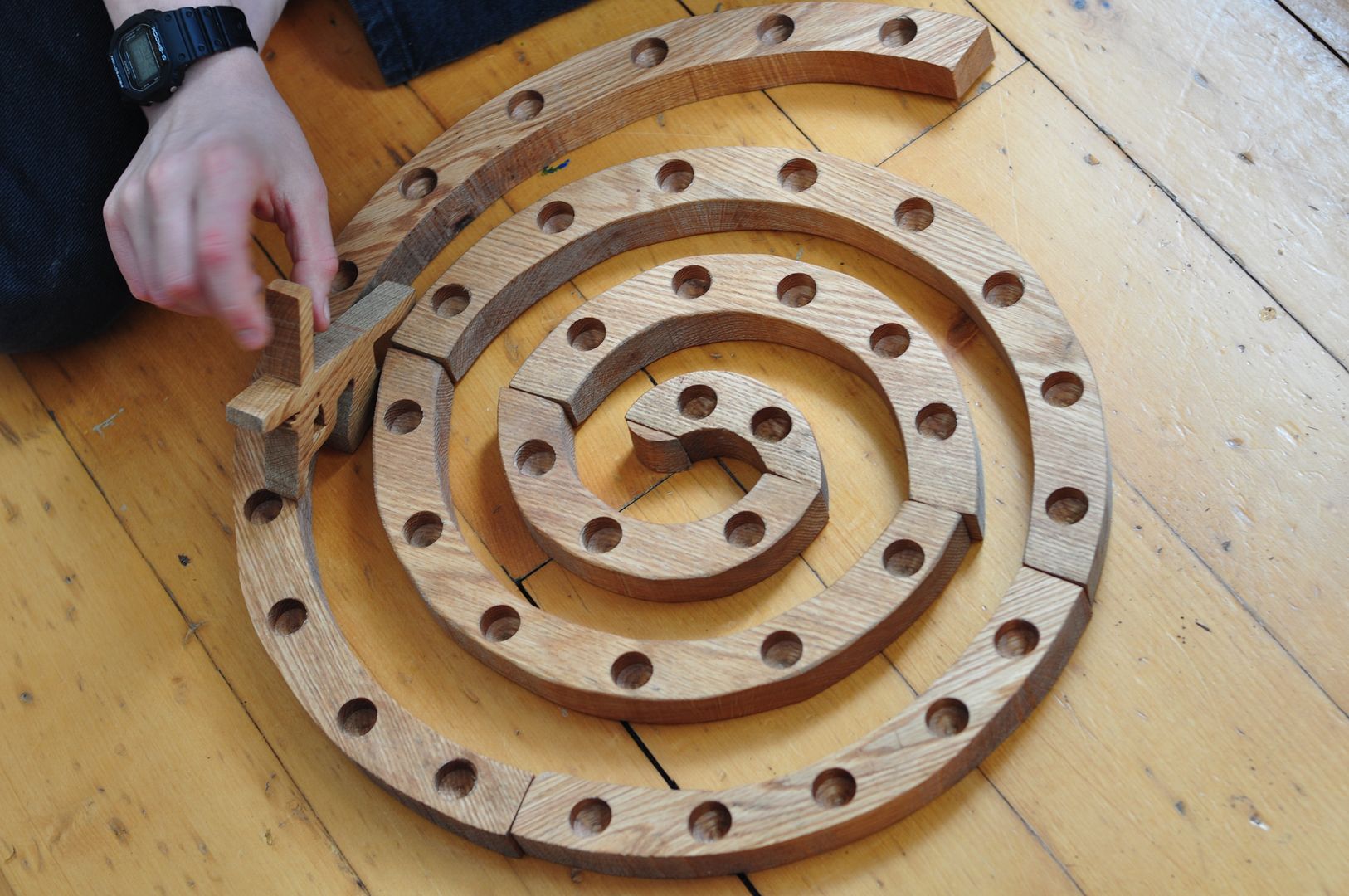 "Okay… Lent. It's the preparing the heart for Easter. Like going with Jesus into the wilderness for forty days, that we might come face to ugly face with our enemy. Our sacrificing that we might become more like Christ in His sacrifice."
The other end of the line is silent. I don't know if this is good. I keep talking.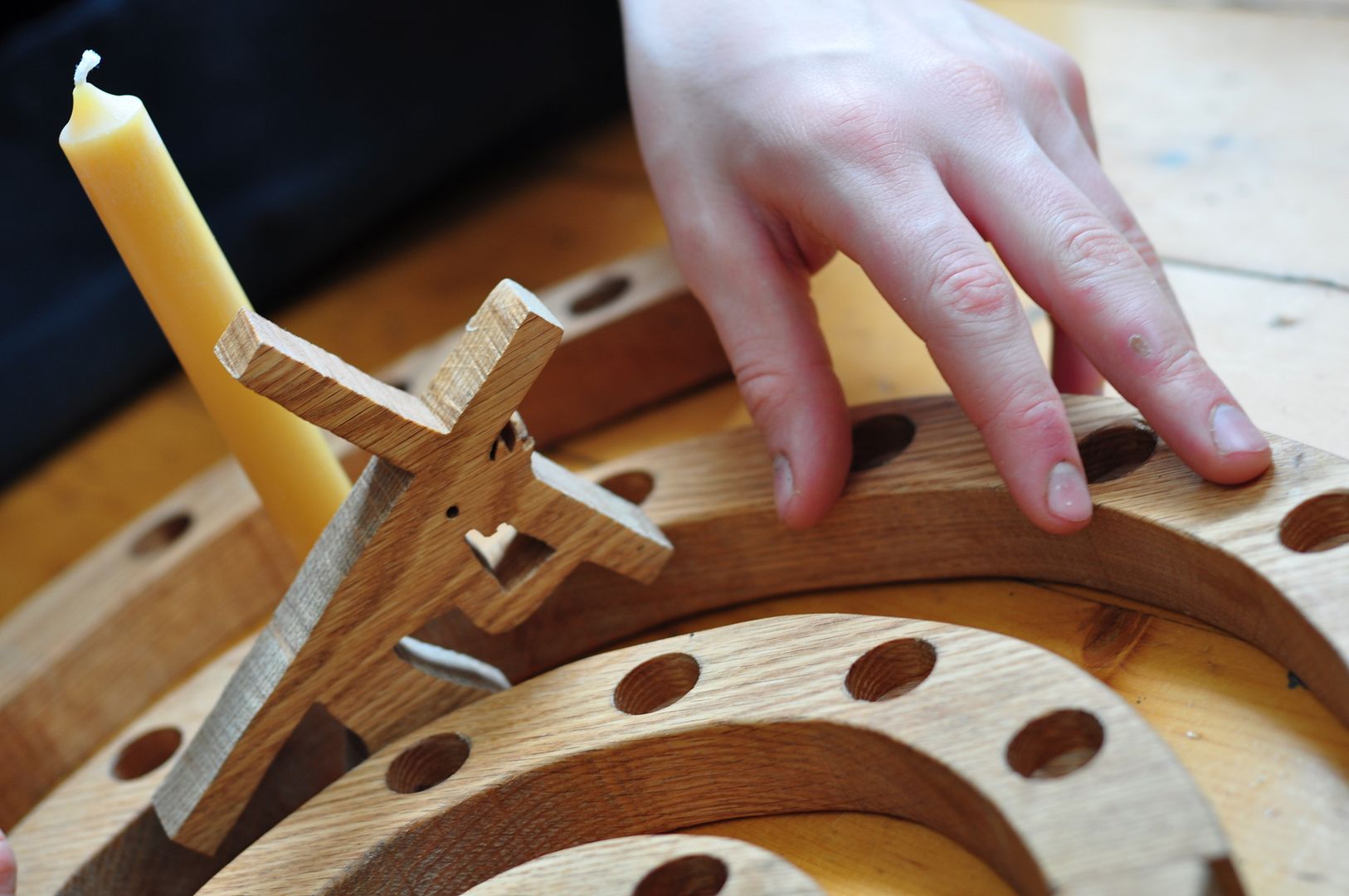 "Lent isn't about forfeiting as much as it's about formation. We renounce to be reborn; we let go to become 'little Christs'. It's about this: We break away to become." Still silence. I have one last swing.
"Don't think of lent as about working your way to salvation. Think of it as working out your salvation."
I wait.
I pray.
And slow he speaks.
"Yes…. Yes…. I get it. I'm doing it. I'm doing Lent. God's been speaking things into my life and I think this is how He wants to meet me right now." Like brother, like sister.
I stack clean dishes and we talk about some dark corners. We confess. We pray. We live the week
.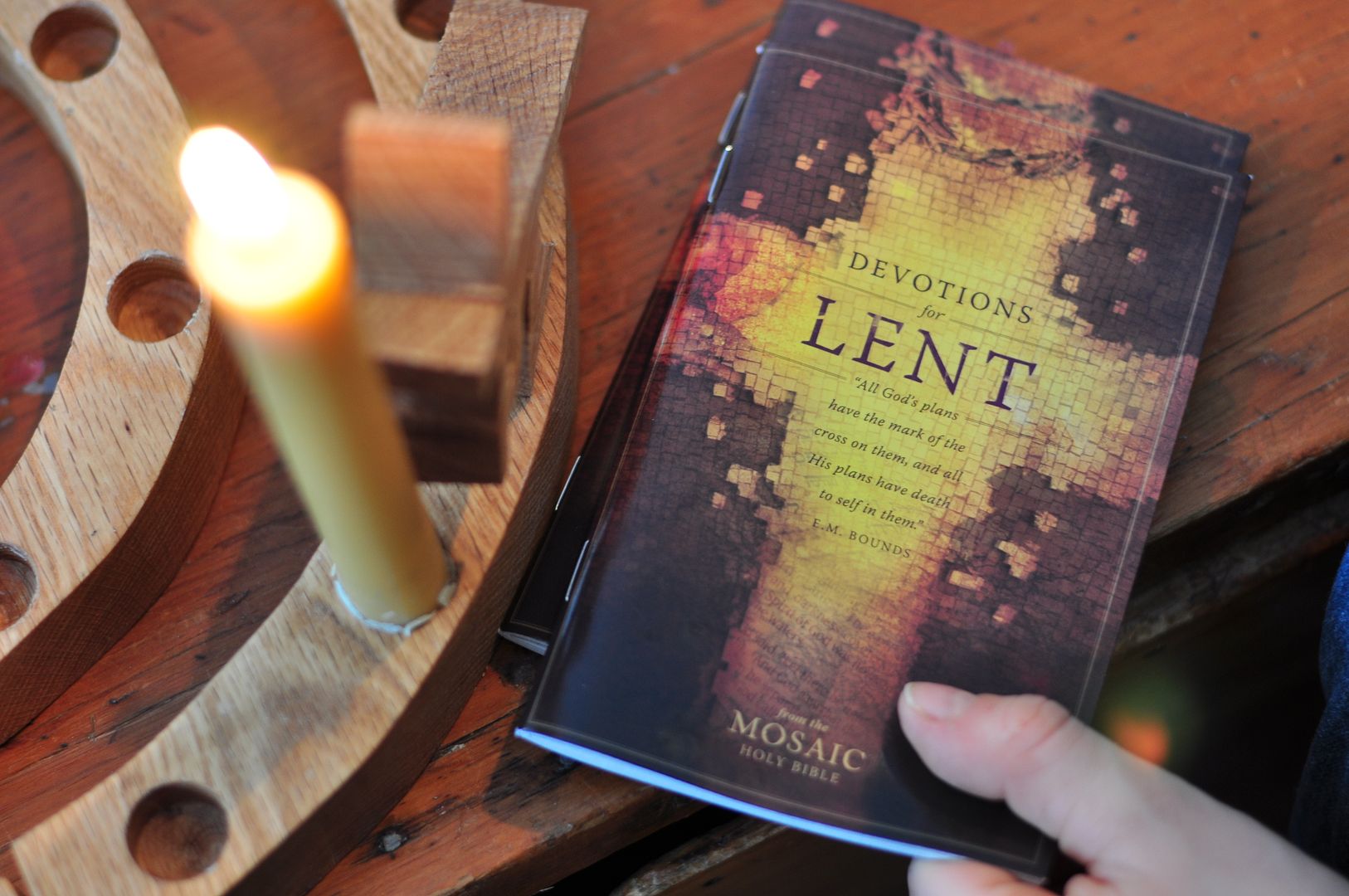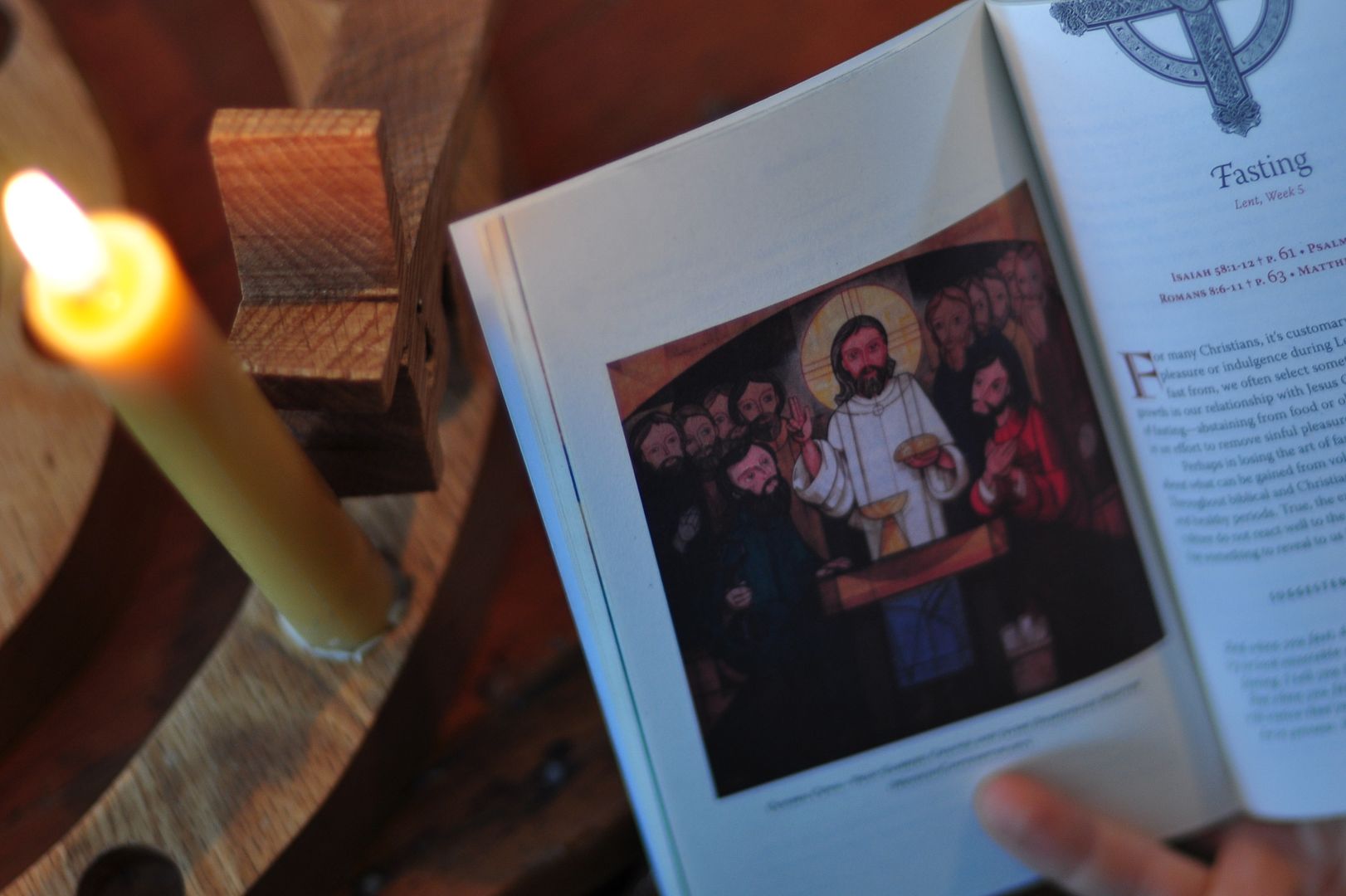 devotional book found here
I forsake and I fast
and I forget and I flounder, I fall… I fail.
I've made soup. I've lit the candle. We bow.
I serve bowls, I pass out bread, I pour cups. They're talking and I am listening and I blithely sit down and I eat.
I have bread in the mouth, the bowl half empty, when I drop the spoon. I shake the head hard. I taste disgust. I absentmindedly eat in the evening, a meal I vowed to fast from. What was I thinking? I can't scrub my lips clean. I choke it out in a whisper, "Do I not think enough of You to remember?"
It's the end of a day when I chose not to stay apart, didn't stay in my cell and let my cell teach me everything, a day when I wandered and failed to focus on Christ alone.
I close the eyes tight and the heart cries the words silent. "Do I love You so little?"
It is an irrefutable law: one needs to be dispossessed of the possessions that possess — before one can be possessed of God. Let the things of this world fall away so the soul can fall in love with God. God only comes to fill the empty places and kenosis is necessary — to empty the soul to know the filling of God. But the flesh is corrupt. I can't do it.
When my brother calls late in the week to talk Lent, I am honest and it hurts and he listens. He unwraps his week haltingly. Like brother, like sister.
"But Lent is teaching me."My throat stings. "I see how depraved I am. How incapable I am in the flesh, how in bondage I am. That I can't keep any law perfectly. Worse – oh, this cuts deep — at times…"
I struggle to keep composure, to grip the words and hand them over. Can I even say these words?
"Worse… at times… I don't even want to keep the law. Lent's revealing my depravity, my impotence. The utter death of my flesh. I can do nothing. My Lent convicts: I am a lawbreaker. "
Does the emptying come only when we know how empty we are?
I feel wild, desperate.
My brother honors my struggle with witness. I am grateful.
I turn towards our Lenten path out on the wood box, the path our oldest son made out of oak, the path we mark each of the forty days with a moving forward of the candle, of the symbol of the cross.
Forty days, I am bearing my cross, my sins. My lent has me hard after the light… looking hard for release from this wretched body of death.
And there is Jesus.
Jesus with a crown of thorns. Jesus bent low, God carrying my rotting mess, Grace doing what I cannot do, and I cannot ascend to God but He will descend to me.
I whisper goodbye to my brother because I can't speak.
I kneel down by my symbolic journey.
I finger the wood of the cross. I trace the back bowed. Jesus will have to do everything. He will have to accomplish it all. I am ashes and I am dust and there is no good in me and I am in dire need and lent has given me clear eyes to see my sin and I am the one broken under all this skin.
I can feel the grain of the tree under my fingertips.
He is the one going to Calvary.
I love Him so much… because His love is the only thing that can save me. This wrestle has made me know it full well. And this failing lent? It is a good Lent because it is preparing me for Easter Joy with the Lent Lament.
I am one of the disciples grieving – a life grieving His absence, a life grieving the black before the light, a life grieving death that will hungrily seize resurrection. Lent gives me this gift: the deeper I know the pit of my sin, the deeper I'll drink from the draughts of joy.
Grief is what cultivates the soil for the seeds of joy.
She who knows her sins much, loves much, and the road to heaven is paved with the realization that I deserve hell. His rising will be all my joy, because I know it my bowels: He is all my hope.
The candle wavers. I know that frailty.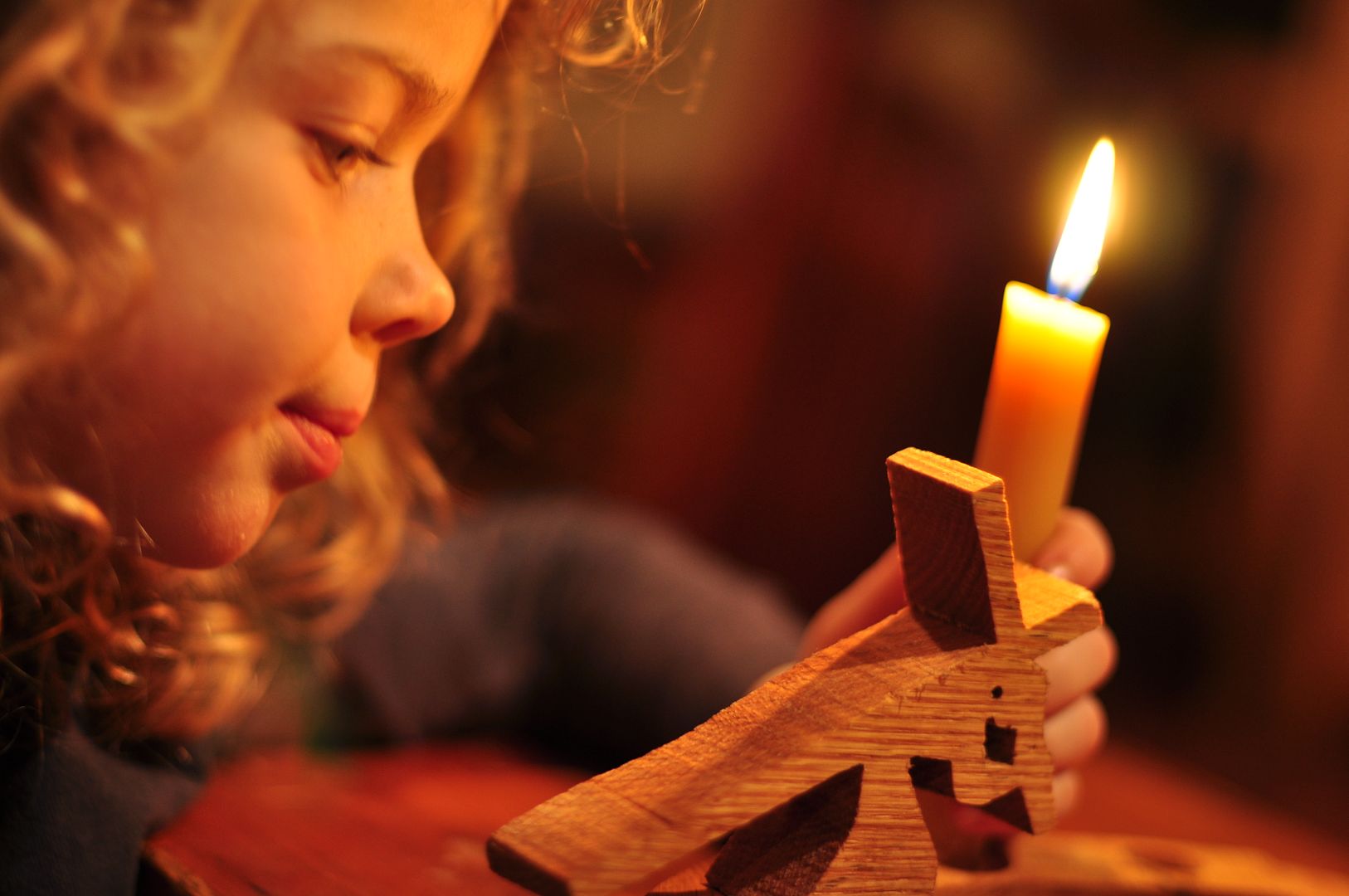 I sit in a dark lent.
And I feel the flame of Grace on my face.
:: :: :: :: ::
:: :: :: :: ::
"For it is by grace you have been saved, through faith—and this not from yourselves, it is the gift of God— not by works, so that no one can boast."

-Ephesians 2:8,9

From the MSG, Eph. 2:8-9:

Saving is all his idea, and all his work. All we do is trust him enough to let him do it. It's God's gift from start to finish! We don't play the major role. If we did, we'd probably go around bragging that we'd done the whole thing! No, we neither make nor save ourselves. God does both the making and saving.
More: John and Noel Piper and a Month of Preparing for Easter
Lenten Lights: Devotions to Prepare for Easter by Nicole Piper
What I am Giving Up for Lent:
This year, I'm preparing for Easter with giving up ingratitude and and living wholesale gratitude, speaking only grace and thanksgiving
Lent Booklist: Words Worth a Tree…
Reliving the Passion
: Walter Wangerin's words are poetic, sharp words worth a tree, kindling the heart to the inestimable worth of Christ. Guiding the reader on a forty day passion journey through the gospel of Mark, Wangerin's words fan a hot flame — penetrating prose, powerful truths. Highest Recommendation.
Wangerin encapsulates why, though it is not part of our faith community's practice, we are observing Lent:
"But in the economy of God, what seems the end is but a preparation…The disciples approached the resurrection from their bereavement. For them the death was first, and the death was all. Easter, then, was an explosion of Newness, a marvelous splitting of heaven indeed.

But for us, who return backward into the past, the Resurrection comes first, and through it we view a death which is, therefore, less consuming, less horrible, even less real.

We miss the disciples terrible, wonderful preparation.

Unless, as now, we attend to the suffering first, to the cross with sincerest pity and vigilant love, to the dying with most faithful care — and thus prepare for joy."
Bread and Wine: Readings for Lent and Easter
: A dog-eared, perennial favorite, I annually anticipate the return of this thoughtful, classic book to the nightstand. 72 essays from writers as diverse as Amy Carmichael, Martin Luther, Malcolm Muggeridge, C.S. Lewis, Madeleine L'Engle, this devotional divides into six separate sections: Invitation, Temptation, Passion, Crucifixion, Resurrection and New Life — and will be a book hungrily returned to year after year.
"If the ultimate, the hardest, cannot be asked of me; if my fellows hesitate to ask it and turn to someone else, then I know nothing of Calvary love." ~ Amy Carmichael
Seeing and Savoring Christ
: John Piper never fails to be passionate for exalting Christ and his ardency sparks dry wood. This too is annual Easter read for me, pages saturated with Scripture, short chapters that light.
"Christ does not exist in order to make much of us. We exist in order to enjoy making much of him. Christ is not glorious so that we get wealthy or healthy. Christ is glorious, so that rich or poor, sick or sound, we might be satisfied in him."
Spirituality of the Cross
: A columnist with World Magazine, Gene Edward Veith writes of the "way of the first evangelicals," a compelling first-time read for me this Lent, exploring the theology of Martin Luther and the doctrine of the"first evangelicals." This book struck me profoundly on several levels –and yes, it is always all By Grace Alone…
"Without food, we would starve to death. We have to eat to fuel our physical life; otherwise we grow weak and waste away. The only food that can sustain our bodies comes from the death of other living things… There can be no life, even on the physical level, apart from the sacrifice of other life.

What is true for physical life is true for spiritual life — we can only live if there has been a sacrifice."
Christ in the Passover
: We've celebrated Easter with a Messianic Seder meal for many years, but this year I longed to spend time deeply reflecting on why Christ is our Passover Lamb.
Devotions for Lent (Holy Bible: Mosaic):
A short book of weekly devotionals and Scripture passages, we have been collecting each evening with our Lenten candle wreath, to reflect on these Scripture passages. The devotionals are brief, which is appropriate for family devotionals, and the weekly artwork (six images)throughout and poetry, allow younger children a way of joining in reflecting also. We invested in the affordable family pack of devotionals
so that each person has their own copy, and we often revisit a previous Scripture or reflection several nights, letting those truths percolate down into the crevices.
As non-denominational, Protestant evangelicals, this season of preparing our hearts for a deeper appreciation of Mercy, the need of the Cross, the miracle of Easter, the sacrifice on the Grace-Tree that made us worthy… this is a page we linger on long…
"Is not this the kind of fasting I have chosen:
to loose the chains of injustice
and untie the cords of the yoke,
to set the oppressed free
and break every yoke?

Is it not to share your food with the hungry
and to provide the poor wanderer with shelter—
when you see the naked, to clothe him,
and not to turn away from your own flesh and blood?

Then your light will break forth like the dawn,
and your healing will quickly appear;
then your righteousness will go before you,
and the glory of the LORD will be your rear guard.

Photos: The Way of Light Wreath that our oldest, Caleb, made for us — an extension of our 24 candle stations of Advent Wreath to a 40 candle station Lent — Mary made our journey through Advent. And now Jesus makes our journey through to Easter.
:: :: :: :: ::
::
Every Wednesday, we Walk with Him, posting a spiritual practice that draws us nearer to His heart. To read the entire series of spiritual practices
Over the next three weeks, as we walk with Him towards Easter, might we consider: The Practice of Letting Go We look forward to your thoughts, stories, ideas….
Today, if you'd like to share with community The Practice of Time … just quietly slip in the direct URL to your exact post….. If you join us, we humbly ask that you please help us find each other by sharing the community's graphic within your post.