I hear it on Sunday, thinking the preacher's looking straight at me, me trying to look away:
"When God moves us out of our comfort zone —- into places that are way bigger than us, places that are difficult, hard, painful —- that even hurt — this is a gift. We are being given a gift. These hard places give us the gift of intimately knowing God in ways that would never be possible in our comfort zones."
Where's the back door of the chapel? I'd like out. I look out the window to snow coming down. Shift hard in my chair.
Can't find any comfortable position.
I've been way out of my comfort zone for weeks. God taking the book, my story with my bare heart, way out of my comfort zone.
All the way to the Early Saturday Morning Sisters, I'd told myself I wasn't opening my mouth, not saying a word, not letting anyone into how this all felt. And when the other Anne had looked up from Zechariah 8 and asked me how it was for me, I didn't say a thing, couldn't, for everything quavering, heart running all liquid.
I had mouthed it to the ceiling, a murmur looking up, trying to keep it all from spilling.
"How did I get here?"
When God moves us out of our comfort zone…
When God…
We're in the God zone when we're out of our comfort zone and the Holy Spirit, our Comforter, comforts us when we step outside our comfort zone. It's only in the uncomfortable places that we can experience the tenderness of the Comforter.
When everything opened and fell on Saturday morning, Annette had left her chair, came and held me, and Mama had reached over and squeezed my hand and I had brushed it back, smiled, believing. Knowing. Anne had prayed long and earnest and I had felt the Spirit's embrace, like the warmth of the sun laying it's arm down across my shoulder. I had felt it, how the sun had shone.
We're in step with the Holy Spirit when we step out into hard things. Faith gets out of the boat. And walking in the Spirit means stepping out to walk the waves and feeling the comfort of His grip.
Isn't this gift?
I look across the sanctuary. Can you really say that to the girl who doesn't wear her engagement ring anymore, to the beautiful mother whose husband left and the cancer has come, to the bent widow sitting next to the empty chair? Can you really say that to them, to the world?
That the greatest gift we can ever receive is the gift of losing our earthly security and comfort? So that we can unwrap the intimacy of the Savior and His Heavenly Comfort.
I swallow hard.
"When God moves us out of our comfort zone —- this is a gift."
Counting the gifts, one thousand gifts, isn't a pop culture kind of gratitude. It isn't a new age kind of feel-good exercise. It isn't trendy. And it definitely isn't comfortable.
Counting one thousand gifts is to live the radical thanks of Christ. It's about an exercise in the age to come coming now and finding comfort in the Comforter. It's the culture of believers really believing, the culture of God and the Blood of the Lamb.
This world doesn't need trendy gratitude like it needs Jesus gratitude. The kind that gives thanks for the bread and the nails, for the fire that refines and the blood that saves.
That gives thanks in the pitch and the thunder, the wind and Gethsemane black, that gives thanks even staring into the face of death because it sees His face in all things, because it fiercely believes in relentless Grace and the Hound of Heaven who can't stop pursuing in Love.
That doesn't gives nebulous thanks to the universe, but named thanks to the King of the Universe, the Giver of All, to Him who is the only Gift, for from Him and to Him and through Him are all things.
When Jesus gave thanks, He took the bread before His crucifixion, before the Cross and the thorned Crown, and gave thanks for that. Gave thanks for that which symbolized His own breaking. Gave thanks for that which tasted of death, because He knew, He trusted, that even the hardest, the incomprehensible, was for ultimate good.
Counting one thousand gifts is more than gratitude. That can be mere cultural construct. Counting one thousand gifts is about eucharisteo. That is Christ command. Eucharisteo, that Greek word that expresses what Christ did at the Last Supper: take the bread of pain as grace. Give thanks for that which is hard. Endure the cross, all in view of the joy set before.
Counting one thousand gifts means counting the hard things — otherwise I've miscounted.
After the service, I write a card and have a new leather Bible to gently place into the hands of a woman God's moving out of her comfort zone. I promise her that I'll keep counting with her. Us together, believing.
After Sunday lunch and the dishes, I sit with the kids opening up a gameboard and I open a book and read this:
"Ecstasy comes from the Greek word ekstasis.

Ek meaning out.

And stasis meaning standstill.

Ecstatic=out of static."
I close the book. The children are laughing loud, cheering, over just the right move on the gameboard and He keeps whispering it to my trembling heart, to me who knows and then forgets: Those who fully live, who live ecstatic lives of joy, embrace moving out of comfort zones. Ecstatic joy is found outside of static comfort zones. Because it's moving out to where the Spirit moves. The Spirit is never static. Never standstill. Like the wind, the Spirit always moves. Joy is found in Him.
"When God moves us out of our comfort zone —- this is a gift."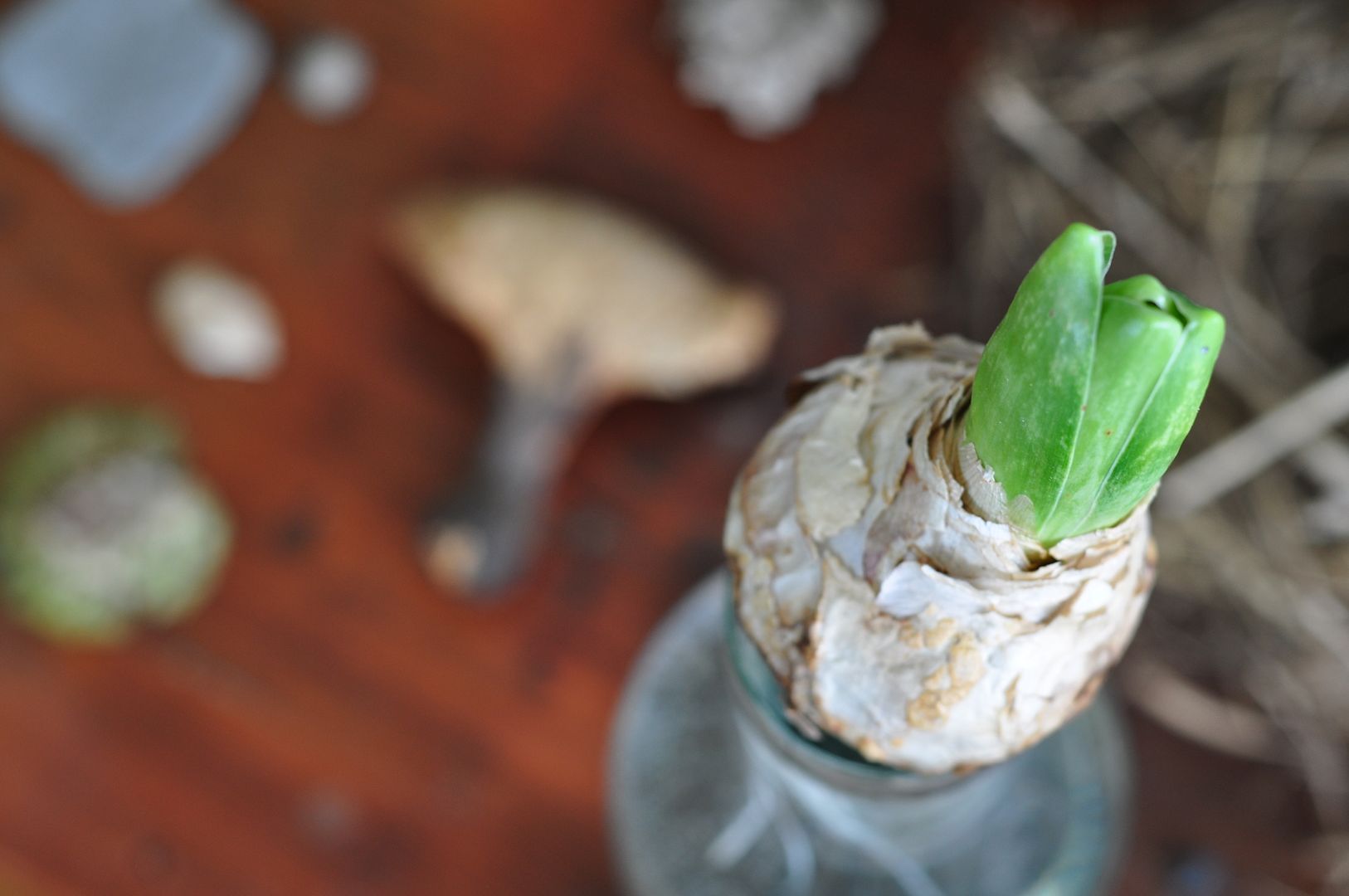 Shalom crawls up on my lap. I lay the book down but I hold onto the words.
"Mrs. Nagel told me at church that she'd seen flowers poking up before this snow came. Do you think they are still out there somewhere, underneath the snow, Mama?" She looks out the window.
The snow's still coming down, a mystery of white.
"There are signs of spring out there." I tuck a curl behind her ear and say it soft. "Outside, in the cold, still signs of spring. Gifts coming." She smiles, rubs her hands happy.
Outside of comfort's warmth, gifts unfurling underneath, and signs of radical change emerging everywhere, winter being overturned, of eucharisteo in the midst of hard things, of a revolution of thanks in all things to the God over all things.
And I have seen it, felt it in me, seen it move out into the world, this week One Thousand Gifts #15 on the New York Time's Best Seller's list, only the Spirit moving, a movement of people moving out and finding ecstatic joy, of people counting and making celebration a way of life, eucharisteo this old new word for a new way of living, that regardless of life's ups and downs, there moves this solid current of unending grace… certain joy.
Shalom and I fill a pitcher of water for the crocuses on the table.
She counts the blooms. "There are seven!"
I smile at her all ecstatic.
And watch the water flow out into this ponding circle, then move out, always further out….
::
::
::
#2255 – #2275 of the One Thousand Gifts … of the radical revolution of eucharisteo everywhere…
#2255….#2275
For a sweet baby breathing, for a family counting anyways
For knitting beside a hospital bed, monitors beeping, keeping rhythms of prayer,
Kleenexes, flannel, wool
Lost glasses, found library books, penciled lists
Brothers emailing each other
Cleaning closets with my girls
Saturday morning cooking and baking and cleaning
For the grandma who keeps the night shift over a little one
For a pastor who weeps over pain and eyes glistening, still calls us to count it as gift
Reading one chapter of Scripture over and over again
For a faith family who rallies, goes on its knees with hands held in praise
For hard eucharisteo and Early Saturday Morning Sisters and believing God when He moves out of comfort zones

For a movement of grace and celebrants everywhere and His glory filling the whole earth and a revolution of gratitude filling the earth too!
Today, if you'd like to share your own marking towards 1000 Gifts of thanks, all the ways He daily provides and you give praise — (please, jump in!) — just add the direct URL to your specific 1000 gift list post… and if you join us, we humbly ask that you please help us find each other by sharing the community's graphic within your post.