All the heart really knows — is what it knows by heart.
This may be why I know so little, why my heart pounds hard with a thundering panicking emptiness, why it's time to return to memorizing, return to my first love and the slow turning over again of His words, words my heart need to learn by heart, words that feed my frame of dust animated by the breath of His Word.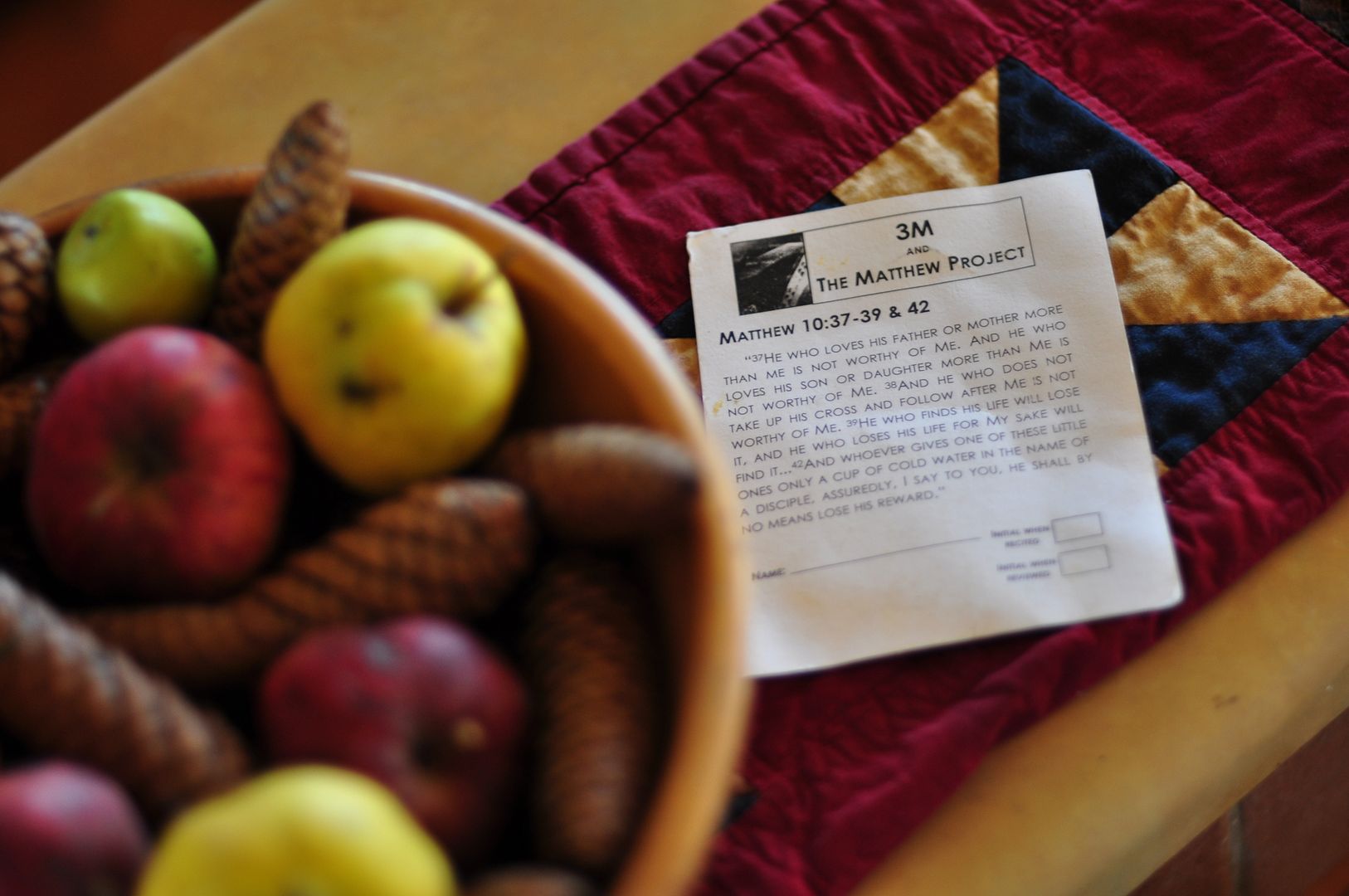 I have no idea why I have stopped teaching my heart. Why I've wandered from the practice of daily memorization. Why I have starved myself. I think it's because I think I don't have time. God gives us time and then we say we don't have time for God. It's ridiculous how little sense my decisions can make.
Last week, I drive to the airport in the pitch morning dark. I murmur it to my wild self a thousand times:
"Our help is in the name of the LORD,

the Maker of heaven and earth." ~ Ps. 124:8
What the heart knows by heart is all that can calm the heart.
In the early dark, I feel the light warm in my chest. Nothing reigns in a racing heart like Word Whispering. I tell myself that I need to return to our practice of memorizing. I park and fly.
I carry my bags to the plane, my heart repeating words. This is it, I think: Repetition is the way we revive a failing faith, the slow pumping of life into the lungs, again, again, with the breath of His Words.
Because when I fail to keep His Word in my mind, I simply fail. Again: "My help is in the name of the Lord…" I park on Scripture. this truth. Fears fly. I soar.
When I come home, we put out memory work from Ephesians back on the fridge. When our days run around, we run out of God-memory and our lives run out of joy storage. Every time I open the fridge, I pause and feast on Ephesians. I am filling again.
I murmur a verse by heart and in the recollecting, I re-collect who I am, Who He is. Reciting memory verses, I re-collect all the essential pieces that can lost in the whirl of a day.
A friend and I, an Ann with an "e", she and I, begin a venture in our faith community many months ago, 3M: Meditate. Memorize. Missions. We select verses (presently from the book of Ephesians) that correspond with the current sermon series. We offer cards with the verses, for pockets and kitchen sinks and mirrors. And instead of offering prizes for verses memorized, instead of motivating points or plaques — we offer missions. The opportunity to go into all the world and free a child from the oppression of poverty. We memorize, motivated by love: for God and a child in need. For six verses recited to a partner, the card signed by the partner, a sponsor has agreed to donate one loonie (a Canadian dollar) — "Six for a Loonie" — to the sponsor of a Compassion Child. And if those six verses are recited again, reviewed, a sponsor donates an additional twonie — "Review for a Twonie."
Jacklyn from Peru is supported by a church family commitment of 70 verses recited and reviewed each month. Teenage boys commit to whole chapters for Jacklyn, for their own soul. Elderly women recite 10 verses at a time, encourage children to do the same. Families learn the whole book of Ephesians together. Hiding His Word in our hearts liberates another heart to hear His Word, frees a heart from the bondage of poverty. We recite verses. We write letters to Jacklyn. She writes back: Pray for my Grandma who is sick? Our passion for God express itself in Compassion for the hurting.
After meals, we review verses, banquet on Words, because I've starved too long. A little girl tastes real freedom. Hearts learn by heart His heart.
I recite. The pulse slows.
::
::
"I know of no other single practice in the Christian life more rewarding… than memorizing Scripture… No other single exercise pays greater spiritual dividends…"

~Charles Swindoll
::
::
::
Memorization aids:
Our favorite memory aid resource (HT: Ann Kroeker)
Convert verse to just initial letter of each word (see online site that will automatically do this with whatever text you paste into box) — then print it out and carry with you.
Memory Booklets
Free, Downloadable Memory Books
More Free, Downloadable Memory Books
Further Resources
To begin:
Scripture Memory Connection "Dedicated to the support and encouragement of Christians who wish to memorize portions of the Bible" — a resource not to be missed– articles on how to memorize, memorizing long passages, and the freeware Scripture Memory System for Windows – software designed to assist anyone who wishes to hide God's word in their hearts.
If you would like to begin learning Scripture, begin here.
Memory Booklets
Free, Downloadable Memory Books
More Free, Downloadable Memory Books
Family Bible Memory Association –This organization and what they offer looks excellent and very affordable–wish it were available to Canadians!
Memorize to Music
Kingdom Songs — absolutely beautiful–one of our favorites
Integrity Music Scripture Memory Songs — we memorized scores of verses through this series
Scripture Memory Songs for Kids –worthwhile resources
More Scripture Memory Songs for Kids
Complete Chapters set to Music — excellent investment
Bible Study in Stereo "The Bible Study in Stereo makes memorizing chapters of Scripture not only attainable, but very practical. In less than 8 weeks you can memorize an entire chapter of the Bible and have fun doing it. Using our CDs and manuals, the Word comes alive through both study and song."
Sing the Word "The latest CD from the very musical Harrow Family has become one of my favorites from any genre. The musical and production quality alone should place this CD at the top of Billboard's charts. Though I could recommend this CD for purely musical reasons alone, the most compelling quality is how fully God's anointing permeates it. I really can't stress enough how much we all have enjoyed this CD and the others that you have made."
Roger Nye, bassoon
New York Philharmonic Orchestra
Word Song "Find the full mp3s taken directly from WordSong's CDs, The Nativity and The Love Chapter & The Beatitudes. We offer all of our mp3s for free in hopes to return the body of Christ back to the pure Word of God."
Videos
NIV Kids Club "These fun-filled music videos by the NIV Kids' Club feature songs written around the exact Scriptures from the NIV Bible."
Programs
Topical Memory System from Navigators
Bible Memory System "Mary Pride Big Book of Home Learning says: The most usable topical Bible memory program we have seen is still MemLok. We're really impressed! It's kid appealing, sharp, and thorough. Most of all, MemLok is fun and easy! RECOMMENDED."
Memorization Software Programs:
Memorize His Word select verses, put on review schedule, whole family can work together
I Know it Memory Program Teach Me and Quiz functions, Review Schedule
Every Wednesday, we Walk with Him, posting a spiritual practice that draws us nearer to His heart.
To read the entire series of spiritual practices
Next Week: Consider sharing in community, one more week about memorizing: What you've memorized of late: write it out and take a photo, upload a video, type it out, share an audio — might we too meet and speak God-Words to each other?
Today, if you'd like to share with community The Habit of Memorizing Scripture … just quietly slip in the direct URL to your exact post….. If you join us, we humbly ask that you please help us find each other by sharing the community's graphic within your post.