She keeps it by her Bible.
Clay shaped by hands, a pottery jar, there on the kitchen table, always there by her Bible, both open for the taking.
I don't ask her about it.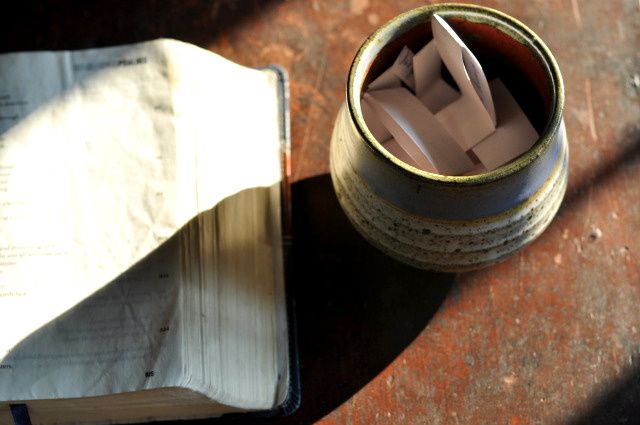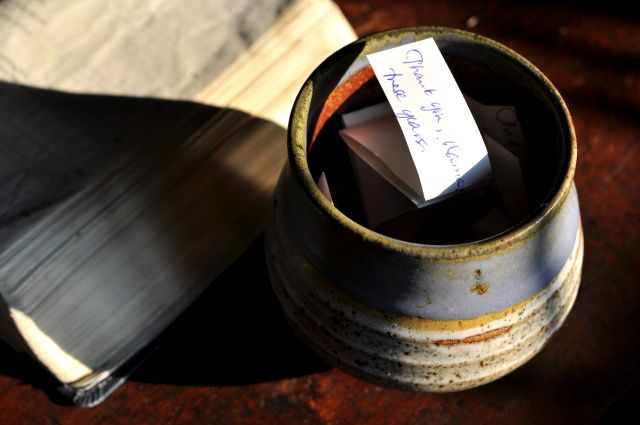 At the end of a phone call in early fall, leaves leaving, she brings it up.
"Ann… the jar."
I pause at the sink, pause in the scouring, the scrubbing it all away.
"Yes, Mama?" I gave her the jar, thrift store find, for Mother's Day last year, filled it with slips of paper.
"I just wanted you to know what it's meant to me. I pick out one every day…. sometimes more."
The Manitoba Maple outside my window loses its color to the wind, gold and amber whipping by in autumn gales come early and I watch them go, smile for Mama gathering…
"Things in there I never would have remembered… things I didn't know you remembered."
Standing at the sink, watching the wind pack summer up and away, I remember sitting in the sun of a May day writing out those slips of paper….
.
.
.
"Thank you, Mama, for all the nights you sang me to sleep, me so scared of dark and dying in my sleep, and you so tired. You never got frustrated… just kept rubbing my feet and singing… Thank you."

"Thank you, Mama, for quizzing me on all of the dates for Mr. Manoryk's world history tests… I passed!"

"Thank you, Mama, for still loving me, always loving me, even when I was a saucy twelve-year-old with hair-sprayed bangs who thought she knew what to wear and what to eat and where to go and was really too hard to endure…"
.
.
.
.
I scratched down a sheet with spontaneous gratitude, memories I too had forgotten before pen found page.
But gratitude is a magnet, attracting filings of goodness out of the expanse of the past.
"When I read those slips of paper, one little thanks at a time, it's like… a long hug from you." Her voice is breaking up and the leaves outside my blur, not with rain on the pane but my liquid heart brimming.
"It's like the past redeemed. Thank you." I can hardly hear her whisper through the feeling. I can see her though, my heart can, my mama.
"Oh, but the thanks is all mine, Mama. All mine."
Leaves and tears fall, September wind blowing away time, and our hearts sit silent beside each other, both open for the taking.
.
.
.
Repost from the archives
.(
… a few days @ The Relevant Conference this past week, still counting the endless gifts … to live thanksgiving to God, long hug to Father…
2028. The Relevant Conference organizers– Sarah Mae, Dana, Jessica — God powerfully uses you
2029. late night talking about hearts and pygmies and the will of God with such a room mate — Holley's my forever word sister
2030. the art director of  moments who knows her food, the gypsymama, the South African so kind to the Canuck
2031. the joy of beholding the Mom Creative, her laughter, dancing eyes, the friendship made flesh, the days too short & praying for another time soon
2032. the squealing meeting happiness with Angie in the elevator going down and her baskets of flowers tht fall from heaven
2033. Ari, Sara Sophia, Ashleigh, Kristen Welch, Andrea, Sally Clarkson, all radiant, all generous, all friends who let me carry home bits of their heart
2034. the DaySpring team, Saul, Jesse, Marsha, Donna, Sally, Jordan — you people live what you believe and you are a beacon on a hill and it is a privilege to serve with you
2035. Skype and connecting with home and all their smiling faces
2036. a mentor who drives across a state with her baby & little girl & gives me her afternoon and all of what Jesus' teaching her
2037. all the women I met at Relevant and the tears we shed and the prayers we prayed, the sisterhood we share
2038. the sight of the farm as I came through the woods and the brimming thanks for here
2039. the piling of us all on the couch and the long quiet holding, us all together again… no words, no words.
2040. my mama here waiting too, the Farmer and her having my plate all warm and ready and heaping
….
(more about The Relevant Conference and words I shared tomorrow….)
Want to drink the wonder of gratitude? Consider joining the Gratitude Community — just jump in with your own counting! How to begin your own 1000 Gift List ::: How Gratitude Can Change your Life

( Drop me a line if choose to begin giving intentional thanks and gather fresh joy and I will happily add either your name or a web link to the Gratitude Community I'm slowly getting caught up on meeting all you beautiful folks who have joined the Gratitude Community. Thank you for your kind grace and patience!I'm so looking forward to meeting you all soon!)
If you'd like to share your endless list of found Beauty — (please, jump in!) — just add the direct URL to your specific 1000 gift list post… and if you join us, we humbly ask that you please help us find each other by sharing the community's graphic within your post.