My Dad always knew that I wasn't planning on coming back.
Christmas, Thanksgiving, a weekend home to see him, the farm, but I had no intentions of coming back to the farm to live. I wasn't planning on a life of gravel roads with lonely farmhouses holding down long lanes with a paint-flaking barn on every corner.
Wasn't planning to be a farmer's wife wearing her rubber boots out to feed hogs early in the morning dark, picking rocks every spring, delivering plates of pork chops and beans to a field and a band of work worn men. He knew I was making papered dreams. I was planning on getting myself a bona fide education, a piece of paper in calligraphy to frame for a wall behind a desk. I was going to contribute to society. Well-intentioned teachers taught me this.
Five days a week, 180 days a year, for 12 formative years, I had got on the yellow bus, sat in classes, sat in desks beside the sons of dairy men and the daughters of cash croppers, and I had listened with the rest of them to the sermons that books and learning and due diligence on spelling tests was our one way ticket out of rural North America. Success was sub-urban and dry-cleaned —- success was never denim in a field.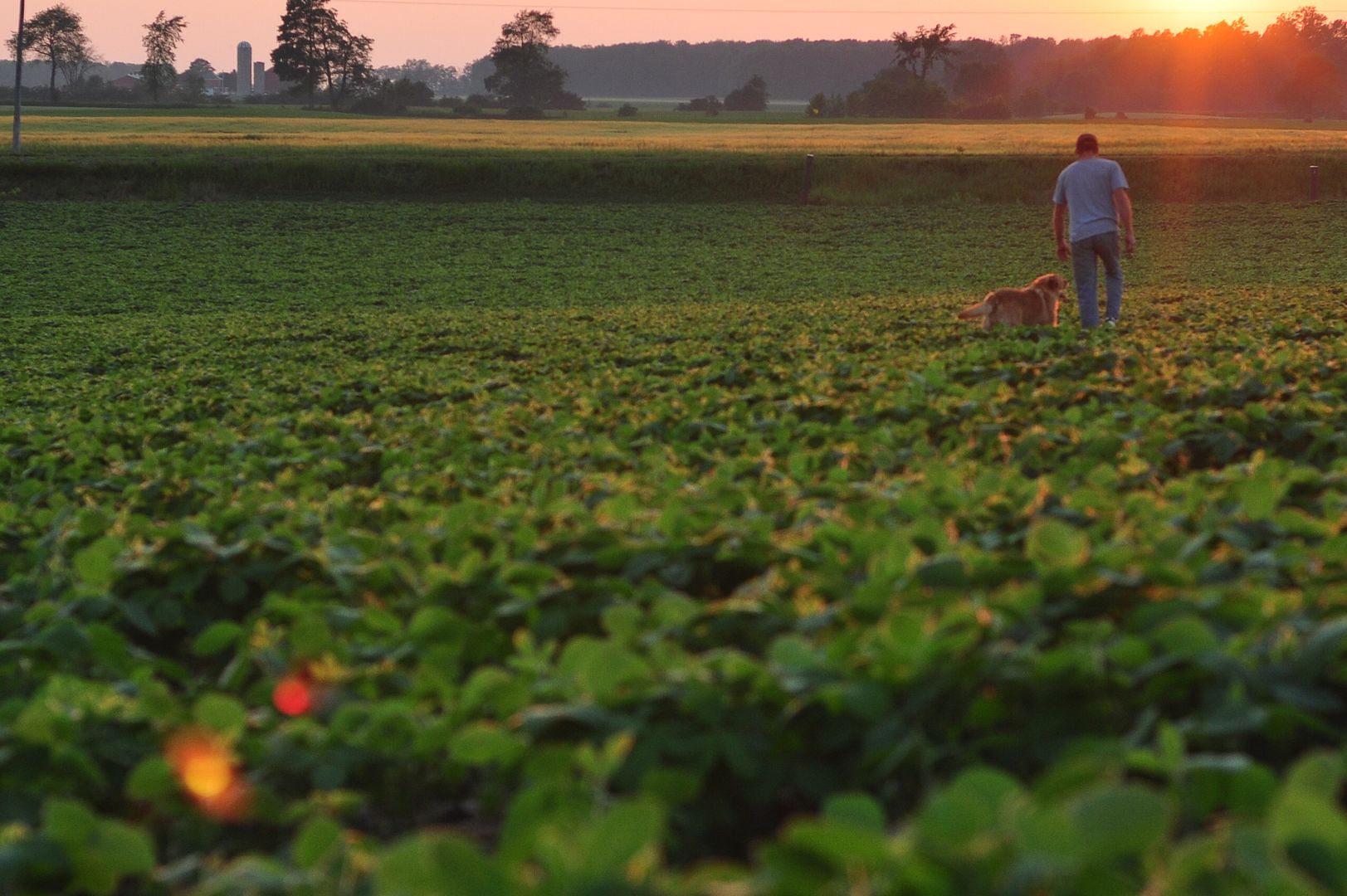 When did we become so disconnected from our own being, our own humanity, that growing food for our own bodies, for our very survival, became an act for the intellectually ignorant?
How did our enlightenment, that took us away from the farm, leave us so unenlightened — severed from the dust which is us?
Why is the eating of food the center piece of of our social functions, while the growing of food is deemed the lowest of social functions?
It killed my Dad that he worked the dirt to pay the taxes to pay the checks of teachers who told his kids that working the dirt wasn't worthy work.
It kills me now to think he worked without our honor.
I went to high school, took the advanced track, headed for university and asphalt and the wax seals of arrival. In Mr. Schurter's grade nine math class I sat beside a Dutch farmboy with big rough hands. He milked cows every morning before he got on that yellow bus. Sometimes I could smell straw and the barn on him. He was smart, good with numbers and a basketball and to his mother, and on the advanced track too. He knew exactly what he was about. He'd get grades. He'd study hard. And then he'd head right back to what made his blood run honest: the sky and the earth and seeds in spring. He told me this. He always knew he was was going back to the farm. He knew who he was. I fell in love with his hands.
It may or may not have been falling in love with his hands that — that glint — that's what made me change my plans, come back. That — and going far away from the land to a campus and a high rise and a subway, and longing to smell the the black damp earth in April. Hanging posters of windmills and barns in my dorm room and hanging up gingham curtains on the 4th floor window and pulling my spindled rocking chair up to the sill and missing the sun setting over our wheat fields. It may have been realizing my Dad and his patched Wrangler's had a kind of wisdom that I couldn't find echoing in the vaults of lecture halls.
I waved my hands giddy when I came home after British History exams that May and went to the fields to pick rocks. I can remember laughing in the middle of the field and spinning this happy relief and the dust entwining and unfurling me and the smell of soil in the wind. How it felt to have dirt under my fingernails. I can remember how Dad shook his head, doubting, laughing. Sometimes we don't know who we really are until we just about become someone else.
I marry the Dutch farmboy and my Dad and my Mama, they help us get farming here. Humble comes from the word "humus" and we bend down to dig our hands into the black loam behind the barn. This is what Jesus said the humble would inherit — the earth. Every morning, the first three years, I put on rubber boots and go out to the sows under morning stars. Paper dreams can crumple into happiness.
I don't remember when I first read it, that…
"Every pot in Jerusalem and Judah will be holy to the LORD Almighty…"

(Zech. 14:21)
::
The Farmer grows crops and I make meals and take them to the fields and God doesn't belittle plows or pots. We bring in the potatoes we've dug up, the squash we grew, and I stand over the stove with the sausage from the barn. I make soup. The bread rises in pans. We can find our roots. Pots can be holy. We can eat and be satisfied with the work of our hands.Christ said He was bread and he told us to eat and strangers only recognized Him around a dinner table. I write words, an essay, about the Spirit and food and this art of cultivating a life out of soil.
Leslie Leyland Fields, an extraordinary writer, mother of six and fisherman's wife from Alaska, gathers the words into a book of essays about these essential, important, three times a day things. Wendell Berry and Luci Shaw and Lauren Winner and 29 others, they write considered essays on food and holy pots too: The Spirit of Food: 34 Writers on Feasting and Fasting toward God
. Lauren and I spend a weekend at a retreat in Texas together. We all eat blackbird pie and laugh and are nourished.
And I think this at the retreat dinner table, my pie steaming hot — I think of plans I don't know if Dad knows yet. Of a fresh loaf of bread I'd like to make for a farmer I've known all my life who works hard to feed the world. Of this book I'd like to give him, with words about the sacred work of his working dirt, of our stirring holy pots. I eat my bread and pass the water down the table and I think of plans to give the gift of honor for those have bowed low over the soil and stove.
I think this and finish my blackbird pie. And I come home to the farm and this kitchen.
:::
::
::

The Spirit of Food: 34 Writers on Feasting and Fasting Toward God

with selections by Luci Shaw, Wendell Berry, Lauren Winner…. Vinita Hampton Wright, Suzanne Wolfe, Robert Farrar Capon, Andre Dubus, Jeanne Murray Walker, and Gina Ochsner and other contributors including Brian Volck, Alissa Herbaly Coons, Denise Frame Harlan, Chef Fred Raynaud, Hannah Faith Notess, Kelton Cobb, Jacqueline Rhodes, Deborah Leiter Nyabuti, Laura Good, Mary Kenagy Mitchell, Jeremy Clive Huggins, Stephen and Karen Baldwin, Ann Voskamp, Amy Frykholm, Thomas Maltman, and Margaret Hathaway.

You are invited to a feast for the senses and the spirit!

Thirty-four adventurous writers open their kitchens, their recipe files, and their hearts to illustrate the many unexpected ways that food draws us closer to God, to community, and to creation. All bring a keen eye and palate to the larger questions of the role of food–both its presence and its absence–in the life of our bodies and spirits.

Their essays take us to a Canadian wheat farm, a backyard tomato garden in Cincinnati, an organic farm in Maine; into a kosher kitchen, a line of Hurricane Katrina survivors as they wait to be fed, a church basement for a thirty-hour fast; inside the translucent layers of an onion that transport us to a meditation on heaven, to a church potluck, and to many other places and ways we can experience sacramental eating.

In a time of great interest and equal confusion over the place of food in our lives, this rich collection, which includes personal recipes, will delight the senses, feed the spirit, enlarge our understanding, and deepen our ability to "eat and drink to the glory of God."

Thirty four recipes included…

To read reviews of The Spirit of Food: 34 Writers on Feasting and Fasting toward God
:::
Related:
The Church Cook is blogging the recipes included with the essays in the Spirit of Food — and her photos are beautiful! She has our favorite pork recipe, Tangy Glazed Pork, included also in The Spirit of Food,  now posted and with photos… and grace! her church family liked it!