New Life always only emerges from the depths black and dark and she's a farmer's daughter and she knows it well and she says she wants to die.
To tell everyone she's dead.
It's a plea in the night, my hand still on the light switch, and I turn and I hear it again, her entreaty from the shadows. "Pray? Please, Mom, please. I really want to. Pray?"
I say it sure and certain in a house laid down for the night, a commitment. "Yes, Pray. I will pray."
And then I stand in the still and I think she's too young to announce her death. I mean, is she really dead? Will she stay dead?
And no, I don't want her to resurrect.
We had murmured the verse after the night's prayers for she had it memorized too:
I have been crucified with Christ and I no longer live, but Christ lives in me. The life I live in the body, I live by faith in the Son of God, who loved me and gave himself for me.

Galatians 2:20
And I had curled in beside her on her bed and when she had asked me again if she really could, her voice a tremble of nerves, I had told her again that that is what she'd be saying if she let's go of it all and falls away into the dark waters of baptism. That she's as good as dead, or as bad as dead, as the case may more accurately be and she'd be telling the world her only identity was in Christ.
That for a Christian, identity is never about figuring out who he is —- but accepting Whose he is.
That Christians are the walking dead, fully —and only — alive in Christ. That that is what the Easter People really are: Rotting cadavers to the flesh, resurrected Christs in the faith.
That to be baptized is to publicly and permanently proclaim Christ as sovereign, Saviour, and all your satisfaction.
I reach over in the dark and touch her hair silken, a veil of gold threads across her pillow.
Was she really ready to release her obituary?
I find it next to the keyboard in the morning. Her testimony written out, the one she'd share on Easter Sunday if she too is baptized, the one that recounts the thoughts of that dimpled six year old with the page-boy bob who had bowed her head with me and said she'd inherited Blood Type S for Sinner and she wanted a transfusion and salvation.
I read her typed words:
"And I knew then I wanted to be a Christian for three reasons:

1. To be washed clean of all my sins
2. So that I could be forever with Jesus and be new and obey Him and love.
I smile. I like how she simply says that and I want to do that too, "… and love."
Her #3 is scratched out with ink.
I try to make it out.
3. And because Mom is a Christian and she is nice and if I became a Christian I could be like her.
That reason's crossed out.
I hold the paper and I still stand but I'm slain right through. That reason's crossed out.
I feel ill, rightly judged, weak and all the other words on the page slide right off and I'me fixated on the words scribbled out hard.
Was it because I had snapped harsh yesterday after lunch when kids tangled in a knot of wrestling and everyone forgot we were supposed to be cleaning up the kitchen and she had changed her mind then and there about any maternal niceties, about any hopes of spiritually modelling?
Because I hadn't listened with the eyes and the full attention when she told me about what Sonya had said that Sarah had told her?
Because she had called me to come tuck her in last night and I had one more thing to do and one more thing and just one more and when I finally made it to her bed, she breathed in the heavy deep sleep and I murmured sad prayers alone?
I run my fingers along the ink that went back and forth and blotted me out.
Maybe I can justify that it's just that she had slashed out reason #3 because she wasn't sure of its theological correctness? That it was too emotionally transparent, socially unsophisticated, preteen uncool? And it's lame and yes…
Parenting is a daily life detector test and its through the eyes of our children we read our own souls.
I lay down the piece of paper. And I know why I am so scared of her getting baptized.
Because she could become like me — and make this terrifying public declaration of her allegiance to Christ and the tenants of the Kingdom and then daily betray all she claims to hold dear, daily find herself an unintentional turncoat, a coward and a liability to the Cause.
How many times after I was baptized as a teen did my Dad assess my tongue, my behaviour, my attitude and shake his head in disgust and slap me sharp with the words: "And you call yourself a Christian?" He himself wasn't — and even he knew that I wasn't acting like one.
The pulse of the old, dead man can flicker long after the burial and new life in Christ is a war.
And years of the battle-scars has given me this and this I know: Nail pierced grace will never let you go and Christianity is a lifetime of becoming who you really are.
She stands before the microphone on Easter Sunday in her blue baptismal robe.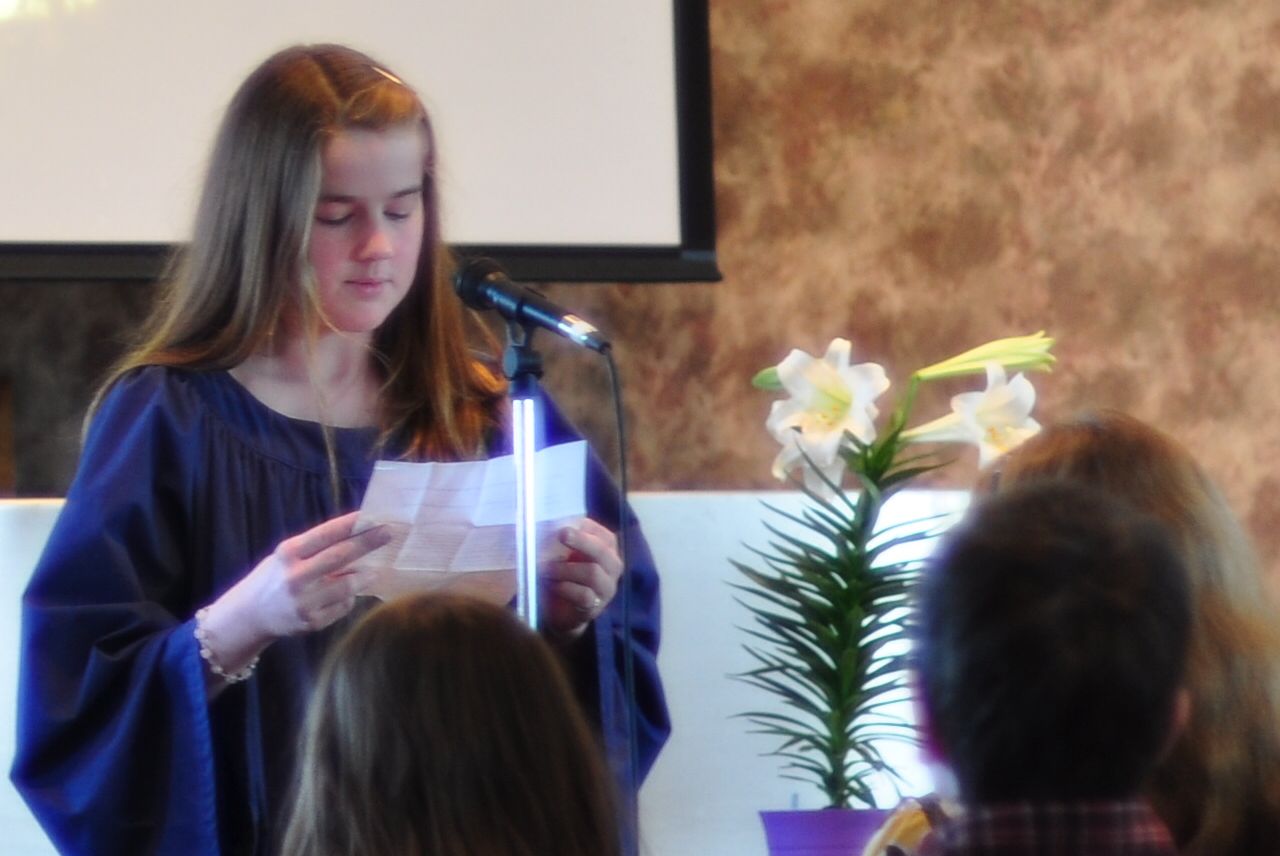 And I watch her shaking hand hold her typed out testimony, and I listen to her read it breathless and quaking, and my chest burns holy joy and the confession of her tongue drifts down the rows of the chapel, the people like furrows, a plowing on Easter Sunday for the growth of souls.
My Dad sits in the centre row.
My Dad sits in the centre row, and he wouldn't claim Christ as his own but he's witnessed the baptizing of each of his three children and now this is the first of the next generation, and I didn't know he was coming.
I burn holy joy and our daughter Hope, she reads it,
"My name is Hope Voskamp and my parents named me Hope because of Jeremiah 29:11, that God would have plans for me to give me a future and a hope… And all their years of prayers have been answered today as I claim that Jesus is my only future and all my hope and who can thank God enough for plans like these?"
My burning holy joy can't be extinguished by the falling tears.
I can see it there on her quavering baby finger, the ring I gave her only this morning but had bought for her years ago in future hopes, silver etched with her name, the whisper of all our prayers, and Christ's certain promise: Hope : Hope : Hope.
The silver flashes on her and hand and Hope, she finishes her testimony with the humble asking, her eyes for the first time looking up to meet eyes: "Might you pray for me, that I might live for Jesus… and I would love?"
Yes… and I would love. Me too, Hope, me too.
And it's The Farmer who holds her as she declares her own death, burial and resurrection on Easter Sunday and she is the first of the children we have birthed to declare her own death.
She goes down and she comes up and she breaks wet wonder and she sloshes wet across the sanctuary and I watch her footprints lay down fresh, the old amniotic fluid of her new life in Christ now dripping straight across the floor and I kneel down. I touch her steps choosing to walk in The Way.
Already, she is following. Already.
He won't let her go.
Grace leads.
And later when I help her peel the wet gown off her back, she would tell me that it has weights in the hem, to stop it from billowing, from floating up and around her, a shroud, and she would say that not even that, nothing could stop her from leaving behind her funerary clothes.
And later I would hug my Dad close and grip his shoulders hard and I'd look into his eyes and I would thank him for coming and ache for all his coming that I am still waiting for. He'd squeeze Hope's arm, her hair still dripping wet and he'd say, "You did good." Good.
I'd burn joy.
And later that Easter night, after the candles and the hymns and the sitting in the burning joy and the miracle, she would leave me a note, "Mom, can I join The Gratitude Community with you? I am so grateful for so much."
And in a sleeping house again, again I'd burn joy. And I'd pray.
I pray for her and I pilgrimage with her and I praise with her. I do and I will. And I petition God for the prodigal parent I am and the paternal one I am still waiting for. And I hope and I love.
For a daughter and a father because of the Son.
I leave the light on in the hall.
Related: Baptized
Every Wednesday, we Walk with Him, posting a spiritual practice that draws us nearer to His heart.To read the entire series of spiritual practices
Next Week: Consider sharing in community: Cultivating the Life God Desires … We look forward to your creative voice, ideas, thoughts!

Today, if you'd like to share: Cultivating the Life God Desires ...just quietly slip in the direct URL to your exact post….. If you join us, might we humbly ask that you please help us find one another other by sharing the community's graphic within your post.

Photos: our lovely Hope-girl announcing her death, burial and resurrection in Christ
Share your thoughts?
If you would like Holy Experience posts quietly tucked into your reader or emailed to your inbox for free…