S
now falls and under the knitted blanket, she reads words woven together.
She reads differently than her older brother, not voraciously, but this steady, healthy diet, quiet meals of the good words. These days of the quiet hours, they make me happy too, her and the words and the snow.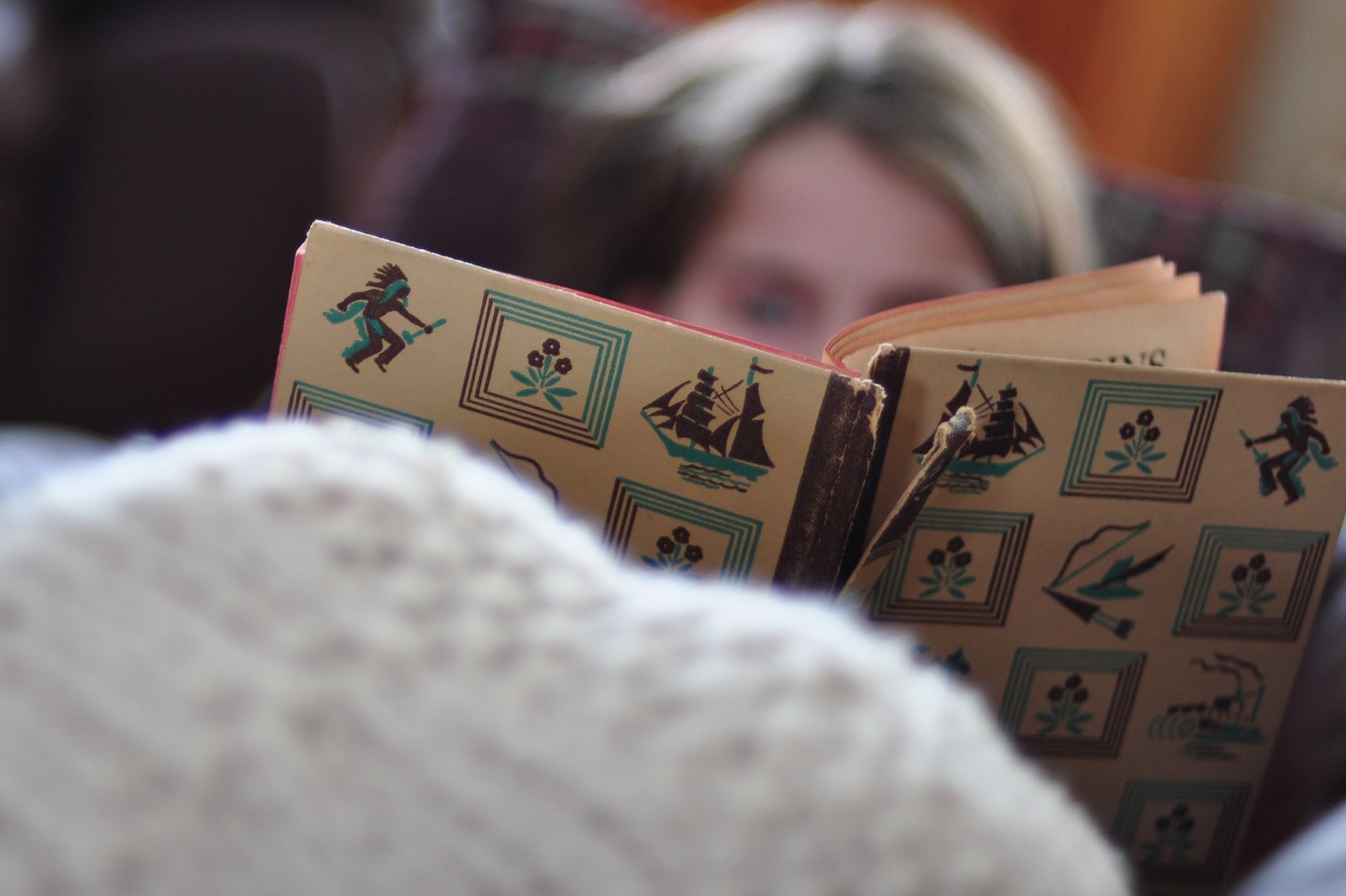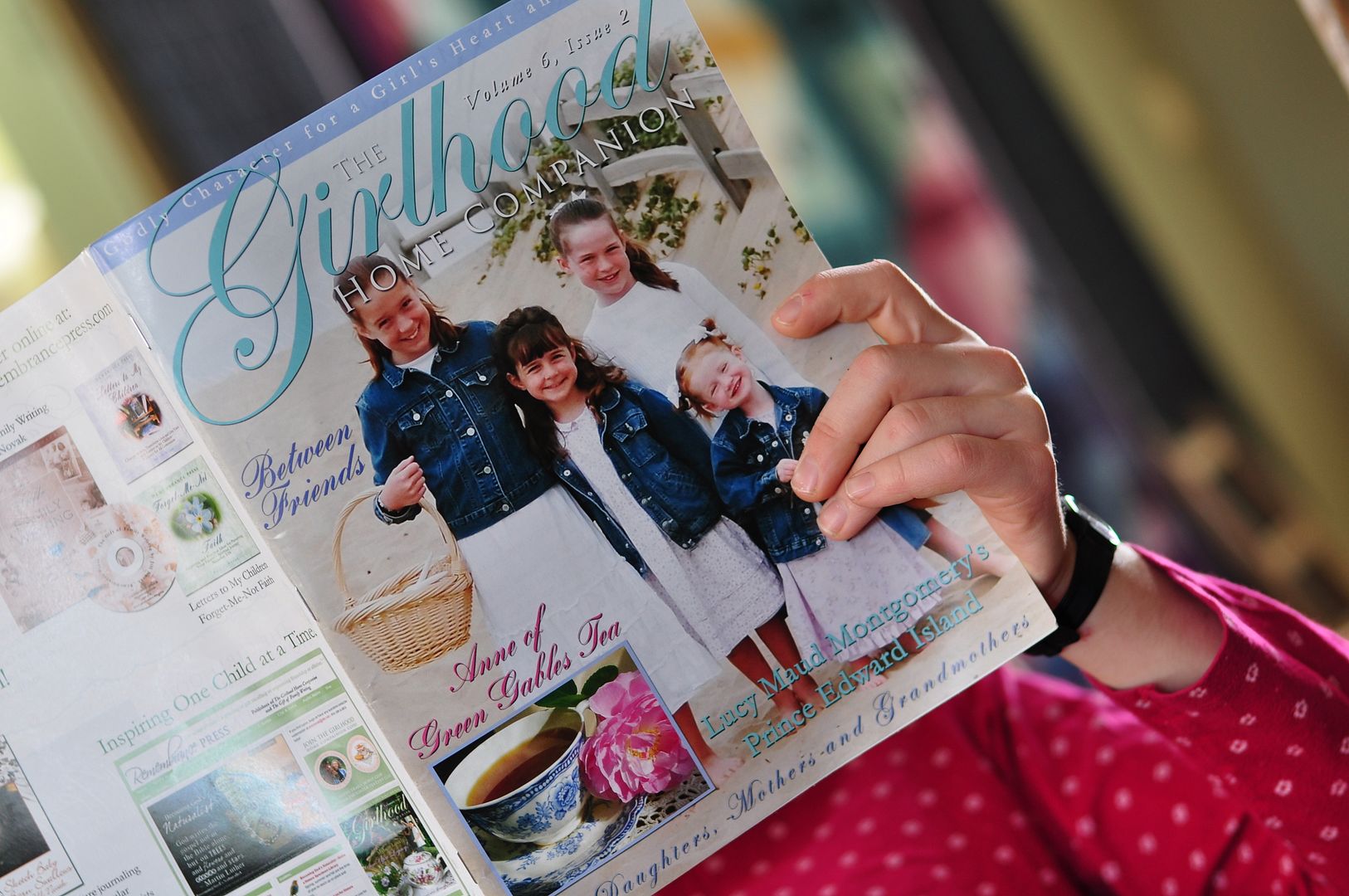 Hope keeps her tidy stack of The Girlhood Companion on her nightstand, pours over each artistic copy when it arrives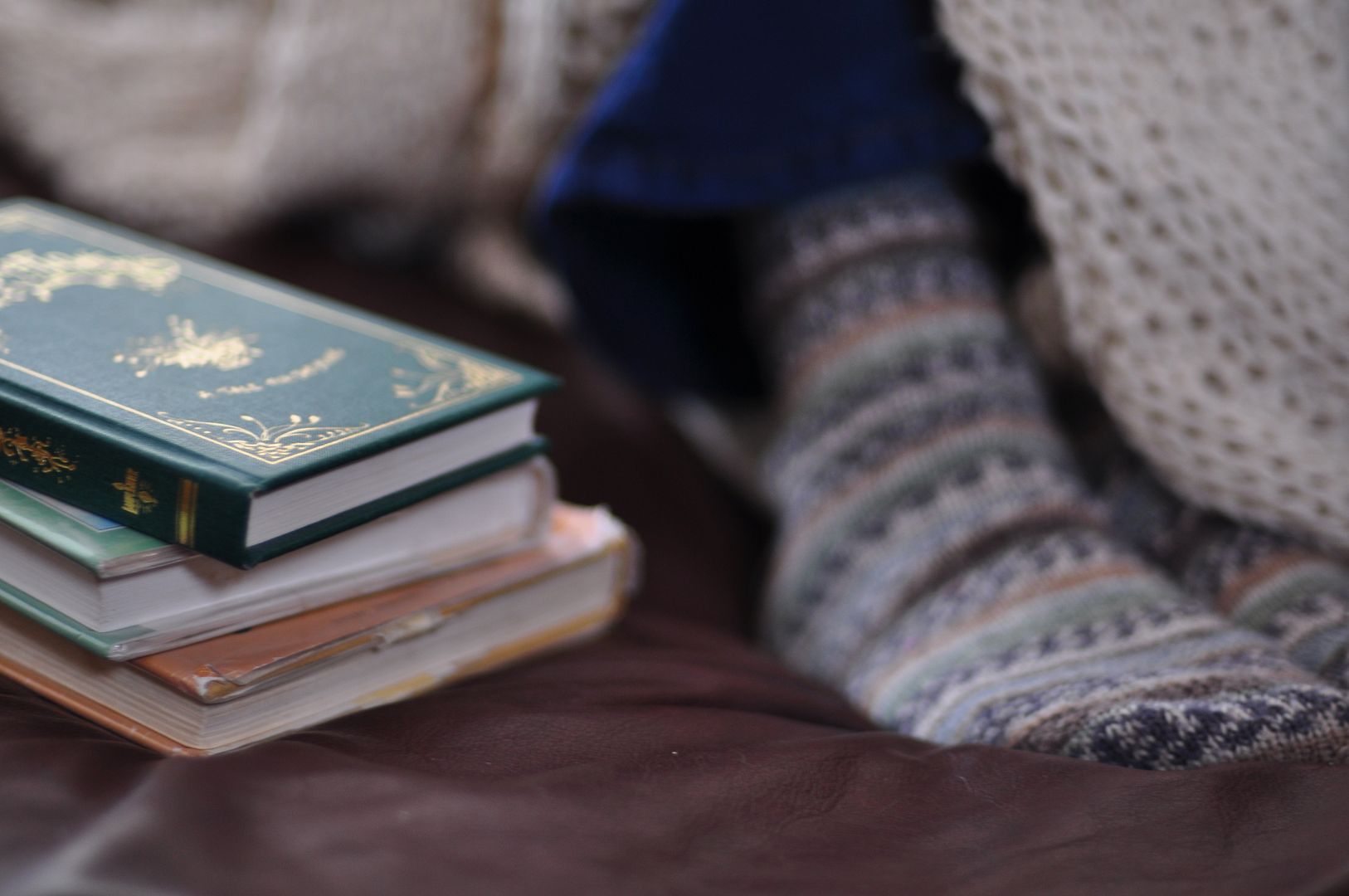 It's her own round and ample scrawl that fills the page with the titles she has loved. I only transcribe.
20 Books She Has Loved: Best Books for Girls

Caddie Woodlawn
A perennial favorite read aloud that deeply moves (I never get through the school scene with the native boys without crying) and one Hope has read at least a handful of times. Caddie's a bit like Laura Ingalls Wilder — they both find a place in the heart.

The Tanglewoods' Secret
One year for her birthday, Hope scratched out her list: "A Compassion child to sponsor… and all of Patricia St. John's books." We were happy to oblige. All of Patricia St. John's books find happy homes in a young girl's library.

Christie's Old Organ
Ours is an old copy from Oma Voskamp and Caleb who read it on loan, was so taken with it that he urged every one of his siblings to read it. Hope thanked him.
Having sold over 500,000 copies in the 1860's, this book's Victorian language didn't deter Hope — but rather the thoughtful writing caused her to pause and consider many theological truths. A book worth the effort of the read.
After I finished reading this book aloud during our afternoon tea time, Hope, not wanting yet to leave the beautiful story, she slipped off to read it again herself. Another Victorian read that still touches a sweet place.

In Grandmas Attic (The Grandma's Attic Series)
One of my greatest delights of parenting is holding a title out to a child with the words, "I remember loving these books when I was about your age." Hope read the same copy I had saved all these years. She loved it too.

Little Women (The Whole Story)
The Whole Story series of the classics are the ones I always check out of the library, as their sidebar definitions, explanations of seldom used words, illustrations and interesting tidbits, not only intrigue, but make a classic story accessible to children who might otherwise become confused by the terminology of a different time era. The Whole Story books always get snatched up right away here.
The Complete Little House Nine-Book Set
We are on our third set of these books. Enough said.
(Okay, I'll say this too ~smile~: We never tire, we never wane; they remain forever evergreen, always new: signposts of the most endearing, memorable writing. Can I still keep reading these when I have no little children in our house? Please?)

The Chronicles of Narnia Series
While entirely taken with the Lion, the Witch and the Wardrobe, Hope has yet to read the other in the series. This is good, as I prefer this series to be read when older. I first read it when I was seven and, strangely, did not like it in the least. It was only when I was older and understood the allegorical meaning that I relished each book. So Hope waiting is quite well and good.
Another traditional classic in the Whole Story series that has been well-loved here by all of our children.
A family read aloud that again got squirreled away for one-on-one engaging in the nook underneath the stairs. There isn't much nicer for a young girl than a book like Heidi and being tucked in with a pile of pillows in a little hideaway, is there? She always smiles when she says, "Heidi."
The Witch of Blackbird Pond
Though this book was on many recommended booklists, I long avoided it. I wasn't interested in having anyone here read about witches. And now I entirely forget how the book found its way through the front door, but I clearly remember reading it aloud with reluctance. And then I fell in love with Kit. And I couldn't stop reading. And the children couldn't stop listening. And the witch is but an accused witch… and the exquisite story (writing second to none) is too about not making hasty judgements about people. Which is exactly what I had wrongly done with this book. Touche. Highly recommended.
Another read aloud that whet appetites for more… set in 1948 in Alaska, this story of a teacher in a one-room schoolhouse inspires curiosity in art and literature and creativity. A story that found a place in our hearts … and lives on.

Betsy-Tacy
Hope was giddy happy when we found several of this series at a library sale. I had many moons ago read one of these very sweet books as read aloud and she met these books like a long, lost friend. Reading aloud to the children has been like gathering kindling daily — lighting children to read books on their own, flaming their interest in books they might have otherwise passed over. If all else fizzles in a day… if we've prayed together and read together, it's been a good day.

All-of-a-kind Family

One reader in a house happily infects the whole house. Caleb read this who recommended it to Joshua, who passed it on to Hope… who has asked for it to be signed out of the library so many times, I really needed to buy her a permanent copy. She's absolutely smitten with the adventures and faith-observant lifestyle of this1912-1913 Jewish family. The whole series makes for one very happy girl (or boy, for that matter, as her two older brothers have read the whole series also.)

The Door in the Wall
A book we began for our history studies that has become a read aloud we often hungrily revisit — and then read again on our own! Hope and Levi again read this year, both entirely captivated. The Newberry award-winning story of young Robin who has to learn to reuse his legs is a classic for boys and girls alike. A family favorite.

Words By Heart
I don't remember how we found this book, but I do know we've never forgotten it. A truly powerful book about a young black girl who wins a Bible-quoting contest… and then discovers how hard it is to live out that Bible's call to forgive. Exploring faith, racism and what it means to be deeply human and truly loving, this is a beautifully written book we often speak of… (Her father is killed, so not for younger readers) A book that will stay with you. Highly recommended for older readers.

Understood Betsy
This is my second-time reading aloud Understood Betsy, and I think I like it even more the second time, if that is possible… Hope has read it countless times — who can't love Betsy and watching the world open up to her as she goes to live with the "dreaded Putneys"? (Levi smiled: "Our family is just like the dreaded Putneys." And now you'll have to read the book to understand why he says that ~weak smile~) A book my sister, homeschooling mama to four little girls, says is changing her life and the way she raises her girls. Five Star.

Pollyanna: Complete and Unabridged
This was my hideaway book — up in the attic, a string of late summer afternoons. I wanted to be Pollyanna. It didn't quite work out that way. ~blushing smile~ But I did read the whole series… and I smiled when Hope read from my tattered blue hardcover with the yellow musty pages. She loved it too and has re-read often. I hope the dream to be Pollyanna works out better for her ~smile~. A girlhood must.

The Complete Anne of Green Gables Series
My Hope-girl has loved these books as much as I did when I was an Ann-girl.
I hadn't expected how happy that would make me, seeing her get lost in worlds that I did as a young girl…. and oh, the smile on her face when she is done and clutches a book to herself. Who can forget the wonder of childhood? Highly recommended.


Photos: Hope reading while the snow falls this week
Share your thoughts?…
If you would like Holy Experience posts tucked into your inbox for free…