She's talking and I've got the phone cradled between neck and shoulder, putting away the ever wandering books, the lost knitting needles, the apple cores that belong. in. the. compost.
And sister's voice is keeping me company (don't sisters the world over keep their houses while keeping company, phone to ears?) and I don't remember what line of her's I interrupt (sisters do this freely, by mutual agreement): "Oh– that SKY! Late fall's moody, unpredictable and I love her. You should see this sky."
"Grab your camera—" My sister feels art and the colors in her cells.
I shake my head. "Not today."
"Not today? I'll wait. Capture it before it's gone — you've only got a moment or two." She knows me, part of herself.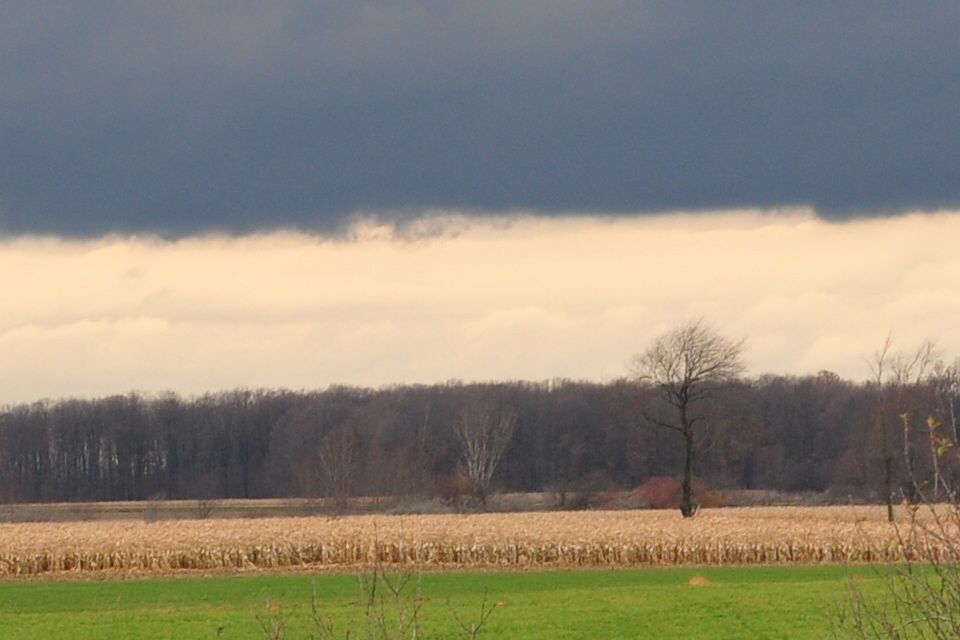 Standing before the window, mesmerized, I set my collection of misplaced Latin textbooks, leaf template, scissors, two pencil crayons, on the window seat, watch the clouds, the strata of greys and blues mount.
The words rise with the shifting hues, slow, unsure.
"You think we ever weary of beauty?" My camera sits on the shelf.
"No. Never." I can hear her children laughing, the clatter of her dishware.
"But what if our lives seem …. grey. Or…" Ear and receiver fill with wails, her littlest squalling. "Overwhelmed. Yeah… Overwhelmed. Crazy. Doesn't beauty somewhere else then just…" I grope for what I mean, some word to express a heart… "wound. Doesn't beauty found elsewhere just magnify the barrenness of where He has you? Doesn't beauty hurt?"
She soothes baby sobs. To the west, high, autumn's lid darkens and I keep watch. Sparrows line the wires. She hushes distressed one and asks me still, "Don't you think beauty's everywhere?"
I'm stilled by the sky. I don't even know if she can hear my words, the ones that come unexpected but certain, soft but knowing.
"God's everywhere…. So beauty must be."
There's a half-carved pumpkin on the windowseat beside me, it's innards spilled gory and gooey across the floor.
"Exactly. And…" She laughs and too loud. "Even you, don't you find it everyday at your wild house?"
I half-smile, shake my head.
"Don't I come over there and your mudroom has a mountain of laundry you're working on? And I use your bathroom and you really need to teach you-know-who to flush a toilet when he's done! And it's loud and somebody gets hurt and ends up in tears and you get overwhelmed by it all and get to the end of your rope… but don't you still find beauty? Isn't God in the midst of all your mess?"
The top layer of clouds have deepened indigo, dark water over white clouds, foaming waves…. sea over fields.
"Yeah… He is. Even here, Beauty is here. Because God is."
He makes all experiences holy.
I reach for my camera.
Step over stringy pumpkin intestines, just frame the sky from the porch.
It's not perfect, but it's shift, subtract, refocus.
It's pray for the holy vision.
It's making everyday an empty vase, buying bouquets of beauty with attention.
It's been a hard few days.
Which is why it's perfect.
When I leave sister to dinner and her household of littles, I leave pumpkin guts and pile of errant things, and set out a row of old bottles. Glass garbage really, bottles long ago found in an old and overgrown trash heap deep in the woods.
I line someone else's junk up against light.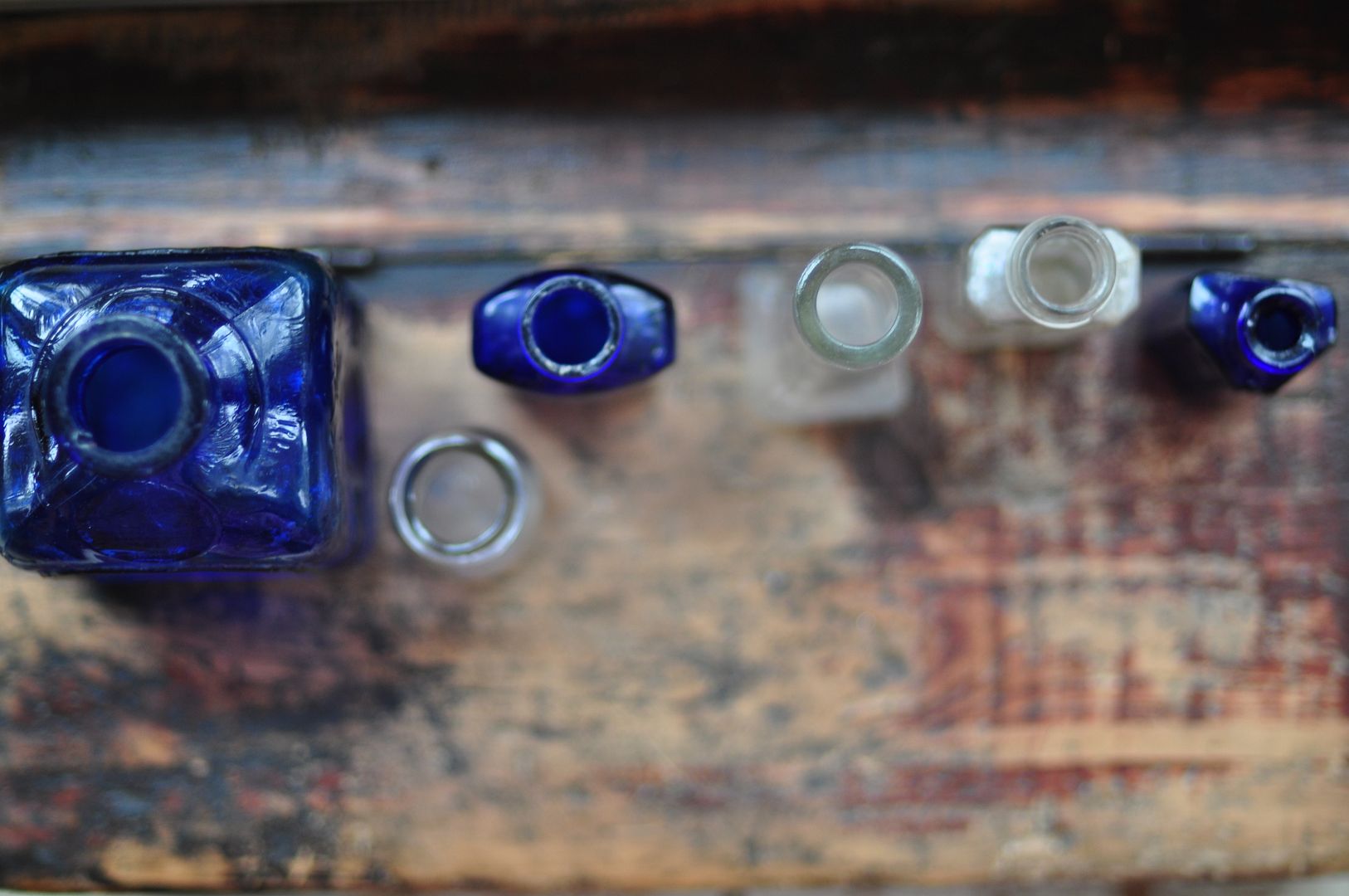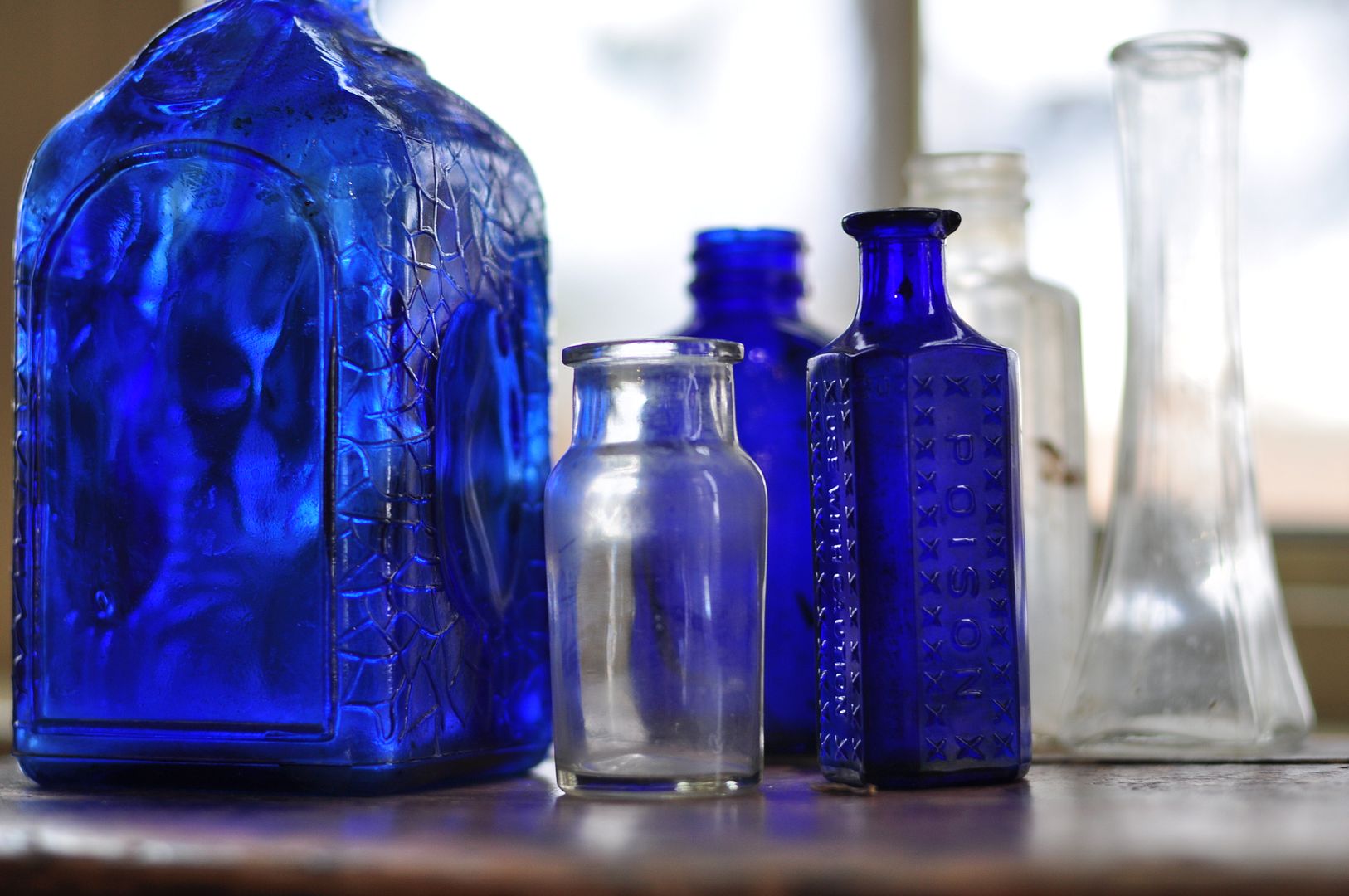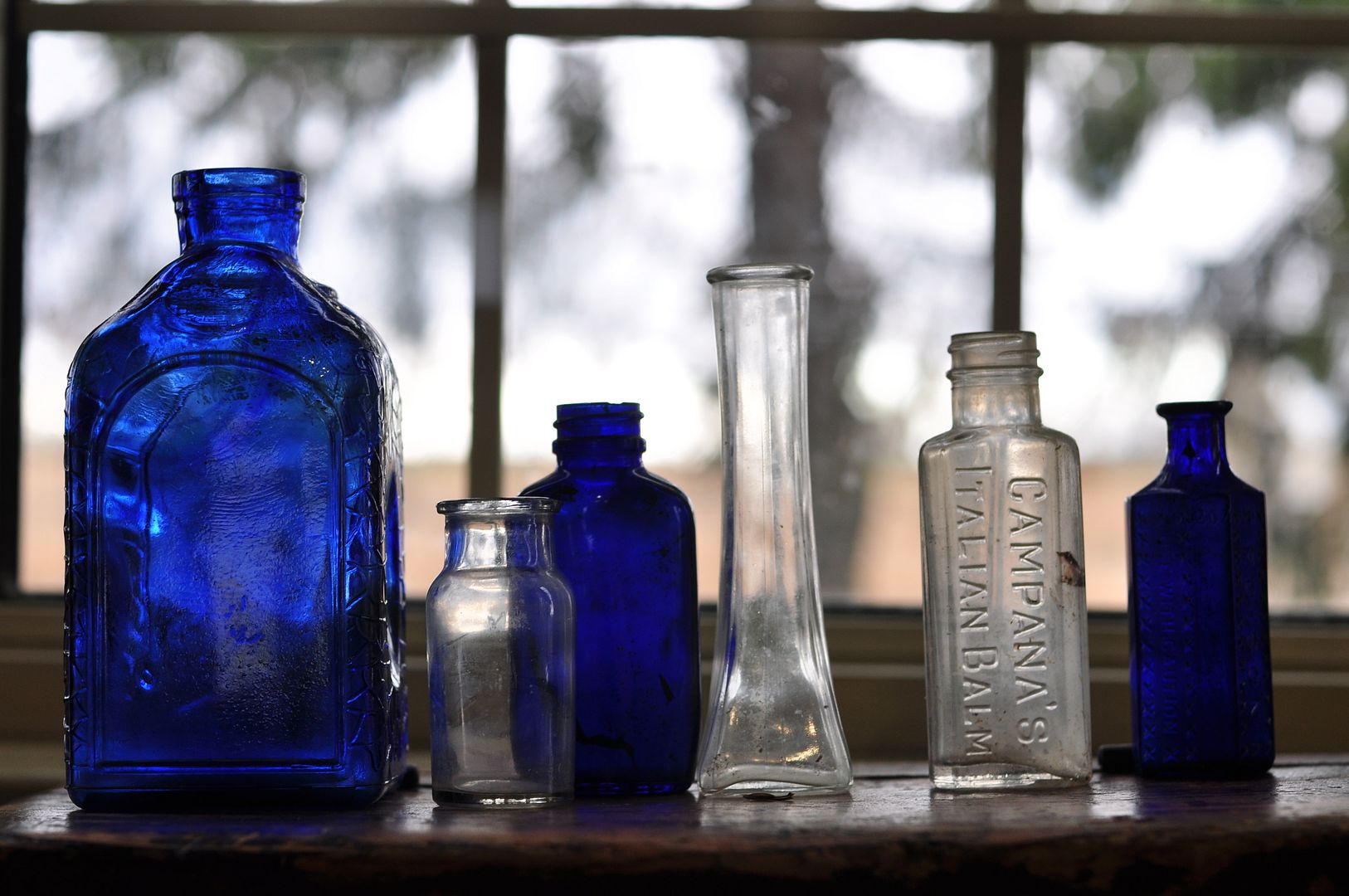 Can the discarded become vessels for unexpected beauty?
This week, the first of greying, raining November, I'm seeking beauty, gathering grace, seeing if I can fill the emptiness with bits of the found glory, bottles becoming vases for unlikely loveliness.
Can beauty be uncovered anywhere?
Do I have eyes to see?
Can I find God here?
Isn't that always the challenge?

The one He calls His people to, to see Him right here, find evidence of His Daily Art, become aware of His presence in the improbable and common. I take up the challenge with some discarded bottles-repurposed-as-vases, a pen, a gratitude journal, eyes longing to see, knees ready to fall on knees and worship.
I am ready to see sky, heaven right here.
"Our Father who art in heaven…"

And the heavens are but here too, air we breathe.
You're warmly invited to join me in a Beauty Challenge this week, your own motley crew of bottles, your own furniture vases, your own hunt for God with slips of beauty not bought but quietly and unexpectedly uncovered. A twig may become art when attended to. Of course, not all the found beauty will fit in a vase. Some will find a perfect container in a gratitude journal. Regardless what empty place you will with beauty , it will grace you, this week, a life, with God.
Perhaps you'll share next Monday with the Gratitude Community your own windowsill of vases and found beauty… beauty found in your heaven right here, place where God dwells…
Want to make your life a vase, filling with the beauty of thanksgiving? Become a Joy Finder? Consider joining the Gratitude Community! Just jump in with your own counting!
How to begin your own 1000 Gift List ::: How Gratitude Can Change your Life
( Drop me a line if choose to begin giving intentional thanks and gather fresh joy and I will happily add either your name or a web link to the Gratitude Community I'm slowly getting caught up on meeting all you beautiful folks who have joined the Gratitude Community. Thank you for your kind grace and patience! I'm so looking forward to meeting you all soon!)

Will you quietly join me in welcoming these Joy-Finders to the Gratitude Community?
Amy at A Mile in My Shoes
Teri at Under the Redbud Tree
Marsha at Sparrow's Watch
Kelly at In Memory of Bryan
Meredith at Lovely/Foul
Ronda at HomeFire
Aneta at The Progressive Lens
Trina at A Life Blessed
Erin at A Full Heart
Debbie at An Architect and an Artist
Angie at The One Thing
Christina at Christ, Kids and Cookie Crumbs
Samantha at A Day in the Life
Kim at Oh, for Heaven's Sake
Stacey at My Unfinished Daze
Sarah at Nobody Knows How They are Loved
Lisa at Our Country Road

Chad at Listening to the Wind
Sarah at Glory in the Clutter
(Journaling)
Carol Ann in IN
Sherry
Kathy in AR
Angie

If you'd like to share your gathering of God in the moments… , (please, jump in!) consider adding the direct URL to your specific 1000 gift list post…

If you join us, we humbly ask that you please help us find each other by sharing the community's graphic within your post.

Photos: heaven here… beauty challenge about to begin in grey November
Share your thoughts?…
Would you like Holy Experience delivered to you quietly via email?…