Water trickles down rocks of front porch table fountain and socks ferment in the laundry basket, aging like molding cheese.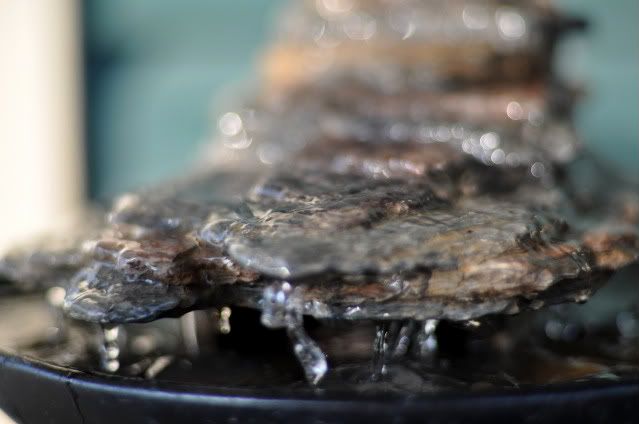 The porch door swings and I can hear her, that water falling, chuckling out there, happy invitation to come rest, rock the swing to the rhythm of quiet. I almost laugh right back at her.
Who can sit when laundry ferments and weeds, of the animal variety, redroot pigweed and lamb's quarter, do what animals do, multiply flagrantly, between the tomatoes and potatoes, and the beans sag low, dangling heavy with yellow strings of sun, begging for the picking? Rest is elusive water through the fingers and I live dry.

My eyes are sore when I close them at her bedside come twilight, still more beans to snap, teetering stacks of laundered denim legs and cotton arms folded up and waiting the reshelving.
"Let's pray…." The words come slow and bent…
She closes her eyes tight, little hand squeezing mine, a resuscitation, and I murmur thanks and hope and brokenness and cling to the Jesus-rescue and then the amen. I lay heavy on that Amen.
She opens one eye wide and peeks at me. "Did you know you close your eyes when you sleep, Mama? And you close your eyes when you pray. Sleep and prayer. They're like the same…"
Sleep… rest. And prayer. Like the same… Soul and body, they both need to close eyes, a body needing hard stops, a definitive time, to turn out the lights and sleep… like a soul needing hard stops, definitive times, to step back from the work and pray.
I don't raise my head from the bed. Why do I shun rest? For the same reasons I shun prayer?
I don't think I need it.
Addicted to motion, this buzz of self-importance, I think I must keep going, keep producing, keep working, that I'm needed to make some indispensable product. But God made a body to require rest. We can toil till the joints pull apart and the smile cracks and flakes at the seams, but eventually we'll drag into the quiet pastures, fall into pillow and sleep dead man's slumber. He will bring us face to face with our own limitations, our own smallness. Do we too wait until the ledge of desperation before we pray, before we humbly embrace our need?
A soul needs to rest and that is its real work.

Prayer is the work. Prayer is the rest.
Isn't it sometimes the greatest work of all to still and rest, abandon self to the Arms that hold?
I need it: rest, prayer… Him.
Yes, Child, that's all we ever have to do to rest, anywhere, anytime. Just close our weary eyes. Like in prayer, for rest and prayer, they are the same.
The first step into the pilgrimage of prayer is the step of rest.
She sleeps and I'm answering the invitation.
Lord, at any moment I can rest. Just close my eyes in prayer….
Every Wednesday, we Walk with Him, posting a spiritual practice that draws us nearer to His heart.
To read the entire series of spiritual practices
Next Week: How to keep on the "Pilgrimage into Prayer"…
Today, if you'd like to share your story of your Pilgrimage into Prayer…. just quietly slip in your URL….
Photos: front porch table falls beckoning to rest… Little One sleeping…
Share your thoughts?…
Would you like to sign up for more quiet thoughts via email?…