So we carry about pen and paper and collect bits of our lives, clippings and cuttings, rubbings and wrappings, and lay it down between leaves, a pressing out of our lives.
We may shun photograph pixels tracing a sag here, a saunch there, disdain video recordings of our pitch and a bit of a paunch, but we brave the paper.
We unbutton a soul, for we know what we are made of. We are made by the Word, by breath of His word, to be words, His poiemas — so we offer up words, naked and real, swollen with honesty.
Fear would silence us, leaving the descendants with old plates and tarnished jewelry, but no words, no hand-scrawled, inky words.
The enemy would busy us, gag us, leaving the Father with old hands and tarnished faith, but no words, no heart-bled, worshiping words.
We would let the Truth free us.
We choose the pen.

:::
A potpourri of your brave notes….
Establish a journal theme and gather scraps… a "culinary chronicle" of milestone meals: tea bag tags and napkins, rubbings of cutlery and place cards…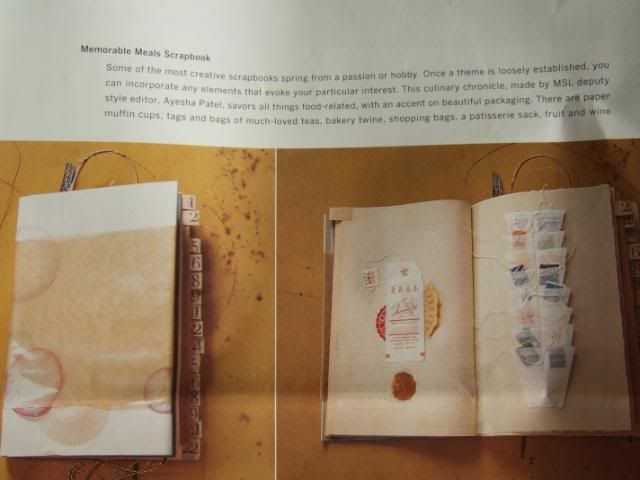 …a bakery bag, a restaurant receipt, a wrapper… a prayer from dinner, a quote to remember
A Vacation journal… with plastic pouches for a stone, some sand, a leaf, a postcard, a few blades of grass… a verse carried out for a walk, a word of praise along the shore….
A note from Maxine Grace…
I am a 54 year old mother and grandmother who has been journaling off and on for 28 years. The reason I think journaling is so important is that if you don't write it down, you will forget…
I don't journal every day, but I do try to write down what God is showing me and the important events of my life. I also journal my dreams. Several years ago while reading the Word, the Lord brought to my remembrance a dream I'd had many years ago. I searched through my journals until I found it, and as I read it, the Lord began to show me amazing things about His love for me………things I would probably never have seen so clearly without the dream He had given me 20 years earlier, which I had been obedient to write down.
As I've gotten older and realized how much I've forgotten, I've become more diligent to get it down on paper. One thing I wish I had written down was the profound things my children said when they were preschoolers. So I encourage you …….write it down!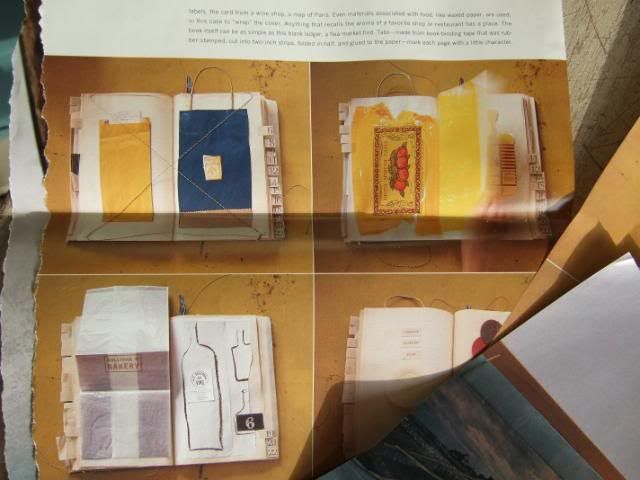 Books to Inspire Spiritual Journaling
I've read, as have many readers: Journaling as a Spiritual Practice: Encountering God Through Attentive Writing
and also recommend — (view lengthy free previews to each via the links to Google Books)
Budd, Luann. Journal Keeping: Writing for Spiritual Growth. InterVarsity, 2001.
Hauser, Richard J. Keeping a Spiritual Journal, Moving in the Spirit: Becoming a Contemplative in Action. Paulist Press, 1986 (ch. V).
Klug, Ron. How to Keep a Spiritual Journal: A Guide to Journal Keeping for Inner Growth and Personal Discovery. 2nd ed. Augsburg, 2002.
Shaw, Luci. Life Path: Personal and Spiritual Growth Through Journal Writing. Regent College, 2004.
Stockton, Sarah. A Pen and a Path: Writing as a Spiritual Practice. Morehouse, 2005.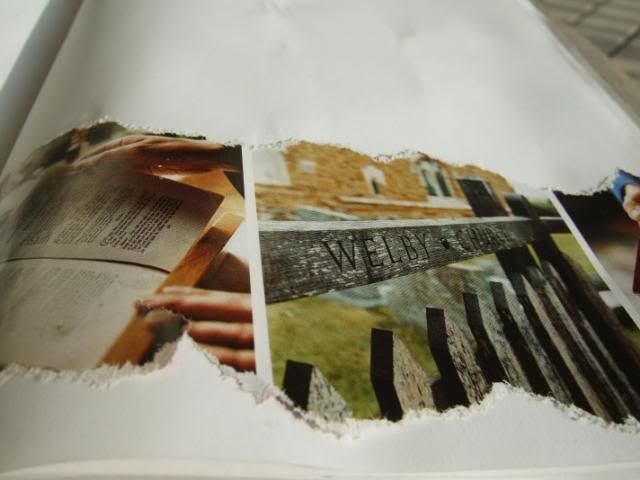 Another waiting place in my own visual journal — a capturing place for prayers and menus, gratitudes and small successes, tasks to remember and tasks to cross out…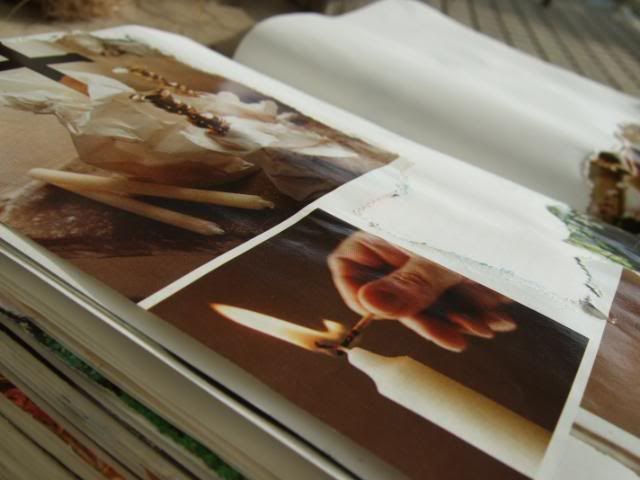 a moving note from Lori in Tx:
Your series on Journaling as a Spiritual Discipline has unlocked a very hidden chamber of my heart.
Many, many years ago, I kept a journal as a young girl, and then as a teen. What turbulent years those were for me, but my journal was my secret place where I 'left' my chaotic life temporarily and could bare my soul. After a particularly fragile time with a first-boyfriend break-up, my heart was so shattered. I can still feel the deep agony of that hour….my journal was my anchor! (BTW, I did not grow up in a Christian home, hence the whole emotional roller coaster of being allowed a boyfriend.)
My mother must have been concerned about my mental/emotional state, for I came home from school one day to my desk drawer 're-arranged' where I kept my precious writings. I knew she had read it. I was devastated. Next thing I knew, I was in front of the fireplace, burning that journal, vowing to never, ever write anything personal again. My thoughts, my prayers, even after my sweet salvation, remained prisoner in my heart.
Through the years (25 precious ones now!) of marriage and motherhood, I would occasionally give journaling a stab, but the pretty notebook lay silent at my bedside. The words were screaming to get out, but the key was no where to be found.
Then, ever so slowly, gently, the Lord prodded my soul. I read about some dear sisters' 'Blessings Journal' and, going through a dry spiritual time, I found a small voice that could praise Him, thank Him. The still small voice of the Spirit kept prompting me….write, pray, praise, REJOICE….even when I didn't feel like it. Beauty from ashes…kneeling in front of that fire so long ago, watching my life, my voice, burn. A miracle, a key found, a door unlocked, a PRAISE bursting forth!
I now have a prayer journal, a blessing/gratitude journal, a rhema journal, and now, too, the makings of a visual journal! It is so exciting, so life-giving! The words pour forth sometimes like flood gates opening.
As I sit here with my sweet 15 yo daughter, tearing out pretty pages from magazines, she asks why I am doing so. I share your posts on journals (keep them in a special notebook!) …visual, prayer, etc. I share my story from long ago, when I was her age, the pain ebbing away with each word I write. She starts tearing pages with me. "Mama," she says, "can I have a visual journal, too? Ooooh, and I would love one to slip in my pocket to write inspirations for the story I'm writing, and….." :0)
The circle of LOVE enfolds us. Her beautiful dimpled smile, shining, bright, alive…BEAUTY from ashes.
….
an inspiring note from Nancy…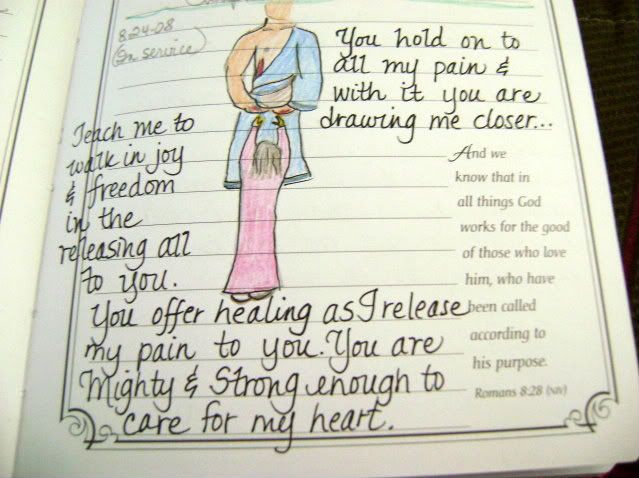 The last several years I have began journaling poetry. Poems … that usually come during times of worship have been included. Along with the poetry has come images. So the last year or so I have begun trying, in my own simple way, to transfer thse images from my head/heart into my journal.
They have become a comfort to me. I shyly share several with you (I am no artist).
In Jesus,
Nancy
:::
a note and creative journal photos from Alexis in MA…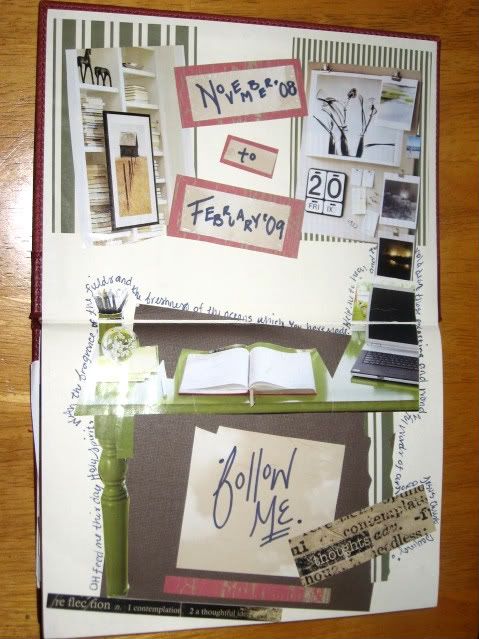 The journaling practice I've taken on is one of
a. co-creation,
b. summarization and
c. reflection.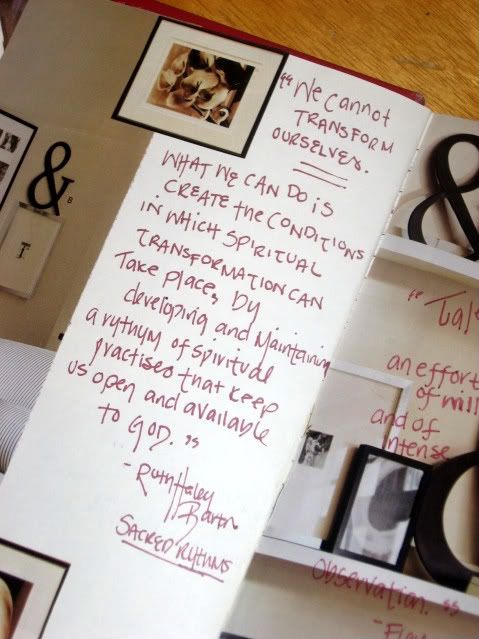 To Begin a Journal
1. At the beginning of each journal, I like to paint a picture, with words and with images, of just where I am in life: Where I'm living, what I'm reading, things I'm learning, simplicities my heart is taking joy in. With scraps, quotes, and meaningful images that represent my season of life, I create a meaningful blend of these things on the first pages of my journal.
2. A piece of writing that has held meaningful significance me over the last few months will typically take prominence in the collage … other times a psalm or word from the gospels.
3. I'll finish it off with the start and end journal entry dates, signifying when the journal was used.
It is difficult indeed to carve out time for creativity. But it is never in vain. The joy that comes in looking back upon these pages, the meaning that forms from simply visualizing the Lord's doings in my life, and the gift it's become to share them with others in need of inspiration in their journaling, has been inimitable. I have grown so grateful for the practice.
The practice, I've found, has allowed me tangible opportunity for wonder and appreciation of the life the Lord's given me; a defense against the ever demanding list of to-do's; a space to create a life of more simple visitation.
On days I find myself wondering how valuable this practice is, if it holds kingdom value or meaning for anyone besides myself, I remember Mary Oliver's words:
"When it's over, I want to say: all my life
I was a bride married to amazement.
I was the bridegroom, taking world into my arms.
When its over, I don't want to wonder
If I have made of my life something particular, and real.
I don't want to find myself sighing and frightened,
Or full of argument.
I don't want to end up simply having visited this world."
May we live faithfully…. never settling to simply visit this world.
~ Alexis in MA
To read the entire series on Journaling as a Spiritual Discipline…
Every Wednesday, we explore another aspect of Walking with Him…

Next Wednesday begins a series of considering the spiritual discipline of Scripture Reading. I look forward to learning from you!

Share your thoughts…
Consider signing up for more quiet thoughts via email…