My longings lie open before you, O Lord; my sighing is not hidden from you." ~Ps. 38:9

1. Because journaling is a place to be unmasked and meet God
So we lay ourselves out on the page….
"A journal can become a sacred place," writes Magaret Feinberg. "Mere blank pages are transformed into a site where you can record the most intimate parts of your soul. A place where you can travel with your deepest thoughts and confessions. A place where you can slip off the mask of who you are supposed to be and slip into something more comfortable: who you really are."

We lay who we really are before Jesus, hiding nothing … open books… and He takes us to Himself.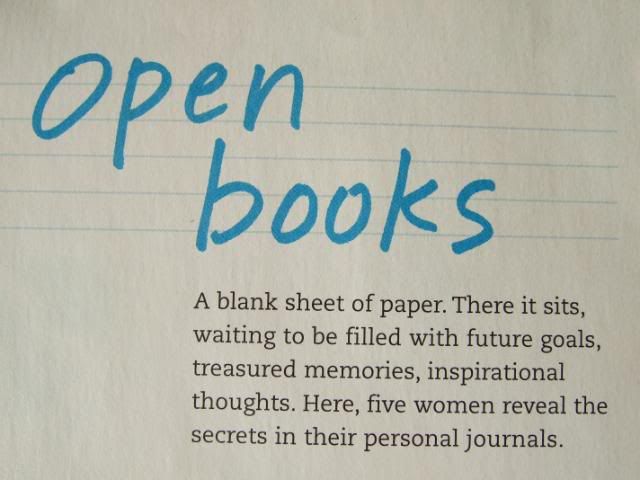 2. Because journaling lets us see soul areas the Holy Spirit is growing
"Journaling focuses mind and heart on the issues of growth with the aim of discerning what God is doing in one's life," writes Richard Peace, author of Spiritual Journaling: Recording Your Journey Toward God
. "By using a journal, we come in touch with our cutting edges of growth, those areas where questions exist or where there is need or longing. These are areas where the Holy Spirit seems most active."
3. Because journaling strengthens other disciplines

"Journaling is also an aid to other spiritual disciplines," says Peace. "Writing down your insights is helpful in Bible study. Writing out prayers helps you to communicate with God. Creating a poem that praises God is an act of worship."
(An Inspired Journal…. a place for photos and collages, verses and poetry, dreams and prayers)


4. Because journaling is a way to visually examine our thought processes
"I begin these pages for myself, in order to think out my own particular pattern of living, my individual balance of life, work, and human relationships," writes Gift from the Sea
author Anne Morrow Lindberg. "And since I think best with a pencil in my hand, I started to write…"
(A Travel Journal — for photos and captions, memories and thanksgiving)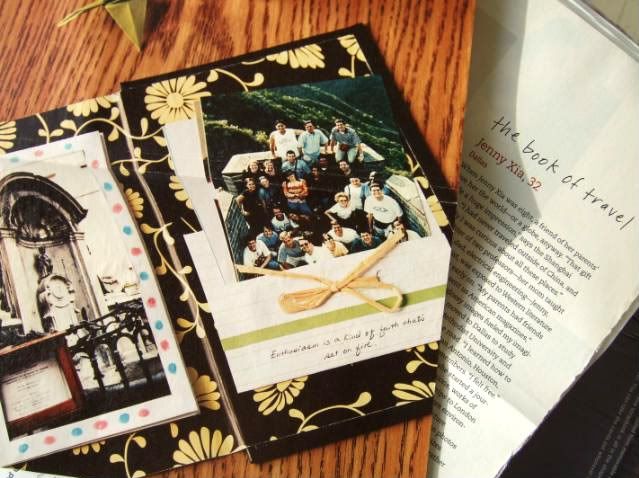 5. Because journaling cultivates deep honesty and authenticity
"At first it was difficult. I felt self-conscious. I was worried that I would lose the journal or that someone might peek inside to see what I'd said," writes Gordon MacDonald concerning his practice of journaling. "But slowly the self-consciousness began to fade, and I found myself sharing in the journal more and more of the thoughts that flooded my inner spirit. Into the journal went words describing my feelings, my fear and sense of weakness, my hopes, and my discoveries about where Christ was leading me.
When I felt empty or defeated, I talked about that too in the journal. Slowly I began to realize that the journal was helping me come to grips with an enormous part of my inner person that I had never been fully honest about. No longer could fears and struggles remain inside without definition. They were surfaced and confronted…" (Gordon MacDonald, Ordering Your Private World
)
(A Fear-to-Faith Journal — for chronicling one thing each day (or week) that we were afraid of… but jumped out in faith to do anyways)

6. Because journaling is a way to see God in the dark
"There have been times when I have thought I was lost, completely lost. Later, on the other side, looking back through my journal, what I found was page after page of praise of God's glory. In the midst of the darkness, pain and confusion, He was there, ever faithful…and I was not really lost.

Just hidden in His tender care." ~ Connie in B.C.
"I personally find that writing is the only way I can concentrate on praying…" ~Sophie in Wales
(A Family Quote Journal — for documenting memorable quotes, creating a family history)


7. Because journaling is a way to leave a legacy
"My grandmother Mary passed away at age 36 in 1941, leaving my dad and his brother and sister orphaned. After my dad passed away in 2000, mom gave me a tin that belonged to him. I didn't look in it right away. However, in 2001, as I still actively grieved my dad's death, I was drawn to it.
When I opened it, letters came bounding out as if they had been waiting for release. All in all, these told the story of my grandmother's losing her home and land to the U.S. Forest Service (KY is notorious for bad deeds!), her struggle with her husband who had to be institutionalized after he was gassed in WWI, letters from family in Oklahoma who wanted her to "come home," and an assortment of notes, grocery lists, prayers and hymns written on rough paper.
As I organized these letters by category and by date, I began to *know* my grandmother. What a gift her writing has been to me! I love her even though I didn't know her. This is what writing can do." ~Denise
(A Daily Image Journal — look for an image and sketch it, adding date, time, location… let poems come too…)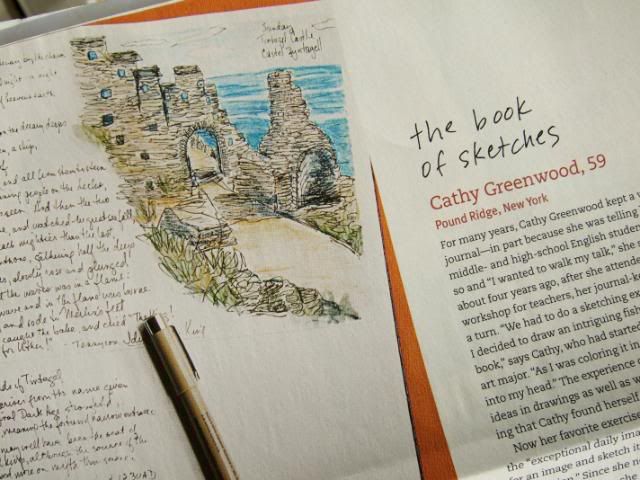 8. Because journaling is a way to continually remember the character of God
"My journals are my lifeline, among many other things. I have sticky notes and little jibblets of paper that I carry around throughout the day and I go back to my journals and record His awesomeness. It brings me closer to God because I am always thinking of Him. I also know that when I write it down, or print things off and paste them in, I remember His words to me and claim them and that reminds me, too, that the one who makes the promise, keeps the promise. ~ Debra at The Morel Family
And finally… if you're thinking journal just really isn't for me: why it really is okay if you do not journal … really.
Lord, today… even just one line, somewhere, scribbled down… a place to lay myself open before You.
:::
Related: Every Wednesday I post about the living out of a spiritual discipline. Currently, the Wednesday series is focusing on the practice of journaling.
Part One:Journaling as a Spiritual Discipline: Light Catchers
Part Two: Journaling: Being Real with Jesus
Part Three: Journaling: As Family Worship
Part Four: Journaling: Burning Bush Conversations
Part Five: Journaling: How to Set Up and Organize a Journal
Part Six: Journaling: Many Creative Ways
Part Seven: Journaling: As an Act of Prayer
Next Wednesday: BOOK RECOMMENDATIONS and more Journal Inspiration — a potpourri of your stories, the fragrance of your notes. If you'd like to share a glimpse of your journaling story, or a photo, with this quiet community… consider this your warm invitation to slip a note into the inbox.
Photos: Personal journals… and photos from a July 2007, Real Simple Magazine article — that I cut out and tucked into an envelope in the back of my visual journal ~smile~