Trail head begins with steep incline and I lean into it, the way you hike a life, leaning not on your own understanding.
Remnants of spring snow storm, the one that had closed I-25 north out of Denver shortly after I landed, quiets the mountain on a Sunday morning daybreak. First sun I've seen in Colorado. Sun that's burned off the bellies of those shrouding April clouds, heavy and falling. Sun that's given these mountains peaks.
I slip hands into pockets, heel of boots finding steady footing. A magpie lights from branches along the trail, tail flashing, and a morning dove's cooing, though I can't spot him, reminds me of home, flat land, farm. I glance down at watch. Adding two hours, I can almost see them coming in from the barn.
I put one foot in front of the other, following. Folded rock, snow crested mountain creased by His hand, looms ahead. Fill lungs, exhale.
When did Much-Afraid get her new name?
Surrender, next step.
At a clearing, a ledge on the trail, I turn, pause to look back, out and over. He's led a long way, impossible, stealing breath. I know that's what He does, what His purpose is, but I never get over it, not for me, me with nervous heart, with agoraphobic past. Me who considers grocery shopping a challenging adventure, picking up the phone a leap of faith. Glancing down at boots on path, it strikes me. Fear is holy ground.
Fear is where He meets trembling knees, causes knee to bend, to make a sure and strong knee for the journey. Fear is holy ground; if we don't run from the fear, but kneel, He'll lift away that spirit of fear and robe us in the Spirit of Sonship.
Fear is holy ground; it holds the possibility of transformation.

I'm waiting at my burning bush when an early morning hiker huffs by, dog bounding.
We nod, exchange niceties.
Dog lunges ahead, tag and collar rankling, and hiker sprints after canine. And then he stops, turns back.
"You mentioned the Lord?" He calls up to me, still standing on the outcropping. I nod, expectant. I had. I couldn't help it; heart swelled with gratitude, I spoke His name.
"I don't run into many people up here this early in the morning." He shifts his hat awkwardly. "You don't have a word for me, do you? A word from the Lord?"
I take a deep breath, look across to a peak to the north. Sun's slanting across sheer ridges, jagged and rocky. Something inside lurches, knots, but I steady and wait. This is the place of meeting; place before the heights.
I smile. I only have the word He's given for this sojourner, leaf quivering in the wind. I'll share.
"He means to take us to the high places."
Lord, we hear Your word for us today: higher up into You. What's there to fear in Your Perfect Love?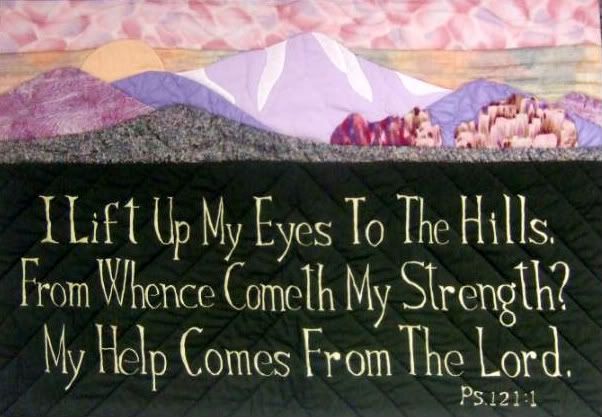 Photos:
from a Colorado hike this past weekend
the quilt hanging in the gathering room at the church where I had the privilege of speaking with some beautifully brave hearts