It is the way little country churches have a summer baptism
A pond mirroring dappled light, leafy still hanging, hushed and waiting, a dock leading the way into the depths, pointing out to the other side.
The Petersens with their six girls and two boys, and the Van Den Boogards with their seven boys and three girls, and Miriam Weber home on furlough from her translation work in Nepal, and Jonathan Eby back from a summer of serving in Africa, and Bert Struyk who started radiation just this past Tuesday to blast any remaining cancer cells from a brain tumor…well, all of them, and everyone else with stories of their own, come down that gentle hill, that last Sunday evening of summer, and we come too.
In one arm I carry a patchwork quilt to spread on the grass, the other hand holds Shalom's little one. The woods fill with the laughter of children and the low tones of old folks speaking of a touch of autumn in the air. The boys carry lawn chairs with Darryl, and my Dad offers a worn and creased farmer's hand to Baby Shalom's other outstretched one. My Dad doesn't know these people, this place, this way. But he has come.
My thoughts are about his: what does Dad make of this baptism gathering, this woods curling around a pond, a pond waiting for the immersion of a soul?
Dad makes much of the torque of an engine, the temperature of soil on a cool morning in May, the way to make the name on the mailbox at the end of the lane mean something to a man. Dad makes much of going it alone. That's the path he's worked hard for the last thirty years, making a way for each of his children to blaze trails too.
Real men, tough ones, don't need any crutches like thick King James Bibles and Sunday morning sermons.
::
But he has kindly, generously, come. It's more than 15 years since I have gone down into the waters of baptism, not quite a decade for my sister. Nine years ago for my Mama, shortly after their marriage separation but before the divorce Dad eventually asked for. And now this Sunday, still holding on to warm light and the song of crickets, this Sunday, my brother, a farmer and a welder, and Dad's only son, will say it aloud and before the witnesses gathered, that he chooses to never walk alone again, that his old ways will go down to a watery grave, and he will rise in newness in life in Christ. What does Dad make of all that? My stomach tightens.
We smooth out the patches and colors and stitches by the water's edge and I draw Shalom up on my lap.
Water striders ride the enlarging circles. The maple trees stretch in the pond's reflection. I finger a blade of grass, a silent prayer, and wait.
Mr. Claude Martin comes soon to the far side of the pond, and leads us in an old favorite, "No one ever cared for me like Jesus." The refrain carries, slipping between the trees, making its way heavenward. I sing too, remembering John Boy and I as freckled kids, and fading summer days with my Mama gone to the mental health ward and my Dad working that choking pain to death. Now, a new path through: following Jesus.
I press my cheek against Shalom and raise my voice in song, riding the crest of this wave of gratitude.
Brother Steve Player, a neighbor further down the gravel road, then steps to water's edge. A year ago, splitting wood with Brother Claude in these here trees, Steve bowed his head, came before that two-thousand year old tree with the Son of God hanging on it, and claimed Jesus as his own. Steve's fills us with his that story:
"Who am I that the Lord of all the earth would choose to know my name, choose to feel my hurt?"
Names on mailboxes at the end of lanes mean relatively nothing, yet He knows each of them. Who am I to be in this place tonight, washed in priceless grace? I quietly braid my voice in, "It's not because of who I am, but because of what You've done, not because of what I've done, but because of who You are…."

My Mama steps now on to the dock, invited to give testimony to John Boy's encounter with Jesus. Her voice is clear, sure. Does she feel nervous, Dad sitting here listening too? Eight years ago, Dad took another wife, moved on, leaving those twenty five years behind him, pages in yellowing photo albums. I still turn those pages, wishing for a different ending to this story.
From dock's end, Mama speaks of the cracking time before, the fractured time after. Of the angry, hard walls of our home, the cold draughts around vacated hearts.
Then Jesus gets hold of hers, warms her, bandages her wounds. She reads Jesus' words about the lost sheep, talks of John as a wandering, black sheep, distant and surly. Shalom points across the waters and whispers in my ear, "Grammie."
Mama, her white hair shimmering on the water rings, catches too on this feeling I feel, then steadies to speak of how Jesus called her to be His unwavering, purposeful heart, calling, inviting, praying, loving that bitterly cold sheep home.
For a moment, she pauses. The wind rustles through the trees. Shalom burrows her head into my shoulder. Is Dad still listening to all of this?
Quietly, pointedly, Mama asks the question, sending it across the water: "Who is the lost sheep in your life He is calling you to love?"
The question pierces, driving deep. I feel Dad close, and think of all the evenings our phone rested unused in the cradle, the Sunday noon meals where I could have set another plate on the table, baked a few more potatoes. What kind of effort was I making to search with Jesus for this soul who did not even think he was lost?
There were other lost sheep, easier sheep, kinder sheep I was loving. But Dad? Surely, we love each other. But we are awkward, fumbling through this painful dance of stubbing each other's toes, wistfully remembering those better days we don't know our way back to. The days when I was following that path he was beating down, the days before I walked the cross-beam of the Cross, leaving a gaping chasm between he and I.
I've heard him say it: how religion stole his family from him, his wife, his daughters, his grandchildren. How religion has ripped him off of his dreams for us all. And now John Boy too is leaving Independence Trail to go the way of the Cross. What does Dad make of all of this? I think I know, but wish I didn't.
There's John's voice now, hardly wavering at dock's end: "My name is Robert John Morton, I am thirty-three years old, and I gave my life to Jesus outside of Brubacher's Country Café on the main street of the hamlet of Ethel." The lump in my throat burns, a fire of praise. Now John Boy too; unbelievably, John Boy, too.
A church elder awaits him in the water. And he steps in, to be dyed in Christ, drenched in Jesus, to go down into death, buried, and be raised into life, resurrected. Now, wondrously, John Boy too.
He pulls out onto the pond's edge, dripping with this Christ-life. Brother Claude asks us to stand to sing a final hymn, and John stands too, soggy and smiling. In the drifting twilight, the chill of autumn's cool settles around us. Between verses, I pull Shalom's sweater closer. The elder dries with a towel, offers it to a younger brother who has gone down and come up. In the graying light, I look at John, t-shirt and jeans soaking wet, and shiver.
Out of the corner of my eye, I see him leaving. Dad, farm cap pulled low, worn farmer hands stuffed in the pockets of his faded Wranglers, is hiking back up the hill, out of this place and its ways. Is this his telling us all what he thinks, an expression of his disgust? I want to run after him, to say that this isn't a betrayal, that love bridges this canyon he feels, that we are still his children…but, yes, God's now too. But he's over the crest and gone. A lost sheep who's left.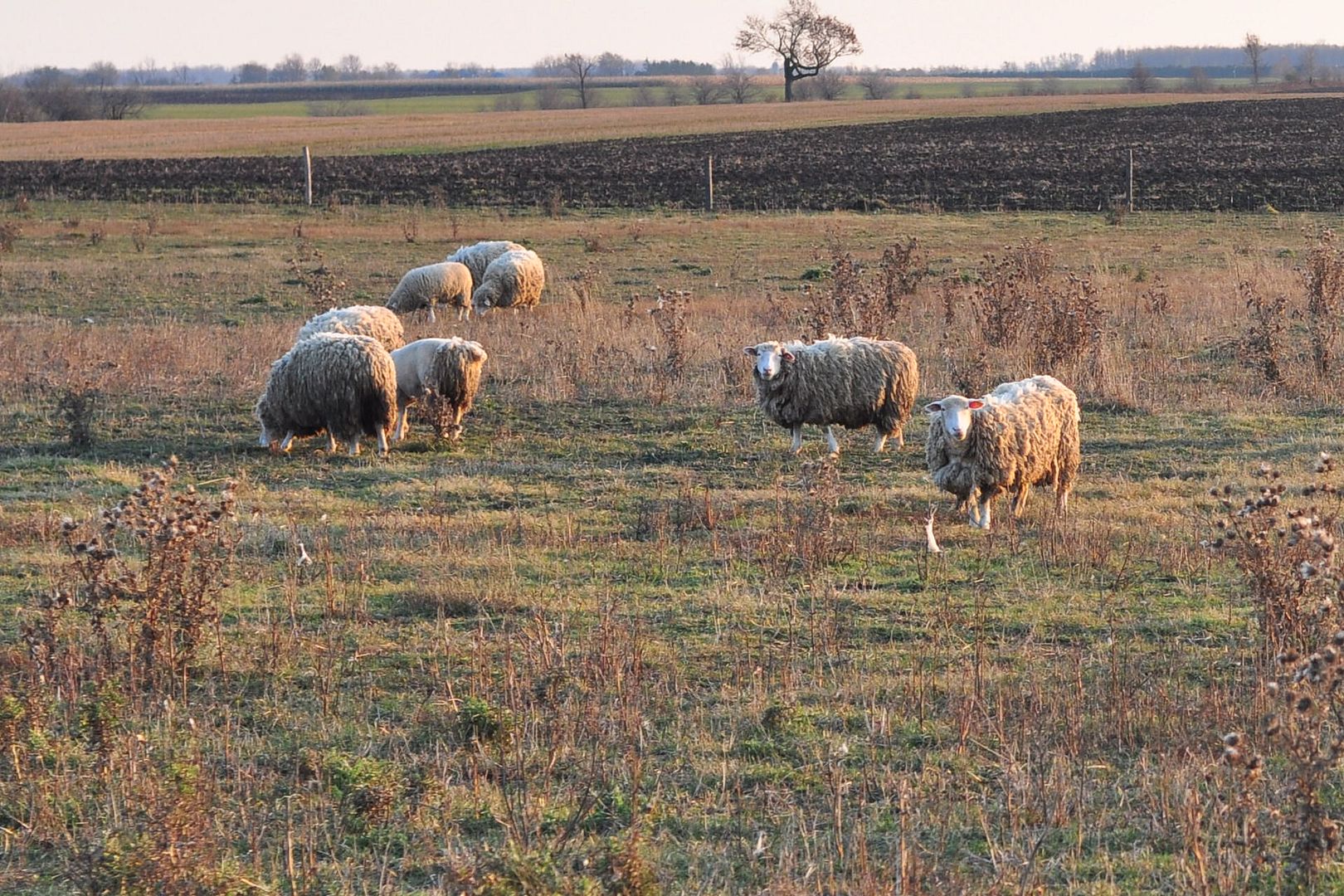 ::
A friend's gaze catches mine. She's seen him going. Her eyes embrace my ache, understanding, knowing, comforting. I nod heartfelt thanks, unable to keep singing the hymn's chorus, a chin trembling with sadness. John across the pond, a new babe delivered up into the world's shivering cold, must have seen Dad leaving too? I step to one side to see if I can lock eyes with him, send reassurance, some warmth.
And then there, at the beginning of the hymn's last verse, is Dad, coming around the pond's edge. He's coming toward John Boy.
With a blanket under his arm.
Before the Van Den Boogard's and Petersen's and all their kids, before Miriam Weber and Jonathan Eby back from the other side of the globe, and Bert Stryck, and Jerald Hayden with his video camera, and Irene Lindsay holding her granddaughters hand, before them and everyone else, Dad walks the pond's gentle curve. He hasn't left.
He'd gone for a blanket from his pickup for his cold and wet boy, his son whose publicly taken Jesus' way. John, wet hair dripping down the nape of his neck, nods to Dad, Dad nods back. Quiet man-talk that says so much.
The sun slips further down, the congregation sings. Dad drapes the blanket over John's shoulders, warming his son. And tears wash me.
I thought I knew what Dad was thinking. Maybe I didn't. I thought I couldn't really pursue some lost sheep, the gorge between the fold and the wilderness impossibly deep. Maybe it wasn't. I thought I knew what it meant to be missional, a friend of sinners. Maybe I had forgotten how even the lost are seeking, reaching out in their own way too.

John tugs the blanket close and he and Dad quietly talk. The backside of my hand brushes away cheek's wet.
This last Sunday of summer baptizes me too.
::
::
::
Lord, I repent of all my self-righteousness, all my knowing. I repent of not loving the lost like You do. I repent.
And rise to new life in You.